Ukraine Political Crisis 2016 Update: As Coalition Frays, Worries Over Economy And IMF Loan Grow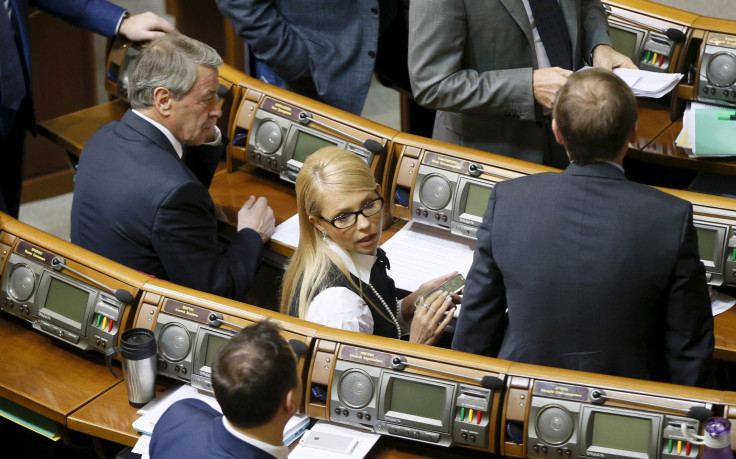 Following a day of political drama that saw Ukraine's Prime Minister Arseny Yatsenyuk survive a no-confidence vote and the resignation of the country's prosecutor general, the situation did not cool down Wednesday. Former Prime Minister Yulia Tymoshenko's Fatherland faction exited the ruling coalition, leaving further doubt about political stability and when the next tranche of the International Monetary Fund's aid would be released.
"[The] party considers it unacceptable to stay any longer in this gang, which actually stands no chance, because they do not want to carry out reforms, defend Ukraine, and restart our lives," said Tymoshenko, according to local news channel Ukraine Today.
Political uncertainty rose earlier this month when the economics minister publicly resigned, blaming top politicians for preventing needed reforms, including those that would help Europe's most corrupt nation fight entrenched interests. The IMF then delayed its next tranche, questioning the government's commitment to enacting reforms. Public polls reflect the growing unhappiness among citizens about the pace of reforms two years after the revolution toppled President Viktor Yanukovych, who was implicated in massive corruption.
After the failed no-confidence vote backed by President Petro Poroshenko Tuesday, Yatsenyuk described the withdrawal of the Fatherland party with its 19 votes as "irresponsible populism." Three other parties with more votes still remain in the coalition, but Yatsenyuk now faces the possibility of having his leadership curtailed at a moment when Ukraine must continue carrying out reforms to meet the terms set out by the IMF as part of a $40 billion aid program that is helping keep the economy afloat.
"There's a big risk we won't get the money from the IMF. After what happened yesterday, who wants to do business with a lame duck?" a source from the president's bloc told Reuters.
Political uncertainty in the capital comes as government troops continue to fight Russian-backed rebels in the eastern Donbass region. The war has devastated the industrial area and left more than 9,000 people dead. Fighting spiked earlier this week with deaths and injuries at levels not seen in many months.
© Copyright IBTimes 2023. All rights reserved.
FOLLOW MORE IBT NEWS ON THE BELOW CHANNELS