Ukraine To Receive More Bradleys, Strykers From US In Military Support Amid Challenging Counteroffensive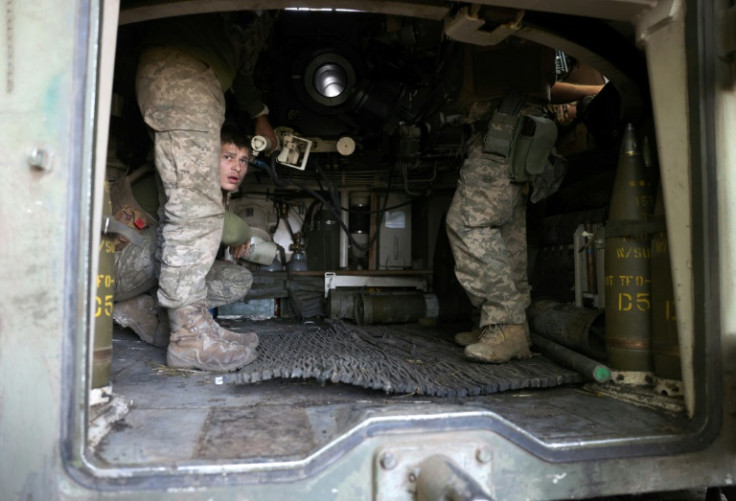 KEY POINTS
Austin pledged additional armor and artillery support to Kyiv amid Ukrainian counteroffensive challenges
Ukraine's allies assured continuous military assistance, considering advanced weaponry
The U.S. is also expected to announce a new aid package of $1.3 billion for Ukraine
Defense Secretary Lloyd Austin pledged to supply extra armor and artillery pieces to Kyiv on Tuesday as the Ukrainian counteroffensive faced unexpected challenges. The Russian defenses, deeply dug-in and heavily mined, have been causing significant losses in personnel and equipment, thus slowing down the progress of the Ukrainian forces.
During a press conference held after the 14th meeting of the Ukraine Defense Contact Group (UDCG), Austin assured that Ukraine's allies would persist in offering support by providing various military platforms. He emphasized that additional leverage, infantry fighting vehicles and artillery pieces are being considered and are on the horizon. The commitment includes generating more combat power and delivering additional Bradley Fighting Vehicles, Strykers and artillery pieces to bolster Ukraine's capabilities.
There were no specific announcements made regarding new arms shipments to Ukraine, and Austin did not disclose the precise details concerning the quantity of additional armored vehicles and artillery pieces that the U.S. will send or the timeline for their delivery, The War Zone reported.
Reuters reported earlier on Tuesday that the United States is expected to announce a new aid package of $1.3 billion for Ukraine in the coming days. This package aims to support Ukraine by providing additional resources, including "air defenses, counter-drone systems, exploding drones and ammunition." The aid will be channeled through the Ukraine Security Assistance Initiative Funds, indicating that the equipment will be procured from the industry rather than being sourced from existing stocks. This move underscores the commitment of the U.S. to bolster Ukraine's defense capabilities amid the ongoing conflict.
As per the Oryx open-source intelligence group, the current status of the armored vehicles provided by the U.S. to Ukraine is as follows:
15 Bradleys have been destroyed.
16 Bradleys have been damaged but not destroyed.
4 Bradleys have been damaged and abandoned.
As for the Strykers:
The U.S. has promised a total of 157 Strykers to Ukraine.
Oryx has not reported any Strykers lost at the time of their report.
However, figures provided by Oryx may not capture the complete picture, as they only account for vehicles with visual confirmation of significant damage or loss. The actual number of losses could potentially be higher, considering the dynamic nature of the conflict, according to The War Zone.
While there have been numerous videos and images circulating on social media depicting Bradleys in combat during the conflict, sightings of Strykers in similar situations have been scarce. The reason for this disparity remains unknown, but it's possible that Strykers are being strategically held in reserve, alongside a significant portion of the Ukrainian forces to be deployed during a more critical phase of the counteroffensive.
Despite the loss of some Bradleys in combat, the U.S. has sent additional replacements, while reports indicate that no Strykers have been lost at this time.
Austin and Joint Chiefs Chairman Army Gen. Mark Milley held a press briefing on Tuesday to address reporters following a meeting of the Ukraine Defense Contact Group (UDCG). This group consists of approximately 50 nations collaborating to provide support and assistance to Ukraine in its defense against Russian aggression.
According to Milley, the U.S. and its allies have successfully trained 17 brigade combat teams, comprising a total of 63,000 Ukrainian troops. This training effort has been ongoing, and they are continuing to provide training to additional troops as well. The aim is to enhance the capabilities and readiness of the Ukrainian forces in their efforts to defend against Russian aggression.
"The Russians have had several months to put in a very complex linear defense-in-depth," Milley said, as per The War Zone. "It's not quite connected trench lines like World War I, but it's not dissimilar from that either. Lots of complex minefields, Dragon's Teeth, barbed wire, trenches, etc. They've got a very extensive security zone in depth, and then they've got at least two, perhaps even three main defensive belts, so they've had a lot of time to prepare them."
© Copyright IBTimes 2023. All rights reserved.