What Is 'St. John's Wort' Sniper Rifle? Russia Starts Mass Production Amid Ongoing Ukraine War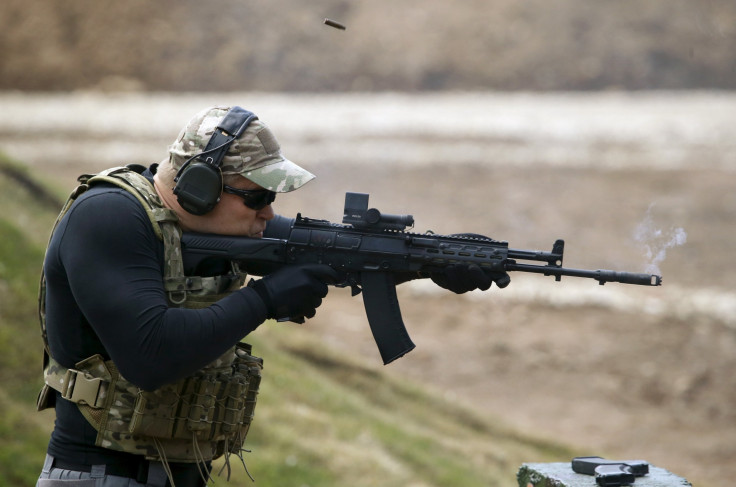 KEY POINTS
The rifle will be produced in two calibers, 375 (9.5x72mm) and 408 Cheytac (10.3x77mm)
The project aims for high accuracy with a 0.5-minute of arc
This will enable less experienced shooters to hit targets at ranges of a mile or more
Russia has begun the production of a new self-loading sniper rifle named 'St. John's Wort,' along with a variety of other weaponry despite concerns raised about its defense manufacturing capabilities.
On July 17, Vladislav Lobaev, the head of Lobaev Arms, the company responsible for manufacturing the weapon, told RIA Novosti that the production of the 'St. John's Wort' sniper rifle had commenced, according to Russian website Top War. This comes against the backdrop of international sanctions imposed on the Russian arms industry following the Russian invasion of Ukraine in February last year.
According to Lobaev, the production schedule was adjusted to an earlier date than originally planned. Additionally, the manufacturer revealed that the 'St. John's Wort' sniper rifle will be produced in two calibers: 375 (9.5x72mm) and 408 Cheytac (10.3x77mm).
"We chose the working name of the project St. John's Wort, with an accuracy of fire of 0.5 minutes of arc which will make it possible to hit targets at ranges of two or more kilometers by less trained shooters due to the possibility of firing a quick repeated shot," he said.
The agency's source mentioned that the rapid commencement of production for the new "self-loading" St. John's Wort rifle was facilitated by Lobaev Arms' previous development and mass production of a cartridge in the Cheytac caliber, which is entirely composed of domestically sourced materials.
Located in Tarusa, Kaluga Region, Lobaev Arms is a renowned manufacturer of both military and civilian sniper rifles. Notably, it holds the distinction of being the first private defense company in Russian history. Among its impressive portfolio, Lobaev Arms is also the proud creator of Twilight, a rifle celebrated as the world's longest-range weapon in its class at present, Eurasian Times reported.
The Twilight sniper gun boasts an extraordinary maximum shooting range, setting a "record" at 2.6 miles. Back in 2017, this rifle made headlines when a bullet from it accomplished a world record by hitting a target at an astonishing distance of 4,210 meters (approximately 2.6 miles) during a test at a Russian shooting range. Subsequently, in November 2019, shooter Sergei Shmakov further showcased the weapon's prowess by setting a new record for shooting in a moonless night, successfully hitting the target with all five bullets at a remarkable distance of two miles.
Reports indicate that Russian troops have allegedly employed the Twilight sniper rifle in what they call "special military operations" in Ukraine. During these operations, snipers have utilized the weapon in locations near Kyiv and in the vicinity of Kharkiv in eastern Ukraine, albeit on a limited basis. Unconfirmed sources suggest that the usage of the rifle has been infrequent due to the challenge of finding suitable terrain for its extraordinary shooting range.
However, International Business Times cannot independently verify the claims.
"The accuracy and range of this rifle sound almost unreal and, yes, audacious. Its owners often display less than 0.2 MOA of a group of 5 shots with such a powerful cartridge as .408 Cheytac, which few people can force to shoot," the official website of Lobaev Arms says about the Twilight.
A sniper instructor named Leonid told the media in 2022: "Sniper rifles of this level are a piece product. Their production is carried out for a specific person, with the adjustment of the bed, materials of manufacture, installation of optics, and much more, where millimeters matter. In an ordinary army unit, even in the special forces, you won't see the Twilight at all; this rifle is designed for individual professionals, designed for one, maximum two accurate shots."
© Copyright IBTimes 2023. All rights reserved.