Ukraine-Russia Crisis: Russian Soldier Arrested Allegedly Trying to Cross Crimean Border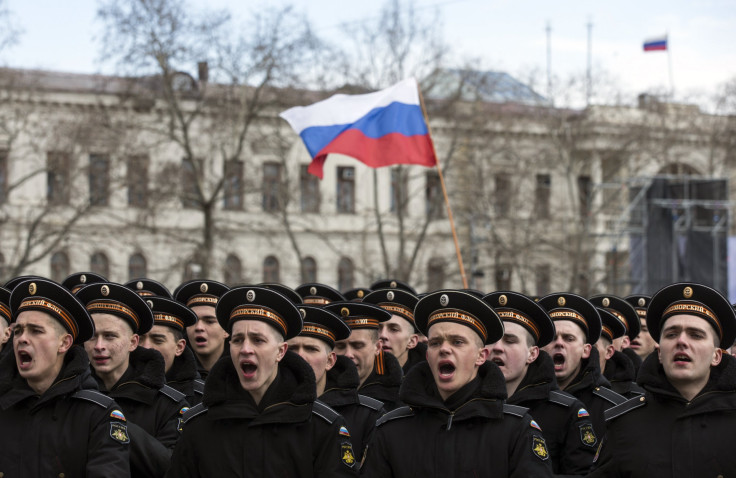 Ukrainian border guards arrested a Ukrainian soldier-turned-Russian sergeant who was attempting to cross back into Ukraine from Crimea to see family, Ukrainian media reported Thursday. The soldier was likely one of the estimated 12,000 Ukrainian servicemen who defected to the Russian military following Russia's annexation of Crimea. The date of the arrest was not specified, but the report comes a day after Crimea and Russia celebrated the one-year anniversary of Russia's formal annexation of the former Ukrainian territory.
The border guards arrested the former Ukrainian soldier for "breaking his oath of allegiance to Ukraine," according to ITAR-TASS, a Kremlin-owned Russian news agency. The exact location of the incident and the arrest itself has not been independently confirmed as of 4 p.m. EDT, but the Ukrainian military said it took place near Dzhankoi, Crimea, about 20 miles from the Ukrainian-Crimean border. The sergeant could face up to five years in jail and was called a "traitor" by Ukrainian media, ITAR-TASS said.
Along with 12,000 of the Ukrainian Navy's 15,450 personnel who defected to Russia, the Russian Navy seized 51 Ukrainian warships and nearly all of its naval aviation assets following Russia's annexation of the peninsula, according to Jane's Defense Weekly.
The Ukrainian military was essentially powerless to stop the defections last year, but has pursued harsher penalties for active servicemen who desert their posts while fighting against Russian-backed separatists in the east of the country. The Ukrainian parliament passed a bill allowing military commanders to fire upon deserters and insubordinates acting in combat situations.
The Ukrainian military was in poor shape at the start of the War in Donbass and has relied heavily on volunteer battalions to bolster their operations against separatists. These volunteer battalions, along with the formal Ukrainian military, are often supplied with near-obsolete equipment and vehicles, which has left many volunteers questioning the commitment of Kiev to their success. The lack of faith among Ukrainian troops grew after a handful of high-profile defeats in the east, including those at Donetsk Airport and the strategic town of Debaltseve earlier this year.
Western governments, including the United States and the United Kingdom, have sent advisers and trainers to Ukraine to help modernize and better train the Ukrainian military, which is up against separatists armed with modern equipment that Ukraine, NATO and the West said were supplied by Russia. Ukraine and its allies accused Russia of sending thousands of regular troops across the border to fight as well, although Russia has denied those allegations.
© Copyright IBTimes 2022. All rights reserved.
FOLLOW MORE IBT NEWS ON THE BELOW CHANNELS