Ukraine Troops, Separatists Fight Kills At least 15 In Donetsk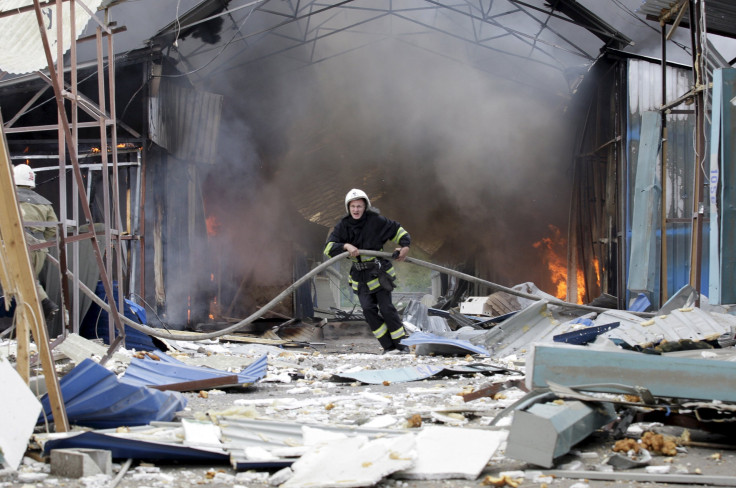 The battle between Ukrainian troops and pro-Russian separatists surged Wednesday in Marinka, a town in eastern Ukraine, killing at least 15 people. At least 1,000 rebel troops attacked the town near Donetsk, a separatist stronghold, according to Ukrainian officials.
"After the cease-fire there were some small conflicts. but here (in Maryinka) we had the use of tanks and heavy artillery for the first time," said Oleksandr Poronyuk, a spokesman for Ukraine's military operation in the east, the Wall Street Journal reported.
However, separatists denied that their forces started the attack. "At around 03:45 a.m., the Ukrainian side carried out a provocation by shelling our positions practically along our entire front," head of the separatist armed forces, Vladimir Kononov, said, the Associated Press reported.
Yuriy Biryukov, a military adviser to Ukrainian President Petro Poroshenko, stated on Facebook that five Ukrainian servicemen were killed and 39 injured in the past 24 hours, Bloomberg reported.
The assaults died down by evening.
Wednesday's attack set a blame game in motion, with each side holding the other responsible for the assault. Russia accused the Ukrainian armed forces of inciting violence in the region.
"In Moscow, we are following very closely, and are deeply concerned by, the provocative actions by the Ukrainian armed forces that are, as far as we can see, provoking the situation," Kremlin spokesman Dmitry Peskov said, Reuters reported.
Russian Foreign Minister Sergei Lavrov reportedly said that those responsible for the fresh assault were hindering the progress of the peace deal brokered in February. The agreement had called for an immediate ceasefire and removal of heavy weapons from the frontline.
Meanwhile, Ukraine and the United States attacked Russia for backing the offensive. The U.S. said that it observed Russian troops operating jointly in eastern Ukraine with rebel forces.
"Russia bears direct responsibility for what's happening here," State Department spokeswoman Marie Harf said, the New York Times reported. "These are combined Russian separatist forces that launched coordinated attacks overnight against Ukrainian positions on the Ukrainian government side of the cease-fire line."
Ukrainian Foreign Minister Pavlo Klimkin, who is in Berlin for the Group of Seven summit, reportedly called the fresh strikes an attempt by Russia to draw attention ahead of major events. "If something's coming up, the Russians always organize something on the ground," he said, according to the Journal.
Over 6,400 people have been killed since April 2014 in the ongoing clashes in eastern Ukraine.
© Copyright IBTimes 2023. All rights reserved.