Ukraine Unveils New 'Sea Baby' Drone Boat, Claims Responsibility For Kerch Bridge Attack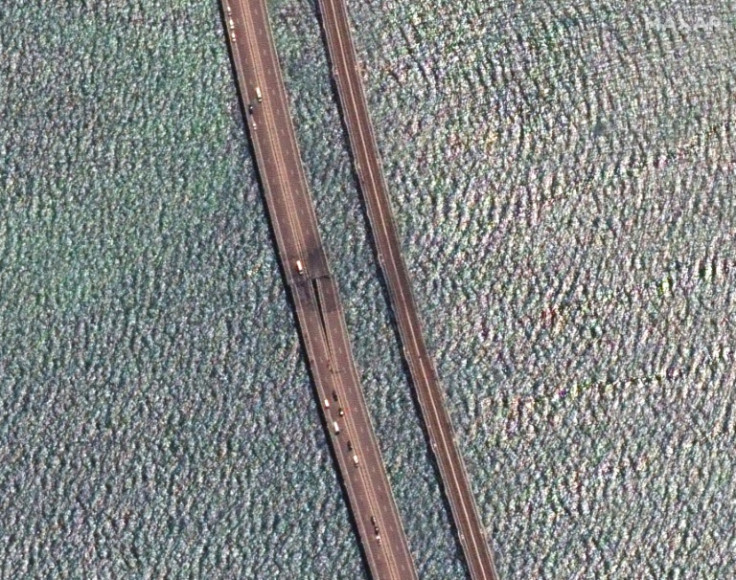 KEY POINTS
The Kerch Bridge connects Russia with the annexed Crimean peninsula
Ukraine unveiled the design of an experimental drone boat that it claims was used in the operation
Vasyl Maliuk, the head of the service at SBU, shared details about the drone boat
Ukraine has officially taken responsibility for the July 17 attack at Kerch Bridge, which connects Russia with the annexed Crimean peninsula, and unveiled the design of an experimental drone boat that it claims was used in the operation.
Named the "Sea Baby," this cutting-edge drone boat is the newest addition to the Ukrainian fleet of unmanned surface vehicles (USVs). These remotely operated explosive-laden vessels have gained prominence as a favored tool in the intricate maneuvers taking place around the Black Sea region.
A CNN report released Wednesday featured fresh revelations regarding the Kerch Bridge attack from the previous month, along with information about the Sea Baby drone boat.
In footage made public by the Security Service of Ukraine (SBU), various segments highlight the drone during testing phases and purportedly in action against the bridge.
The video sequence depicting the bridge attack offers perspectives from both the drone boat's onboard camera and the bridge's vantage point, likely captured by a closed-circuit TV system. The origin of the CCTV footage in possession of the SBU remains unclear.
In the video captured from the USV's viewpoint, the Sea Baby can be seen just moments prior to colliding with one of the bridge's concrete supports. As detailed in the report, the drone boat was equipped with an explosive payload of up to 1,800 pounds.
The CCTV footage captures the precise instant when one of the drones makes contact with the roadway section of the bridge. Approximately five minutes later, another of the USVs approaches from the opposite direction and strikes the railway portion of the bridge.
International Business Times cannot independently verify the authenticity of the footage.
Vasyl Maliuk, the head of the service at SBU, revealed to CNN that the development of this USV project began shortly after the Russian invasion in February 2022.
Maluik emphasized that drone boats are produced domestically and without any contribution from Western sources.
"They do not participate in our operations or provide us with any equipment or anything else," he said. "These drones are produced at an underground production facility in the territory of Ukraine."
"Sea surface drones are a unique invention of the Security Service of Ukraine," Maliuk added. "None of the private companies are involved. Using these drones, we have recently conducted a successful hit of the Crimean bridge, the big assault ship Olengorsky Gornyak, and Sig tanker."
Meanwhile, the Ukrainian security services told CNN that more drone attacks are likely.
"We are working on a number of new, interesting operations, including in the Black Sea waters," Maliuk said. "I promise you, it'll be exciting, especially for our enemies."
© Copyright IBTimes 2023. All rights reserved.