Ukraine Wins UN Security Council Seat Setting Up Showdown With Russia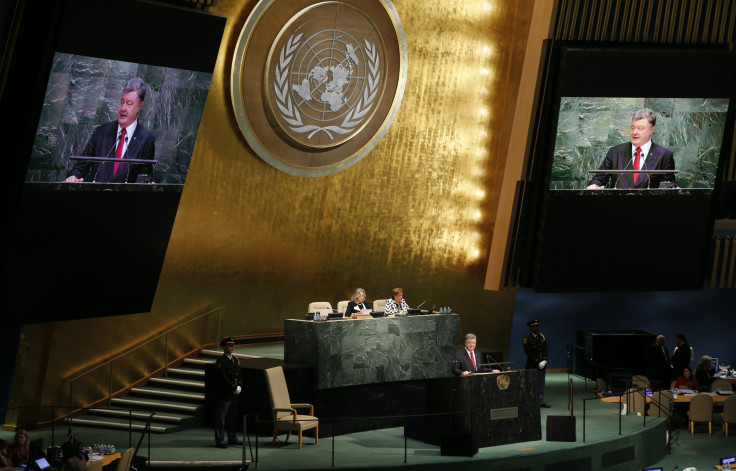 Russia and Ukraine could have a new, lofty location for diplomatic battles after Ukraine won a non-permanent seat on the United Nation's Security Council Thursday, the Associated Press reported. Ukraine was unopposed in its run for the seat and was approved with 177 votes.
Russia was quietly campaigning against Ukraine's election, according to anonymous diplomatic sources that spoke to the Associated Press. Ukraine has already said it would not take a conciliatory tone with Russia in the Council.
"For the first time, we have an absolutely unique and unimaginable situation…that a permanent member of the Security Council is an aggressor in Ukraine, waging a hybrid war against Ukraine," said Ukrainian Foreign Minister Pavlo Klimkin Tuesday.
Some of the most intense arguments at the Council over the last year have been between Russia, Ukraine and the U.S. Russia annexed the Crimean peninsula from Ukraine in March 2014. At the time, U.S. Ambassador Samantha Power denounced the move. "Let me just emphasize again what Russia has done is wrong as a matter of law, wrong as a matter of history, wrong as a matter of policy, and dangerous. What happened in Crimea cannot be recognized as valid," she said. Russian Ambassador Vitaly Churckin had harsh words for Power in return. "It is simply unacceptable to listen to these insults addressed to our country," he said.
The ensuing war in Eastern Ukraine has pitted government forces against Russian-backed separatists. Russia has continued to deny any direction involvement in the war in Ukraine that has resulted in the deaths of over 8,000 people. Churkin has said that Ukraine was "waging war against its own people."
Experts said it was likely Ukraine would also use its seat to argue for Security Council reform especially the veto vote held by permanent members. Russia used its veto to block the creation of a tribunal to investigate the downing of Malaysia Airlines flight MH17 which was shot down over Eastern Ukraine in July 2014. Ukraine has blamed Russia for the deaths of the 298 people onboard the flight.
Along with Ukraine, Egypt, Japan, Senegal and Uruguay were all also elected in unopposed bids and will replace Chad, Chile, Jordan, Lithuania and Nigeria when they begin their two-year terms on Jan. 1, 2016.
If the Russia and Ukraine pairing wasn't enough for potential fireworks, Japan and China could also be set for some verbal sparring over territorial claims in the South China Sea.
© Copyright IBTimes 2022. All rights reserved.
FOLLOW MORE IBT NEWS ON THE BELOW CHANNELS