Ukraine's Displaced Immigrants Near 1.4 Million Amid Humanitarian Crisis From War With Russian-Backed Rebels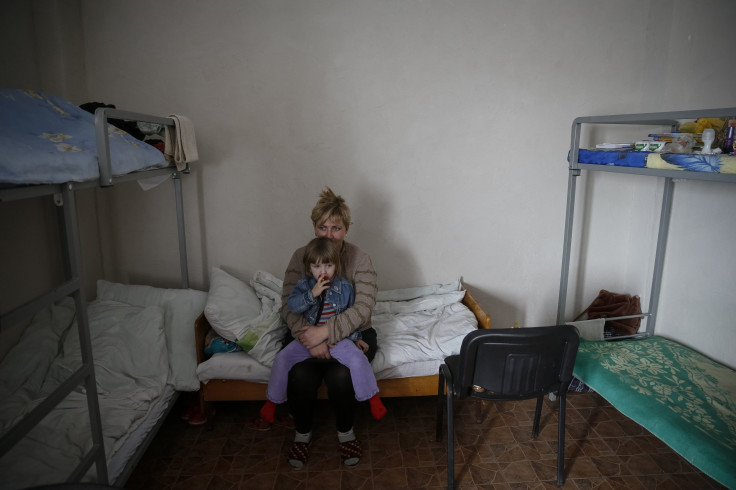 Nearly 1.4 million people are now internally displaced inside Ukraine, the Ukrainian Ministry of Social Policy reported Monday, adding around 100,000 to the estimate from a United Nations report from June. The Kiev government report, cited by pro-Ukrainian news site UNIAN, comes almost 16 months after the Russian annexation of Crimea and the start of the war in eastern Ukraine, underlining the deepening effect that the conflict is having on civilians in the contested regions of Donetsk and Luhansk.
"As of June 15, 2015, according to the structural units of social protection service of the regional and Kiev city state administrations, a total of 1,369,644 migrants, or 1,072,964 families from Donbas and Crimea, have been registered as IDPs," reads the government report on internally displaced persons.
Most of the IDPs are registered from the war-torn eastern regions of Donetsk and Luhansk, where 490,000 and 187,500 persons, respectively, have been forced from their homes by the war that is being fought by Ukrainian forces and Russian-backed rebels. Similarly, a high number of migrants have also turned up in the Kharkiv (172,600), Zaporizhia (93,000), and Kiev (95,000) regions. According to the report, 60 percent of the internal refugees are pensioners, 12 percent children and 4 percent are disabled.
So far, 335,000 out of 415,000 families have received part of the $75 million package provided by the Ukrainian government for families between January and June 2015. A further $160 million is being made available per month for other internally displaced persons from Crimea, which Russia annexed in March 2014, and Donbas.
Meanwhile, the United Nations pledged last week to increase the amount of food it would provide people in eastern Ukraine until the end of the year. The organization needs around $30.3 million to help an estimated 500,000 people, a third more than it was helping eight months ago, notes a U.N. report from July 1.
"The ongoing conflict has taken its toll on tens of thousands of people who are in desperate need of help," said the World Food Bank's head in Ukraine, Giancarlo Stopponi. "They are either trapped by the conflict or have fled their homes and are now living in difficult conditions."
© Copyright IBTimes 2023. All rights reserved.