Ukraine's Frontline Priest Helping Refugees And Soldiers Needs A New Van; Supporters Start Crowdfunding Campaign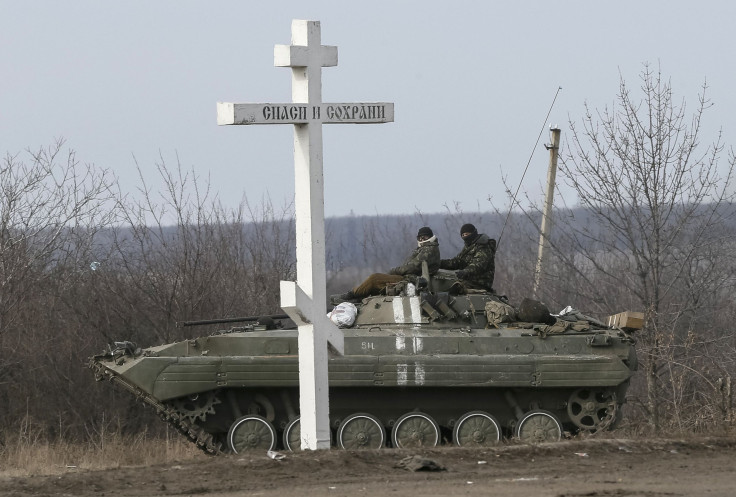 A crowdfunding campaign has been started to buy a much-needed van for a Ukrainian priest and his team who have been providing religious services and helping refugees in Ukraine since April. The campaign seeks to raise around $3,000 for the van, which would supplement priest Dmitro Povorotniy's current van, which often breaks down in dangerous battle zones and hinders his team's ability to provide aid to locals and soldiers.
The Dnipropetrovsk-based priest and his colleagues operate in two teams. They provide Orthodox religious services, deliver supplies and transport the wounded from the front lines. They also assist "hospitals, schools and aiding refugees with relocation," according to the campaign.
Father Dmitro is currently a chaplain for the 20th Battalion of Dnipropetrovsk Territorial Defense, a Ukrainian government force, but all funds donated in the campaign will go to his charity foundation, "Svit," according to the campaign's fundraising page. The campaign ends on March 16.
Perks for donations include special Svit postcards, "trinkets" made by children at the Krasnohorovka school in Donetsk and handmade religious icons. Donetsk is a rebel "capital" that saw almost non-stop artillery bombardment last summer. Nearly one million people from the wider Donetsk region are internally displaced in Ukraine and the city once home to a million people itself has largely been abandoned by locals.
"My role is to keep up the soldiers' spirit, to help solving difficult moral dilemmas which are inevitable for someone dealing with the dark side of the human nature and literally facing death on a daily basis," Povorotniy said of his work. "I'm always passing this onto the guys during our discussions: peace is the key, it's most important to not do evil, and it's most important to oppose evil."
More than 5,600 have been killed since the war in eastern Ukraine started last April, according to the United Nations. The second of two internationally supported ceasefires, signed last week, has nearly disintegrated after fierce fighting carried on in the strategic city of Debaltseve.
© Copyright IBTimes 2023. All rights reserved.
FOLLOW MORE IBT NEWS ON THE BELOW CHANNELS