Ukraine's Small Business Owners Face War, Crisis With Optimism - And Dark Humor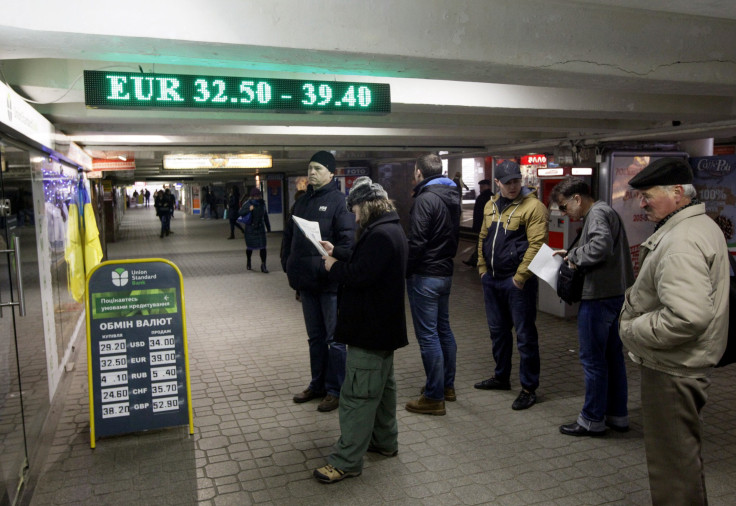 KIEV, Ukraine -- "The hryvnia is falling!" yelled a vendor as she flipped over a jar filled with water, and bills of the Ukrainian currency tumbled down. This past weekend, over 15,000 residents of Ukraine's capital attended the Panic and Hysteria festival, held at the city's Aviation Museum park, meant to give Ukrainians a space to laugh and relieve their stress. With Ukraine's revolution last year, the annexation of Crimea, and the war in the east, the country's economy has been battered, and its currency drastically devalued.
Festival organizer Tatyana Yaitskaya, 34, had written a Facebook post about the current situation, hoping to bring a small group of people together for a party. The outpouring of responses resulted in the festival, where attendees could learn how to grow their own potatoes like their grandparents did, get free hugs, and look at items they could purchase in better times by visiting a "museum of nostalgia."
"The crisis isn't the apocalypse; it's just a new way of living," said Yaitskaya. "[I wanted] to take this panic and hysteria to the absurd for people to laugh and realize that it's not productive."
The numbers are no laughing matter. In late February, the hryvnia fell below 30 for one dollar, from about nine for one dollar a little over a year ago. In the fourth quarter of last year, gross domestic product dropped 15 percent.
With Ukraine set to receive $17.5 billion in loans from the International Monetary Fund (IMF) in addition to another $7.5 billion from other international lenders, experts hope these injections will help stabilize the Ukrainian economy.
But the country is heavily indebted, and even risks defaulting on what it owes its lenders. Some blame fiscal profligacy under the government of president Viktor Yanukovych, who was ousted one year ago by the Euromaidan pro-Western revolution.
"Ukraine needs to live by its means," Vladimir Dubrovskiy, a senior economist at the Center for Social and Economic Research in Kiev, said. "[The Yanukovych regime] didn't care about the future and now the future has come under very harsh circumstances, and of course Ukraine will not be able to pay back these loans without the IMF package."
But on the ground, in Ukraine's real economy, business owners attempting to navigate the economic crisis are displaying a remarkable optimism for a bankrupt country embroiled in a war that has killed over 6,000 people and displaced over 1 million.
Andriy Bandrivskyy 10 years ago co-founded Gorgany.com, an online retail store for outdoor activities, selling items from Osprey backpacks to sleeping bags. Online retail was beginning to take off in Ukraine, as Ukrainians began traveling more and became savvier about e-commerce. The company expanded and even opened six physical locations spread across western and central Ukraine. Now Bandrivskyy, 36, is seeing shoppers stop their spending, because their devalued money buys a lot fewer imported goods.
"The big problem is that the hryvnia has fallen and people can't let themselves buy quality items," he said. "Everyone feels this, and so do we."
But Bandrivskyy remains optimistic. This is a good time to look into producing more in Ukraine while import prices remain high, he said.
"From one side, there are difficulties that are hard to imagine, but from the other side, there are a lot of possibilities if the situation normalizes, then our economy will grow and it will be a moment of golden opportunities," he said. "Now there is also an opportunity for business; it's just hard to plan."
Business owners have trouble borrowing money, for one. The failure of the country's fourth-largest lender, Delta Bank, in addition to other smaller banks, undermined confidence.
"Devaluation undermined trust in the stability of the currency," Dubrovskiy said, and when Ukraine's central bank intervened, "its policies … were harsh and chaotic." Earlier this month the central bank raised interest rates to a whopping 30 percent from an already high 19.5, in an attempt to stop the hryvnia's fall and rampant inflation.
Bandrivskyy looks on the bright side. Importing is expensive, but at least a new, less corrupt government means he doesn't have to bribe customs officials -- something he said was a must a few years ago. At the same time, the new government needs to tackle issues like stifling bureaucracy, he added.
Economist Dubrovskiy agreed. Mandatory cash registers for small businesses and other burdensome regulations, he said, will raise barriers for entry into business.
"Fighting corruption is not only fighting bribes and corrupt officials," he said. "It is, first of all, prevention. Prevention is mostly dealing with regulations, straight-forward tax regulations."
Import prices are also hurting the Old Walls café, in the western Ukrainian city of Lviv, where high-quality coffees from Ethiopia and Colombia are on the menu for 18 hryvnia (80 U.S. cents) a cup.
When owner Andriy Artym, 46, opened his café six years ago in the city's historic center, business was strong, especially with plenty of international tourists visiting in the summertime. In the past year, however, business has fallen dramatically, and he is paying a lot more for imported coffee and alcohol.
"I am making three times less right now than I was at the same time last year," Artym said. Now around 80 percent of his clientele is made up of locals, including musicians and artists. He said he has raised his prices by far less than the 300 percent jump in import costs, to make sure residents will still find it affordable to have a cup of coffee. Many people, he added, are cutting back on restaurant visits.
Despite the situation, Artym still described himself as an optimist and pointed out that in a few months, with warmer weather, he won't have to pay for heating, which will help decrease his costs.
"I just have to deal with it, because there's a war in the country and I'm taking an active volunteer role in it," he says, describing his monthly trips to eastern Ukraine to provide the cash-strapped army with gear.
Things used to be worse, he noted. Like many Ukrainians over 30, he remembers the turbulent 1990s well, when the Soviet Union's dissolution left Ukraine in dire straits, but people managed to survive.
"When you want to live, you find different ways, you have a garden," he said. "When I was young and a student and we had that crisis, we planted potatoes and worked on the farm. I'm not afraid of this."
© Copyright IBTimes 2022. All rights reserved.
FOLLOW MORE IBT NEWS ON THE BELOW CHANNELS