US Paratroopers In Ukraine By April, As 'Normandy Four' Ponder Paris Meet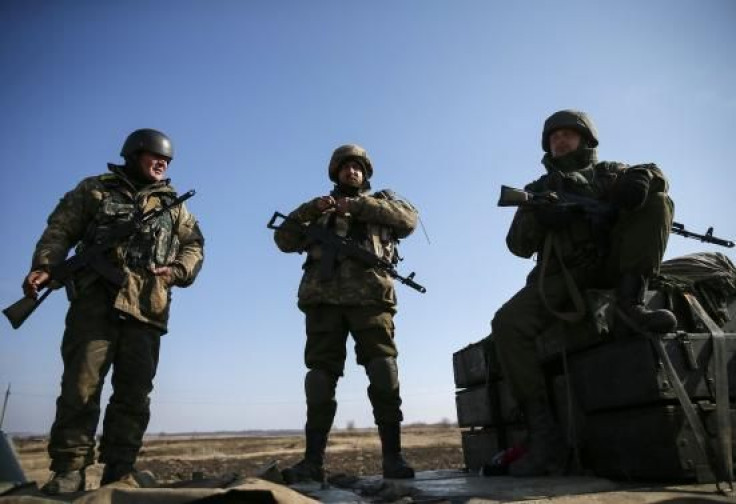 The United States military is moving forward with plans to send paratroopers to Ukraine to help train volunteer forces. The mission, which was supposed to take place this month, was delayed because of fears that it would affect the fragile ceasefire agreement between Ukrainian forces and Russian-backed rebels that came into force Feb. 18.
Army Col. Steve Warren, a Pentagon spokesman, said Thursday that the training would likely commence in April.
Around 290 Italy-based soldiers from the Army's 173rd Airborne Brigade will deploy to western Ukraine to train three of the country's volunteer battalions, which receive only basic training, guns, bullets and accommodation from the Ukraine government. Vital equipment such as helmets, uniforms, body armor and basic survival gear is not provided, forcing the battalions to rely on donations.
"As the situation in Ukraine continued to develop and evolve … we put this training event under some review" and "the decision [was] made that conducting this exercise is a good idea," said Warren, when asked why the training was going ahead given previous fears.
Army Lt. Gen. Ben Hodges, commander of U.S. forces in Europe, said that U.S forces would seek to help the volunteer battalions in a number of areas, including surviving artillery and rocket fire, protecting infrastructure, providing emergency medical care, operating in an electronic warfare environment and improving routine security checks.
When questioned about whether the mission could still undermine the ceasefire, Hodges said that the "beginning of the training absolutely does not signify an assessment that [the ceasefire agreement] has failed."
Meanwhile, officials from the four countries that brokered both the September and February ceasefire agreements may meet in Paris next week to discuss the crisis in Ukraine.
The so-called Normandy Four, which consists of France, Germany, Russia and Ukraine, have met periodically since first meeting last June at the 70th anniversary of the Allied landing in France in 1944.
"The possibility of holding a meeting through diplomatic offices earlier in the week in Paris is being discussed. The level of this meeting will be clarified," a source told the Kremlin-backed news agency TASS.
Russian Foreign Minister Sergei Lavrov also called for a new meeting to discuss the crisis, saying that he had been in touch with his counterparts from France and Germany in order "to prevent the situation from deteriorating."
His suggestion comes just days after the Ukrainian Parliament granted the rebel-held regions of Donetsk and Luhansk limited self-rule, but only after the completion of local elections held under Ukrainian law.
© Copyright IBTimes 2023. All rights reserved.
FOLLOW MORE IBT NEWS ON THE BELOW CHANNELS