Ukrainian Leopard-2 Tankmen Unwilling To Fight Russia, Fake Combat Vehicle Breakdowns: Report
It is likely that Ukrainian tank crews engaged in the counteroffensive in the Zaporizhzhia region are intentionally simulating combat vehicle breakdowns due to their reluctance to face the Russian army, a report has said.
Representatives of the Leopard 2 tank crew, who were stationed in proximity to the conflict zone, said there have been indications that tank crews might be feigning combat vehicle breakdowns due to their concerns about engaging with the Russian army, German news website Spiegel reported.
A 22-year-old loader, referred to as Gudzik, said several soldiers were unwilling to take part in the conflict.
The three Leopard 2 crew members interviewed by the publication demonstrated empathy toward soldiers who refused to participate in the war. They said they understand the grave risks involved, and acknowledged that if a Russian shell were to strike the turret of a combat vehicle, the consequences could be catastrophic, leading to the complete destruction of the vehicle and its occupants.
The crew members of the Leopard 2A6, who were assigned the task of engaging enemy trenches in the initial phase of the counteroffensive, have reportedly confirmed to the publication that three of their tanks encountered minefields laid by Russian troops.
This suggests that Russian forces have deployed minefields as part of their defensive strategy in the conflict zone. However, International Business Times could independently verify these claims.
The mines were scattered extensively throughout the area, presenting a substantial danger to the tanks. The Ukrainian tank crew members explained that one of the German tanks sustained irreparable damage and could not be repaired. Additionally, another tank became immobilized as a result of the mine impacts, Eurasian Times reported.
According to a Russia-appointed official and other sources, Ukrainian forces have reportedly captured the village of Piatykhatky, located on the western edge of the Zaporizhzhia front. This marks the first village that Kyiv's forces have retaken in almost a week. The capture of Piatykhatky indicates a significant development in the ongoing conflict, showcasing the active engagement and territorial gains by Ukrainian forces in the region, according to the Guardian.
Vladimir Rogov, a Russia-installed official for the region, posted on Telegram on Sunday morning that Ukrainian forces had gained "operational control" over the village after intense and fierce fighting.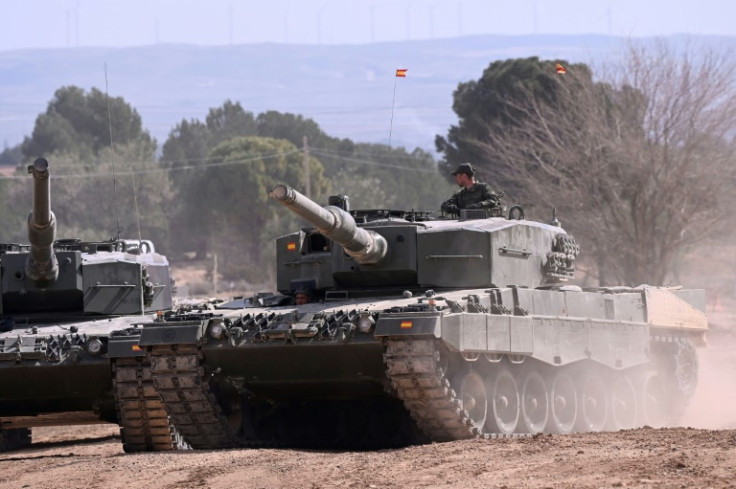 © Copyright IBTimes 2023. All rights reserved.