Ukrainian Prisoners In Russia: The War In Eastern Ukraine Often Results In Lengthy Prison Sentences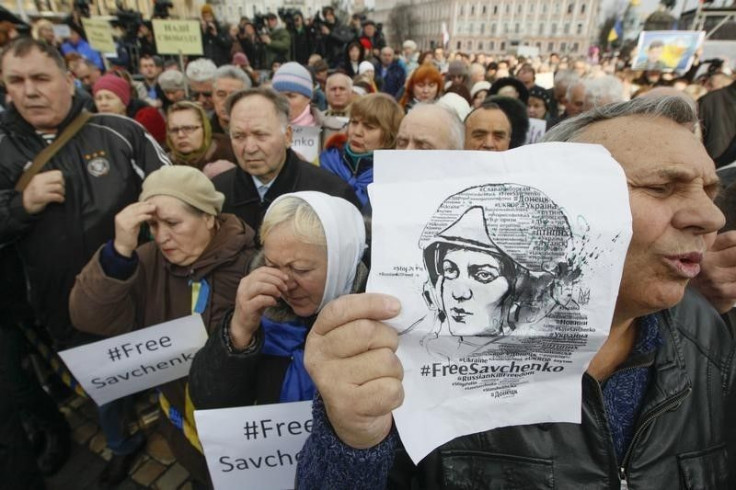 A Russian court's sentencing Tuesday of filmmaker Oleg Sentsov and activist Alexander Kolchenko to 20 and 10 years, respectively, highlights the plight of numerous Ukrainians currently imprisoned in Russia at a time when ties between the two countries are at an all-time low. While the war in eastern Ukraine has taken the lives of more than 6,400 Ukrainians and displaced at least 1.3 million, the unexplained disappearance of Ukrainian citizens who end up across the border in Russia and then on trial is another less-covered dimension of the conflict.
It is unclear exactly how many Ukrainian prisoners are currently being held in Russian prisons. Ukraine's Foreign Minister Pavlo Klimkin has said that 11 Ukrainians are being held and that the Ukrainian government considers them "political prisoners." Since the protests that toppled former Ukrainian President Vikor Yanukovych in February 2014, the Moscow Times reports that at least 12 Ukrainians have been detained on charges that vary from espionage to terrorism. Ukrainian government officials, lawyers, and family members have had uneven access to the prisoners.
"To some of them, we still have no consular access, despite all international legal norms … to Karpyuk, to Klikh," Klimkin said, naming prisoners Mykola Karpyukh and Stanislav Klikh. Karpyuk is an activist and Ukrainian officials say his arrest took place under unclear circumstances. Klikh was arrested in August 2014 while visiting his girlfriend in Russia, where officials have alleged he was an active participant in Ukraine's Right Sector, a far-right group that took an active role in Ukraine's revolution, which the Kremlin describes as a violent nationalist group.
Ukrainian politicians angrily responded to Tuesday's ruling, while residents of Kiev protested in front of the Russian embassy, according to a local media report. In a tweet sent shortly after the sentencing of Sentsov and Kolchenko, Ukrainian President Petro Poroshenko tweeted, "Hold on, Oleh. The time will come for those who organized the trial against you, will find themselves in the docket!"
The Other Prisoners
Military pilot Nadiya Savchenko, nicknamed Ukraine's GI-Jane, is one of the best-known prisoners. Russian officials claim she was spotting for the Ukrainian military and that her instructions resulted in weapons being fired in the area where two Russian journalists were killed. Ukrainian officials say Savchenko was kidnapped in June 2014 and taken to Russia. Since her arrest, Savchenko went on a hunger strike for more than two months and was elected to the Ukrainian parliament in November 2014. Her case has become a rallying point in Ukraine, with rights groups around the world calling for her release.
Other Ukrainians are already serving prison sentences. Crimean historian Alexei Chirny and activist Gennady Afanasiev were sentenced to seven years and accused of belonging to a terrorist cell in Crimea that was organized by Sentsov. Chirny was sentenced in April 2014 and Afanasiev was sentenced in December 2014. Their cooperation with Russian investigators was later used against Sentsov and Kolchenko during their trial.
Afanasiev's lawyer said his client was tortured into providing evidence against Sentsov and Kolchenko. Other prisoners have been arrested while in Russia. Yury Soloshenko, 72, a former director of a Ukrainian defense factory, was arrested in August 2014 while on a trip to Moscow and accused of spying.
While the Ukrainian government treats these captives as political prisoners, Mark Galeotti, a professor of global affairs at New York University and a specialist in security affairs, cautioned against a sweeping categorization.
"Let's not assume they are all political prisoners," Galeotti said. "It's a fallout from the conflict and they [Russia] can't really pull back. They don't want to look weak."
Future Steps
The arrest and trial of Sentsov and Kolchenko has allowed Russia to continue establishing its claims over Crimea since its annexation in March 2014, said Peter Rutland, a government professor at Wesleyan University in Middletown, Connecticut, and a specialist in Russian politics.
"It [the Sentsov case] doesn't bode well for reconciliation," Rutland said. "It implies that prisoner exchanges will become less frequent and that Moscow doesn't show willingness to compromise."
The Ukrainian government and separatist groups in eastern Ukraine have traded prisoners in the past under the terms agreed to in the Minsk peace agreement signed by both sides in February. However, prisoner exchanges have stalled and the Minsk agreement has been repeatedly violated by both sides involved in the conflict.
Galeotti voiced a similar sentiment, saying it's highly unlikely that Ukraine and Russia will swap prisoners at this point. He noted that it is unlikely Sentsov will serve his full 20-year sentence. However, it's still unknown if Russia will consider amnesty or a reduction in his sentence.
Sentov's lawyer has already said he plans to appeal to Russia's Supreme Court and then to the European Court of Human Rights, of which Russia is a member. Rutland said this is a small step forward, but the European Court cannot force the release of prisoners.
Following Tuesday's ruling, Natalie Kaplan, Sentsov's sister, spoke with Ukraine's Hromadske TV after learning of her brother's 20-year sentence. She now fears his case will lose attention.
"We are very afraid that Oleg will be forgotten," she said.
© Copyright IBTimes 2023. All rights reserved.
FOLLOW MORE IBT NEWS ON THE BELOW CHANNELS