Ukrainian Pilot Nadiya Savchenko, On 75th Day Of Hunger Strike, Says She May Die In Russian Custody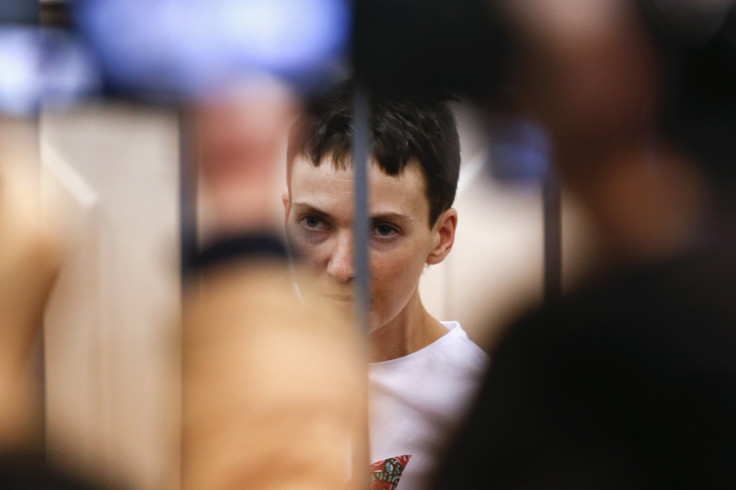 On a hunger strike inside a Russian jail, captured Ukrainian military pilot Nadiya Savchenko said that she may die before her next court hearing in May. The first lieutenant, who was allegedly captured by pro-Russian rebels and taken across the Ukraine-Russia border in June 2014, has been on a hunger strike for 75 days since being denied medicine.
"Let's start, because I could be dead by the next court hearing," she said in just before a scheduled court hearing in Moscow on Wednesday. Russian authorities claim that she is involved in the death of two Russian journalists. The judges set the next hearing date for May.
Savchenko, 33, was not present in the court, instead appearing inside a cage via video link, speaking only in Ukrainian (she refuses to speak Russian). She wore a T-shirt with the Ukrainian coat of arms emblazoned on the front.
The United States has said that her arrest is illegal and has called for her release. Moscow alleges that she gave the coordinates of a mortar strike that killed the two journalists while she was serving as a volunteer in the Aidar Battalion in East Ukraine. She was captured in June last year by pro-Russian separatists in East Ukraine. Russia claims that she was intercepted while trying to enter Russia from Ukraine on her own accord.
She was visited in jail by neutral doctors from Germany on Feb. 15, a deal that was negotiated as part of the ceasefire that was agreed to on Feb. 12 in Minsk.
Over the last two and half months, Savchenko has lost 17 kg (37 lbs.) on a water-glucose diet, but five days ago she began refusing glucose injections due to swollen veins. "There is very little time left now," said her lawyer, Nikolai Polozov, to Newsweek in a Feb. 20 interview. "She is only alive thanks to her army training, willpower and courage. But even that is not infinite. If we do not urgently take action, we will witness the dramatic finale of this story."
Since being captured, Savchenko was elected a member of the Ukrainian parliament, but she has also become a symbolic figure in Ukraine's fight against Russia and pro-Russian rebels.
"Nadiya Savchenko is a symbol of struggle for Ukraine," Ukrainian President Petro Poroshenko said in October. "While being in captivity, she demonstrated the true, strong, martial Ukrainian spirit of a serviceman who doesn't betray [the] Motherland."
© Copyright IBTimes 2023. All rights reserved.