Russian Court Sentences Ukrainian Filmmaker Oleh Sentsov To 20 Years In Prison For Planning Terror Attacks In Crimea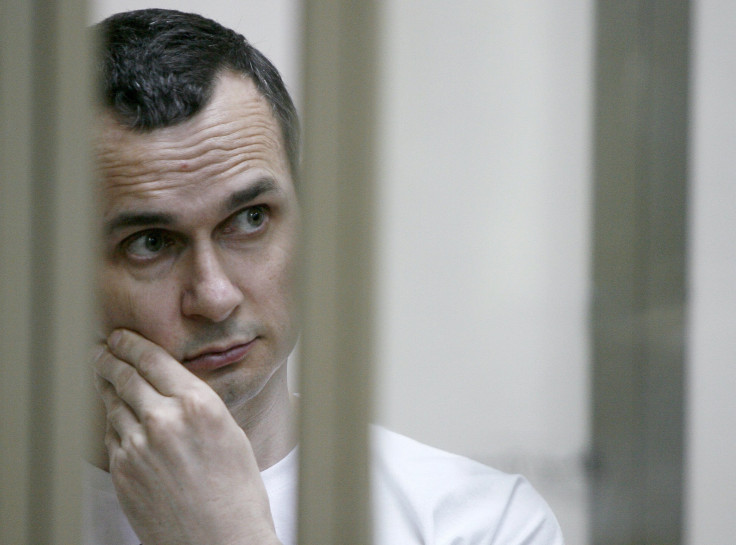 In a defiant act, two Ukrainian men sang their country's national anthem in a Russian court Tuesday moments after they were sentenced to prison. Filmmaker Oleh Sentsov received a sentence of 20 years for planning terrorist attacks in Crimea, according to media reports. Crimean activist Alexander Kolchenko, who was being tried with Sentsov, was sentenced to 10 years.
Sentsov, 39, a native of Crimea, was active in protesting Russia's illegal annexation of the peninsula in March 2014 and was arrested by authorities in May 2014 for plotting to fire-bomb Russian organizations and destroy a Lenin statute in Crimea. Sentsov delivered supplies to Ukrainian military personnel who were trapped on their bases when unmarked soldiers appeared in Crimea prior to Russia's annexation.
Known for the 2011 film "Gamer," Sentsov has vigorously denied the Russian charges against him, telling the court during closing arguments that, "A court of occupiers by definition cannot be just. Don't take it personally, your honor!" Filmmakers around the world, including Mike Leigh and Pedro Almodóvar, have lobbied on behalf of Sentsov calling for his release.
Russian prosecutors asked for a 23-year sentence for Sentsov and a 12-year sentence for Kolchenko. Sentsov's attorney had called for a full acquittal. Kolchenko admitted to setting fire to United Russia party offices, but he said the terrorism charges against him were politically motivated.
Ukrainian citizens Oleksiy Chyrniy and Hennadiy Afanasyev were arrested alongside Sentsov and Kolchenko and have already each been sentenced to seven years in prison for participating in a terrorist cell.
Ukrainians view the cases of Sentsov and Kolchenko as politically motivated show trials. Russia has denied that Sentsov is a political prisoner. American officials have described Sentsov and other prisoners, including Ukrainian military pilot Nadiya Savchenko, as "Ukrainian hostages."
Russia continues to deny playing a direct role in the conflict in eastern Ukraine that has taken the lives of more than 6,400 and displaced at least 1.3 million people.
© Copyright IBTimes 2023. All rights reserved.