Ukrainian Soldier Surprises Girlfriend With Wedding During Her Visit In Donetsk
KEY POINTS
A Ukrainian soldier and his longtime girlfriend got married during the latter's visit to Donetsk
The woman did not know she would arrive at her wedding during the visit
Several members of Ukraine's 14th Separate Mechanized Brigade also tied the knot earlier this month
A woman ended up marrying her longtime boyfriend, a Ukrainian soldier, during a visit to a partially Russian-occupied region in Ukraine.
The woman, identified only as a civilian worker named Ksenia, visited Donetsk to see her boyfriend of more than three years, Vitaliy, who is a lieutenant under the Ukrainian Security Service's (SSU) Special Operations Center A, the agency said in a statement.
Ksenia did not know that she would arrive at her wedding upon reaching Donetsk, according to the SSU.
"We are together, and we are happy. And we will definitely celebrate our wedding and have our honeymoon after the victory," Vitaliy said.
"Even in war, there is room for true feelings," the SSU said in a Facebook post featuring a photo of the newlyweds.
Several users on the social media site congratulated Ksenia and Vitaliy, with many wishing them peace and happiness.
"Love is always stronger than all obstacles. Good luck to the newlyweds!" one person wrote.
"Posts like this are reminders of what we fight for. Love and life always win," another commenter stated.
In a similar story, two young couples who had met while serving in the Ukrainian army also married earlier this month.
The couples, both made up of members of the Ukrainian army's 14th Separate Mechanized Brigade, married in front of a registry office in the small town of Druzhkivka on June 12.
The location for the weddings "was chosen primarily for security reasons," the unit's commander, Okhrimenko, said. Air raid sirens went off three times during the ceremony.
The two couples went through traditional rituals, such as stepping together onto an embroidered towel, symbolizing togetherness.
The marriages were the first in the brigade ever since Russia launched its invasion on Feb. 24, according to the 14th's chaplain, Yuriy Zdebskiy.
"Now it's wartime, and there's no time for big celebrations," said the priest, whose unit has been fighting Russian-backed forces in Donbas since May.
In contrast to their Ukrainian counterparts, Russian soldiers have been allegedly trying to enter sham marriages to escape the war.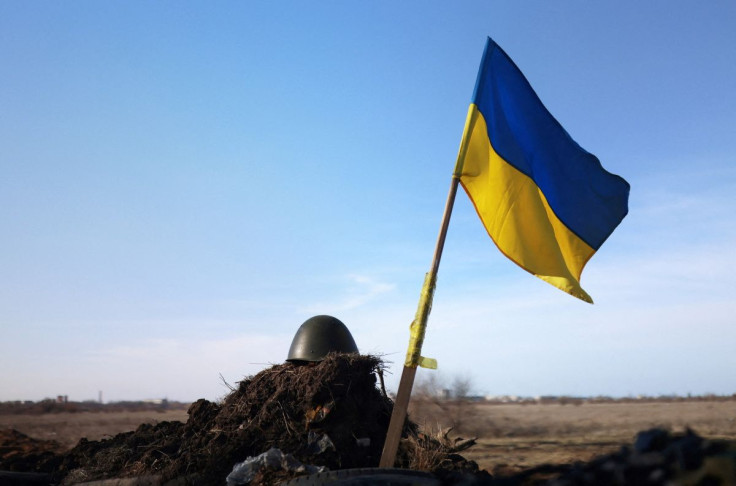 © Copyright IBTimes 2023. All rights reserved.