Ukrainians Protest Against Europe, Saying It Abandoned Maidan For Russia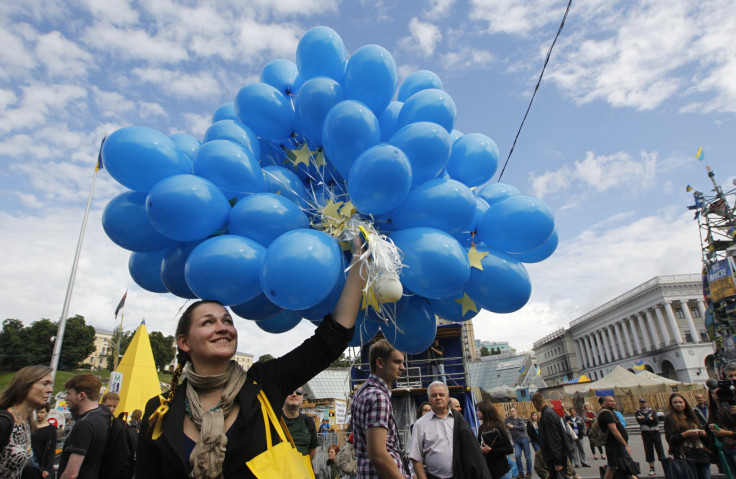 KIEV, Ukraine -- Five months ago, Kirill Marlinski was on the streets of Kiev, demanding closer ties to the European Union. Now, he's demonstrating in the streets again, but this time against European countries. Like many other activists in the Euromaidan revolution that ousted president Viktor Yanukovych, he blames Europeans for turning their backs on Ukraine by continuing their deals with the country's new nemesis, Russia.
"We all went out on Maidan … [with a] simple slogan -- that Ukraine is Europe and Europe is Ukraine," he said."We went out to fight … and we just got spit in our face."
The Ukrainian activists are most incensed at the sale by France of two amphibious-assault warships to Russia, which doesn't have any vessel as advanced and could use them to gain a decisive edge in any conflicts with Ukraine involving the Black Sea. The ships can carry dozens of tanks, 16 helicopters and more than 400 soldiers.
Russian troops are in France to train on the vessels, which Russia agreed to buy in 2011, before the Ukraine crisis began. The first one is due to be delivered by the end of this year. In an ironic twist, one of the ships will be named Sevastopol, the port city in Crimea, the southeastern Ukraine peninsula that was annexed by Russia in March.
Some Ukrainians are concerned these ships will make it easier for Russia to transport soldiers and equipment into Ukraine to launch an attack, or support separatists in the east who have waged a three-month-long battle with the Kiev government.
Russian military expert Igor Sutyagin at the Royal United Services Institute in London said the ships' possible use against Ukraine is limited, and there are easier ways to carry equipment and soldiers into the country.
The technology aboard the vessels is still a significant leap for Russia, and "an aggressor armed with new weapons looks scarier," Sutyagin said. "The general public … will consider that Russia is very mighty with this new technology, very capable, and so better to surrender before starting actual shooting."
But the mere sale has been enough to scare and anger Ukrainians.
So Marlinski, who's a board member of the Kiev branch of Automaidan -- one of the main activist groups that helped overthrow Yanukovych in February -- and dozens of others protested in front of France's embassy two weeks ago.
The United States also raised concerns, with President Barack Obama suggesting the deal be postponed.
France isn't budging. The contract is valued at $1.6 billion and has created hundreds of jobs. Russian President Vladimir Putin has warned that France would have to pay back the money and face other penalties if it canceled the deal. France would also lose its credibility as an arms trader if it didn't honor the agreement, Sutyagin said.
Such arguments don't go far with Ukrainians like Marlinski, who called France hypocritical because it was criticizing Russia at the same time it was taking money for a deal that could threaten Ukraine.
The activist said he knew people who died during the uprising, and that he has had colleagues go missing during the ensuing crisis with Russia. "If you can put a price on a human life, then I think we got a huge moral problem," he said of the deal's economic importance.
France isn't the only country raising the ire of Ukrainians.
Elena Elinova also demonstrated at the French Embassy in Kiev, and now is helping organize another protest next week. This one will include the Austrian Embassy, and possibly the Hungarian one as well.
Both countries are going ahead with the South Stream pipeline, a project to transport natural gas from Russia to Southern Europe via the Black Sea, bypassing Ukraine.
Elinova said this continuing cooperation between Russia and EU member states feels like a betrayal when Ukrainians sacrificed their lives partly to get closer to the bloc. "Europe declares European values but it's only a declaration, they don't do anything, while we Ukrainians defend these European values in our country," she said.
The pipeline will end in Austria. The Austrian Embassy in Kiev directed questions to Vienna-based oil and natural gas company OMV AG (VIE:OMV), which denied comment.
The Ministry of Foreign Affairs of Hungary, through which the pipeline will pass, said in an email that "South Stream offers the possibility of diversification of route [and] thus strengthens our energy security," although it added that Hungary supports greater energy security for Ukraine.
Europe imports one-third of its oil and gas from Russia. It's no secret that governments don't want to risk angering the people who keep the lights on in much of Europe. Hungarian Prime Minister Viktor Orbán suggested as much, when he said earlier this year that critics of pipelines from Russia should suggest an alternative for providing energy.
London School of Economics fellow David Cadier, who specializes in EU-Russia relations, said the question for Europe is whether such deals will help persuade Putin to stop his aggression tactics against Ukraine. "So far the hopes of this … have not been met," Cadier said, adding that canceling contracts years in the making could antagonize and further isolate Russia.
Still, he said France has made gestures to show support for Ukraine, such as sending troops to a training exercise in the region.
"The sensitivities [of Ukraine] I think are well-understood in the Western governments … I think they are kind of embarrassed themselves about the situation."
The lack of a common European position also raises questions about how the EU will react to such crises in the future, when member states have different economic and political interests. Cadier believes the conventional wisdom isn't exactly right: Europe has been more cohesive on the Ukraine crisis than many give it credit for.
"It's been years since the EU has been as united on its position on Russia, precisely because the recent action in Ukraine [is] somehow forcing some kind of diplomatic solidarity," he said.
Automaidan is taking its Europe protest on the road. Demonstrators will be driving across Europe next week, partly to spotlight what they see as continuing cooperation between Western countries and Russia. But even as activists accuse Europe of not doing enough, they don't want to abandon their EU dreams: On the same trip, they'll also be advocating for Ukraine's membership in the organization.
Marlinski said he owes it to those who were killed during the uprising to continue fighting for the principles they died for. Those who were killed "[put] obligations on people like myself, on movements like Automaidan, on people who want to change something," he said.
© Copyright IBTimes 2023. All rights reserved.
FOLLOW MORE IBT NEWS ON THE BELOW CHANNELS