Ultimate Protest: 45% Of Soccer-Mad Brazilians Don't Want A World Cup Win As Demonstrations Against Government Swell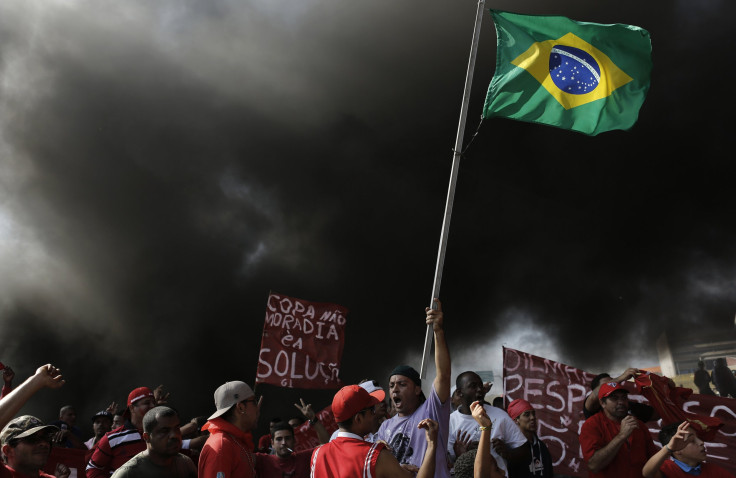 The unthinkable has happened: Nearly half of Brazilians say they don't want their team to win the 2014 World Cup. It is the ultimate proof that the soccer-mad country, whose national team has won the most World Cups in history, is unhappy with its government's priorities.
A survey by Unicarioca, a Rio de Janeiro-based consultancy, found that only 55 percent of Brazilians will support the national team during the soccer competition -- the other 45 percent want their country to lose.
José Campos Lara is one of them. "I want Brazil to be eliminated in first round, actually," said the 55-year-old Minas Gerais resident. "Our politicians need a lesson."
He said that Brasília should focus more on education and health care, and less on international events. "My son is a pediatrician, and you should hear the difficulties he has to perform his job," added Lara. "This country needs to rearrange its priorities."
Thousands of Brazilians agree with him. Three weeks before the kickoff game on June 12, citizens have taken to the streets in nearly 50 cities. In São Paulo, the country's largest city, protests called by nine unions started as early as 5 a.m. on Thursday. By noon, over 1,000 steel workers, students and homeless city dwellers had blocked the Avenida Paulista, a major street in the city, causing a five-hour traffic jam.
In Rio de Janeiro, where the first game will take place, 3,000 people blocked traffic in several avenues, chanting "Não vai ter Copa" ("There will be no Cup"). And in Belo Horizonte, Salvador, Porto Alegre and Brasilia, more than 1,000 people marched to demand better education and the cancelation of the World Cup.
The most violent demonstration was in the northern city of Recife, where military officers and firefighters have been on strike since Tuesday. With no police present, protesters looted stores along the main street and set trash cans on fire. Schools closed down for safety measures.
A total of 170 people were arrested in Recife, out of at least 200 arrests nationwide, police reported to São Paulo newspaper O Globo.
Protests are expected to continue over the next three weeks. "We expect at least 10,000 people will protest in São Paulo in the next days," said Juliana Machado, member of Comitê Popular da Copa de São Paulo. "The demonstrations are supposed to be peaceful, but we cannot predict if they will turn violent."
Anti-World Cup demonstrations started last year in São Paulo, with citizens demanding that President Dilma Rousseff focus on social issues rather than spend public funds on the World Cup. Brazil will have spent over $10 billion to update facilities, like stadiums and hospitality establishments -- more than double the total cost of South Africa's 2010 World Cup, which added up to $4 billion, according to estimates.
And there is no guarantee that the investment will pay off in the long run, say analysts. London-based Capital Economics forecasts that consumer spending related to the event will only amount to 0.1 percent of the country's GDP. The University of Minas Gerais predicts there will be 300,000 jobs created from the event, as opposed to 3.6 million announced by the government in 2010, almost all of which are temporary.
Four years ago, right before the 2010 World Cup, Rio de Janeiro was painted green and yellow, the colors of the national team. Tourist enclaves like Copacabana and Ipanema beaches blasted the national hymn, and jerseys were sold in every corner.
This year, mere weeks away from its own World Cup, Brazil's decorations are absent -- as is the enthusiasm of its people.
© Copyright IBTimes 2023. All rights reserved.