Rio De Janeiro Shantytown Revolt Increases Safety Concerns Ahead Of Brazil World Cup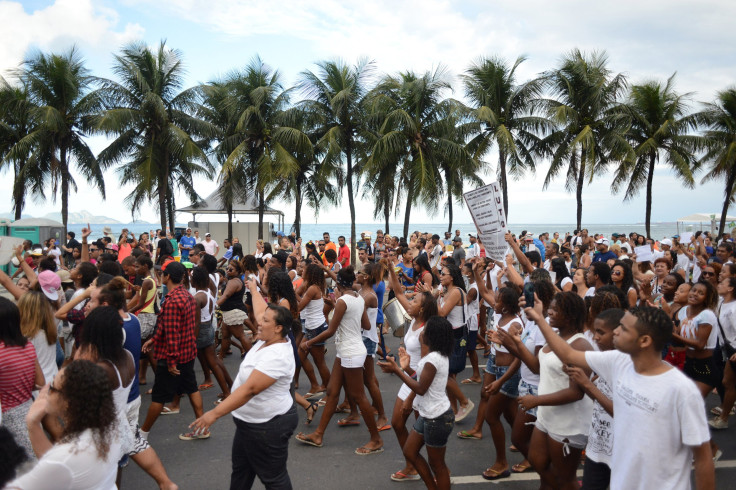 With the World Cup six weeks away and the eyes of the world on host country Brazil, the Brazilian government is rushing to stem a recent wave of violence before kickoff on June 12.
Every policeman in Rio de Janeiro, the location of the soccer tournament's final game, will be on patrol duty for the entire month of the World Cup. Governor Luiz Fernando Pezão of the state of Rio de Janeiro has announced that he will put every single policeman on the streets. Officers will have no days off, incurring major overtime costs.
Pezão admitted last week that security in Brazil is still far from what it should be for the World Cup. "We need more people in Rio to ensure a safe event," he said in a press conference after a revolt in one of the city's favelas, or shantytowns, closed streets and prompted hotels in the tourist area of Copacabana to tell guests to stay inside.
Residents of the Pavão favela took to the streets on April 24 to protest the death of Douglas Rafael da Silva, a local 25-year-old man whose body was found the night before, allegedly killed by police. The protest resulted in a battle with local police and, taking advantage of the chaos, the organized crime group Comando Vermelho attacked a police station. The confrontation required the intervention of the military to be subdued; one person was killed.
Images of the mayhem went global, showcasing that crime in Brazil is not as under control as the government has been proclaiming. Ever since the country started bidding to host the World Cup and the 2016 Summer Olympics, the government has been, time and again, assuring the world that violence was no longer a daily occurrence in Brazil.
At the announcement ceremony in 2007 when Brazil was awarded the World Cup, Ricardo Teixera, the president of the Brazilian Football Association, assured that safety would not be a problem.
"Violence today is an international issue. We had a good example during the 2006 Pan-American Games in Rio; there was no violence there," he said.
President Dilma Rousseff appealed for cooperation from all Brazilians: "Safety and security are a responsibility of the federal government, but we are all hosts," she said. "We will not leave anything to chance in regards to the World Cup, an extremely important event in Brazil."
Sepp Blatter, who heads world soccer as the president of the Fédération Internationale of Football Associations (FIFA), reacted angrily when asked about safety: "When we gave the [2010] World Cup to South Africa, the first question was about crime, too," he said.
But the latest outbreak was too violent, and too close to a popular tourist area, to be ignored. Copacabana is Rio's postcard beach and its biggest tourist draw, together with the famous Sugarloaf mountain. That has prompted even Blatter to backpedal and point the finger at Brazilian authorities. "Security is a matter for the government and the state," he said. "FIFA cannot ensure security."
With a homicide rate of 25.2 per 100,000 inhabitants, Brazil ranked 30th on the United Nations list of most dangerous countries in the world in 2012. In South America, only Venezuela (53.7) and Colombia (30.8) are more dangerous. And the trend in Brazil is upward, with the 2012 murder rate up from 22.2 per 100,000 people in 2010.
According to nonprofit Brazilian Public Safety Forum, São Paulo is one of the states driving the rise in murder. The country's richest state saw a 14 percent increase in reported murders between 2011 and 2012. And the real numbers could be much higher.
"Real figures could be between 10 and 25 percent higher of official numbers," sociologist Julio Jacobo Waiselfisz, researcher at the Instituto Sangari in São Paulo, told The Rio Times. High numbers of deaths in several states remain classified as "unexplained," and hence are not included in the official homicide data.
One of these states is Rio de Janeiro, which will host the final and four other games. Official numbers registered a 5.6 percent decline in murders between 2010 and 2012, but the figures have gone up since. The Instituto de Segurança Pública (Public Safety Institute) reported that murder has shot up 22 percent since last year. Police have also been killing more people: So-called "self-defense murder" by officers has gone up 59 percent since last year.
The last revolt at Pavão was not an isolated incident. In the past couple of months, there have been several uprisings in favelas around Rio. In Nova Brasília, to the north of the city, members of a drug cartel attacked a police station. In Rocinha, a shantytown to the south, there have been several shootouts between organized crime members and local police.
Rio de Janeiro state's public safety secretary, José Mariano Beltrame, took the chance to call for a deep reform of the penal system in Brazil. "We need a visible policy on safety, a deep reform of our justice system," he said.
But the lingering concern over safety is another sign that Brazil might be headed for a disastrous World Cup. Construction on several stadiums is yet to be finished, including Arena Corinthians in São Paulo, which might not be ready in time for the kickoff game.
Rousseff is still confident that her country will pull it off. "We will open our arms to receive [World Cup] in the best possible way: with hospitality, comfort and safety," she said in a televised interview.
But Blatter already said in January that Brazil was further behind than any host he has dealt with in his four decades at the helm of world soccer.
FOR FREE to continue reading
✔️ Unlock the full content of International Business Times UK for free
offer available for a limited time only
✔️ Easily manage your Newsletters subscriptions and save your favourite articles
✔️ No payment method required
Already have an account? Log in
© Copyright IBTimes 2023. All rights reserved.