UN Chief Ban Ki-Moon Visits Nigeria After Boko Haram Ambushes Army Chief's Convoy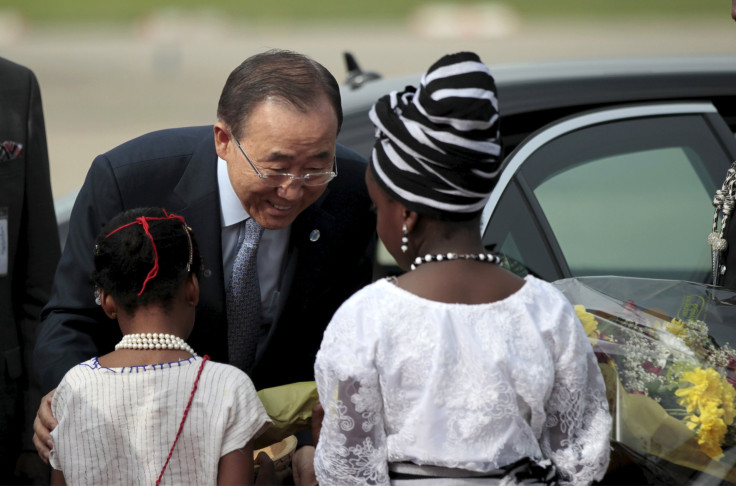 United Nations Secretary-General Ban Ki-moon arrived Sunday in Nigeria for an official two-day visit, as the West African nation battles Islamist militant group Boko Haram. The U.N. chief, who flew into the capital, Abuja, will meet for the first time with Nigerian President Muhammadu Buhari at the presidential villa to discuss the regional war on Islamic extremism, according to AFP news agency.
"Across our world, we see insecurity, inequality, growing divides," Ban told a private meeting of state governors in Abuja, according to a U.N. statement. "Here in Nigeria, you know the challenges all too well –- including the rise of extremism and the lack of equal opportunity. I know this is a deep and vital challenge -- in particular for the governors of the northeast."
The secretary-general is visiting Nigeria to commemorate a deadly attack on the United Nations by Boko Haram militants. Apart from meeting Nigeria's new president, Ban is expected to lay a wreath in Abuja for the fourth anniversary of the attack. The U.N. chief is also scheduled to dine with industry leaders and the country's state governors to discuss "democracy, human rights and countering violent extremism." It's the second time Ban has traveled to Nigeria since taking office in 2007, AFP reported.
"This is also a time of hope. I want to commend you and all of Nigeria's leaders for the peaceful democratic transition of power," Ban said Sunday.
Ban's visit to Nigeria began shortly after suspected Boko Haram militants ambushed a convoy carrying the country's army chief on a tour of towns in the shattered Borno state early Sunday. One Nigerian soldier died in the attack, while 10 militants were killed and another five captured. Lt. Gen. Tukur Buratai, who was appointed Nigeria's new chief of army staff in July, survived the ambush unharmed, Reuters reported.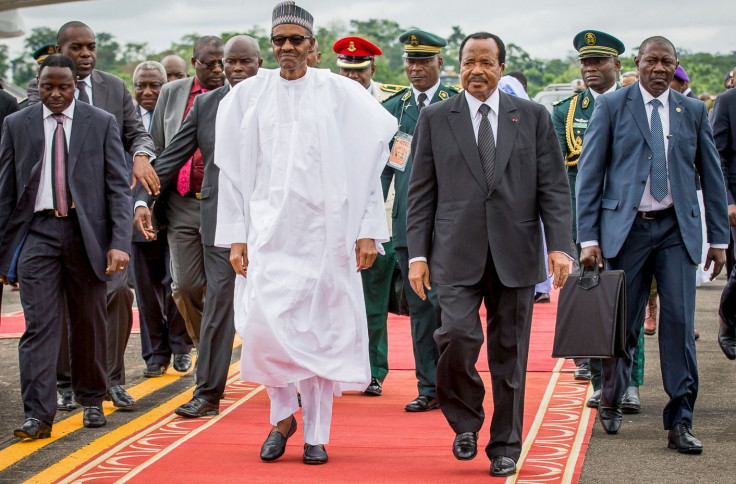 Buhari won the March presidential elections on the campaign promises of fighting corruption and terrorism. Since the presidential inauguration in May, Buhari has replaced Nigeria's military leaders and ordered his new army chiefs to end Boko Haram's six-year insurgency. But Boko Haram, which has sworn allegiance to the Islamic State group, has unleashed a fresh wave of fresh violence, which has claimed more than 1,000 lives over the past three months -- mostly in northern Nigeria.
The Nigeria-based militant group has lost the bulk of its territory -- including its former stronghold in Borno -- and has reverted to its old tactics of hit-and-runs on villages and towns, often using suicide bombers. However, the upsurge in attacks has dealt a blow to a regional offensive, which launched in February. An 8,700-strong Multinational Joint Task Force, drawing troops from Nigeria, Niger, Chad, Cameroon and Benin, is expected to be deployed soon, according to AFP.
"This a crucial moment for Nigeria," Ban said in Abuja Sunday. "You face many serious challenges, but you have also taken a hugely important step to move forward in a way that can respond to the aspirations of the country's people."
© Copyright IBTimes 2023. All rights reserved.
FOLLOW MORE IBT NEWS ON THE BELOW CHANNELS