UN General Assembly 2015: Syria Refugee Crisis Dominates Speeches By Putin, Obama, Hollande, But Will Syrians See Real Change?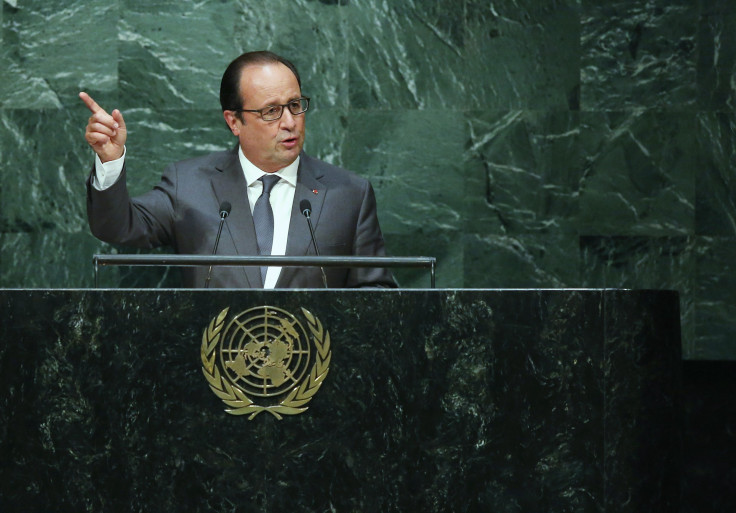 Of all of the urgent geopolitical issues in the world, including the conflict in Ukraine, the mounting consequences of climate change and the reverberations of the Chinese economic slowdown throughout international markets, one recurring topic of discussion at the 70th United Nations General Assembly was the war in Syria and the resulting refugee crisis in Europe. United States President Barack Obama, Russian President Vladimir Putin and French President Francois Hollande all put Syria and Syrian refugees at the forefront of their passionate speeches Monday at the United Nations, but only time will tell if the lip service will result in real action.
Since 2011, after antigovernment protests in Syria against President Bashar Assad led to a civil uprising, the Middle East country has been gripped by a conflict that has claimed the lives of 220,000 people. After the Islamic State militant group, also known as ISIS, joined the fight last year, the conflict is no longer along strictly anti- or pro-government lines, and factions have continued to splinter as the violence has grown.
Escalating warfare in Syria has pushed millions of Syrians to leave their homes, with nearly 500,000 making their way to Europe since January. The rates of new refugee arrivals surged over the summer, and the European Union has become the new flashpoint for the refugee crisis while struggling to come up with a long-term solution.
After giving a speech at the U.N. on the need to find a sustainable solution to the refugee crisis, Obama announced Monday via his verified Twitter account that the U.S. intended to take in 100,000 refugees per year for the next two years. The number is a huge increase from the country's initial promise to take in 10,000 refugees next year as announced this month.
Putin also spoke about Syria, with his focus on supporting Assad instead of assisting with a regime change. "We think it's an enormous mistake to refuse to cooperate with the Syrian government and its armed forces, who are valiantly fighting terrorism face to face," he said Monday during his speech to the U.N.
While Putin insisted that Assad is the rightful leader of Syria and should be collaborated with, Hollande condemned any solution in Syria that involved its president. "The refugees in the camp, the displaced people -- there are millions of them: men, women and children. It's not only that they are fleeing a war, but for three years they're fleeing the regime of Bashar al-Assad," the French president said during his speech Monday. "You can't work together; you can't put together victims and their killers. Assad is at the root of the problem and cannot be part of the solution."
Hollande, along with German Chancellor Angela Merkel, has been one of Europe's leaders during the crisis, promising to take 200,000 refugees in France over the next five years. "If we want to avoid the tragedies we have seen of people crossing at the cost of their life -- well, we have to act," Hollande said during his speech, adding: "Europe did host refugees coming from Syria, from Iraq, from Eritrea and Sudan; this was our duty, because Europe was based on principles and rights, and asylum is one of them."
When asked whether all of the discussion of refugees will lead to concrete steps in refugee policy, some migration experts were uncertain. "It's really hard to say," said Kathleen Newman, a senior policy analyst at the Migration Policy Institute, a nonprofit that studies refugee and migration patterns closely.
"I think it could lead to more cooperation, and that would certainly be very welcome, particularly if the U.S. were to get in there and do more" she said. "The thing to watch from the U.S. is really whether we ramp up a large resettlement refugee program."
© Copyright IBTimes 2023. All rights reserved.