UN Investigator Urges China To Back Human Rights Case Against North Korea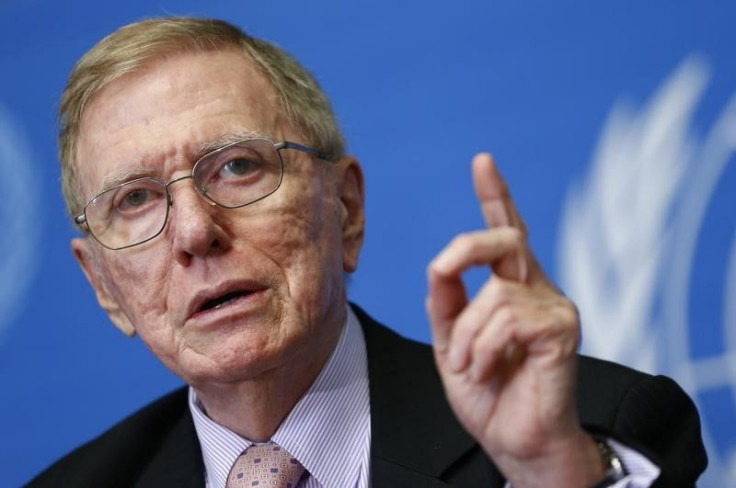 (Reuters) - The chief U.N. investigator into human rights cases in North Korea said on Wednesday he has appealed to China to support calls to refer Pyongyang's actions to The Hague on suspicion of crimes against humanity.
Western diplomats say China, North Korea's principal protector on the U.N. Security Council, will likely use its veto power there to knock down any attempt to refer North Korea to the International Criminal Court.
But Michael Kirby, a former Australian judge who led the independent U.N. inquiry into human rights abuses in North Korea, told reporters at U.N. headquarters that it was by no means certain China would block an ICC referral.
"I don't think a veto should be assumed," Kirby said. "China is a very great pal with great responsibilities as a permanent member. Veto is not the way China does international diplomacy. China tends to find another way."
"We continue to (work) in hopes that China, as a great pal, will act as a great pal should," he added.
But Chinese Foreign Ministry spokeswoman Hua Chunying said China did not believe taking the issue to the ICC would help.
"We have always supported dealing with human rights differences through dialogue and cooperation," Hua told a daily news briefing in Beijing.
"We believe that for the issue of human rights, referring a case to the ICC is not helpful to improving a country's human rights situation."
Kirby emphasized that China has only 10 vetoes, the lowest number of any of the five permanent members. That is a fraction of the dozens of times Russia and the United States have vetoed resolutions in the 15-nation council.
'MOMENT OF TRUTH'
Kirby chaired the U.N. Commission of Inquiry on North Korea, which in February produced a 372-page report.
It detailed wide-ranging abuses, including prison camps, systematic torture, starvation and killings comparable to Nazi-era atrocities. The report's publication prompted calls among Western states and their allies for punitive action against North Korea.
Speaking later at a meeting of U.N. member states, North Korean delegate Kim Song called Kirby's report "confrontational" and a "product of political conspiracy of the United States and hostile forces" seeking to overthrow North Korea's political and social system.
The issue will soon be discussed in the U.N. General Assembly's Third Committee, which focuses on human rights.
A draft resolution prepared for the Third Committee by the European Union and Japan, seen by Reuters, urges the 193-nation assembly to recommend the referral of North Korea to the ICC for crimes against humanity. North Korea responded by proposing its own draft resolution praising its human rights record.
"The United Nations is about to meet a moment of truth," Kirby said. "The essential question will be whether the United Nations will stay the course and adhere to making the principle of accountability of great crimes a reality."
Unlike the Security Council, which can issue legally binding resolutions and enforce compliance by imposing economic sanctions or authorizing military force, the General Assembly's resolutions are non-binding. But such resolutions can increase political pressure on the countries targeted by them.
There are no vetoes in the General Assembly. The Security Council has referred Sudan's Darfur region and Libya to the ICC while Russia and China vetoed a Western attempt to refer the war in Syria to the court.
(Additional reporting by Megha Rajagopalan in BEIJING; Editing by David Gregorio, Robert Birsel)
© Copyright Thomson Reuters 2022. All rights reserved.
FOLLOW MORE IBT NEWS ON THE BELOW CHANNELS