Under Egypt President Sisi, World Famous Muslim University Al-Azhar Faces Global Backlash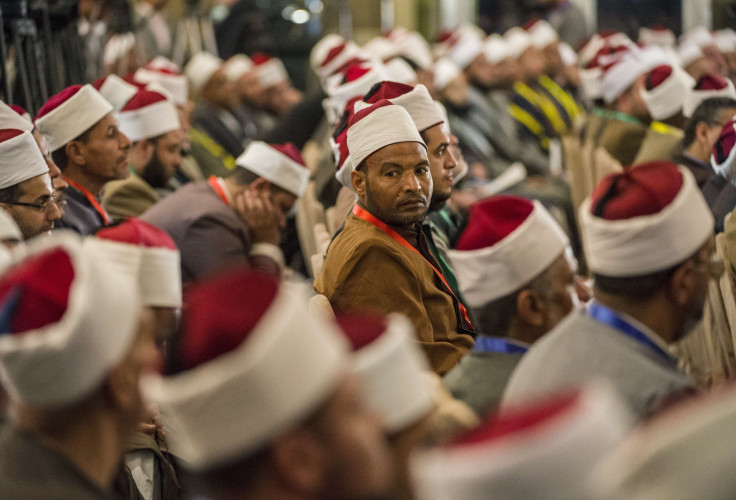 When Egypt's leader Abdel Fattah el-Sisi wanted to address his nation on the future of Islam earlier this year, the venue was an obvious one: al-Azhar University, Cairo's world-renowned center of Islamic scholarship. Likened by some in significance to the Vatican, it is more than 1,000 years old and has long been looked to by Sunni Muslims worldwide for religious guidance.
But in recent years, al-Azhar has grown increasingly politicized. Under Sisi, who is accused by human rights organizations of harshly repressing political opponents, university officials have grown entangled with controversial policies. And as many Muslim leaders throughout the globe criticize Egypt's government, respect for the institution's long-honored religious authority has plummeted.
"When Sisi came to power, when he announced his coup, he did it on TV and he had himself with a small group of people, a number of whom were major religious leaders, including the grand leader of al-Azhar," said John Esposito, a professor of Islamic studies and international affairs at Georgetown University in Washington, D.C., who has written extensively on Egyptian politics. "It's polarized the situation. Al-Azhar's reputation remains strong among some, but it's totally tarnished among others."
Al-Azhar is a vast institution with more than 500,000 students at its satellite colleges and elementary and high schools across Egypt. Among the oldest of the world's accredited universities, it is renowned particularly for its Islamic theology departments that draw tens of thousands of students from around the globe to study under its widely revered scholars. After graduating, students may return to their home countries as imams or scholars, including to Muslim communities in the U.S.
The school's trusted religious rulings, or fatwas, read by Muslims around the world, have preserved it for centuries as one of the most influential institutions in Sunni Islam. Yet, while al-Azhar has been linked to the Egyptian government for decades, only in recent years has it become so politicized.
Experts say significantly fewer international students are attending these days due to the school's support for Sisi. The populations of a number of Muslim countries, including Turkey, Morocco and Malaysia, widely oppose Sisi's government, and increasingly criticize the institution for its unyielding support for him. Turkey, with its moderate Islamist government that is perhaps Sisi's toughest critic internationally, announced plans late last year to establish its own international Islamic university amid a void of alternative educational opportunities created by the civil wars in Syria and Yemen. Many have speculated that Turkey is aiming to counter al-Azhar's influence as a rift widens between the two of the Muslim world's major powers.
Sisi came to power in 2013 by toppling the Muslim Brotherhood government of Mohammed Morsi following street protests over the Brotherhood leadership's perceived failure to address economic hardship and its slide toward authoritarian governance. Supporters of the movement, considered hard-line Islamists by some, have rejected Sisi's authority to rule, prompting a widespread crackdown on the Brotherhood, as well as others critical of Sisi's policies.
Thousands of Brotherhood supporters were killed as they protested the coup against Morsi and demanded his release from prison, and the government has closed tens of thousands of mosques, banned books and placed heavy constraints on media. Sisi's administration has also passed legislation dictating the topics of Friday prayer sermons, enforced rules allowing only state-sponsored imams to preach, and encouraged other sweeping religious changes, including in al-Azhar's centuries-old curriculum.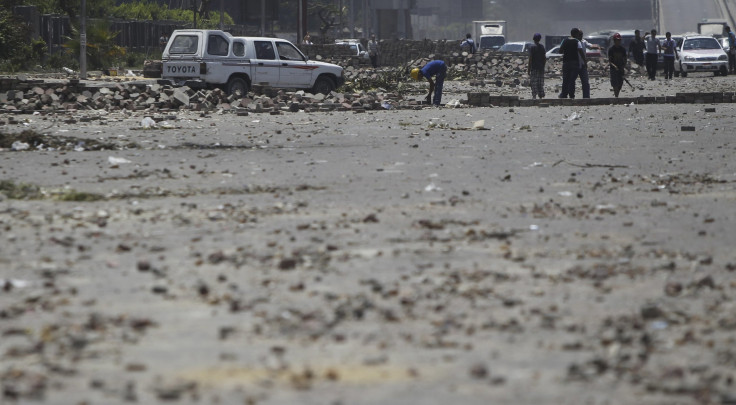 Amid the turmoil, Ali Gumah, one of the most influential Sunni scholars in the world after serving as Egypt's grand mufti and al-Azhar's former leading religious authority, has likened obeying Sisi to obeying the Prophet Muhammad himself, and called for violence against the opposition. More recently, an al-Azhar leader drew criticism last year for comparing Sisi and his interior minister to Moses and his brother Aaron -- Jewish biblical figures revered by Muslims as prophets of Allah.
"You can't distinguish between their propaganda and religious teachings anymore," said Emad Shahin, a former public policy professor at the American University in Cairo, now a visiting professor at Georgetown University in Washington, D.C., who was sentenced to death in absentia earlier this year for criticisms of the government that a Cairo court ruled amounted to espionage. "For an average Muslim, this is excessive, this is outside the book, outside the religion completely. This is sheer propaganda."
Hundreds of al-Azhar students have been arrested over the last several years for protesting the administration's ties to Sisi's government. A considerable segment of the student population backed Morsi and continues to oppose the current government. At least 130 students have been expelled over the protests. The opposition is largely focused on Sisi's human rights violations, including limits on free speech, as opposed to religious differences.
"It's being utilized by the political regime for their own favor," said Maissa Abdel Latif, a member of Egyptians Abroad for Democracy Worldwide, an international opposition group. "To be able to control people of a country, you have to understand how you can move these people emotionally. Egyptian people are moved very easily by religion, whether Muslims or Christians."
Al-Azhar became state-affiliated during the 1952-1970 era of the pan-Arab nationalist President Gamal Abdel Nasser. For decades it has been government-funded and its public face -- the grand imam -- hand-picked by the country's ruler. Ahmed el-Tayeb, the current grand leader, was a member of former President Hosni Mubarak's National Democratic Party at the time he was appointed, though he was pressured to end his membership with the party in 2010 due to a perceived conflict of interest. A year later, Mubarak and the National Democratic Party, which invoked religion considerably less than Sisi, were overthrown in a massive popular uprising.
Experts said they believed there are figures at al-Azhar who do not actually agree with Sisi's repressive policies, or his reforms, but feel pressured to support them nonetheless.
"There's no way under an authoritarian government, no matter how independent you say you are, that you're really going to be independent," said Esposito. "You're given a certain area, and as long as you know not to push the envelope, you can function."
Whether al-Azhar will be able to maintain its religious authority and continue backing Sisi's policies is unclear. But even as Turkey lays the groundwork for its own rival Islamic university, experts said it would ultimately be difficult to pull the rug out from under al-Azhar.
"You are building an institution that will compete with [the Muslim equivalent of] Oxford or Harvard," said Shahin, the former professor at the American University in Cairo.
© Copyright IBTimes 2023. All rights reserved.