Sisi Islam Reform: Blasphemy Case Against Reformist Islam El-Beheiry Undercuts Egyptian President's Call For Muslim Religious Revolution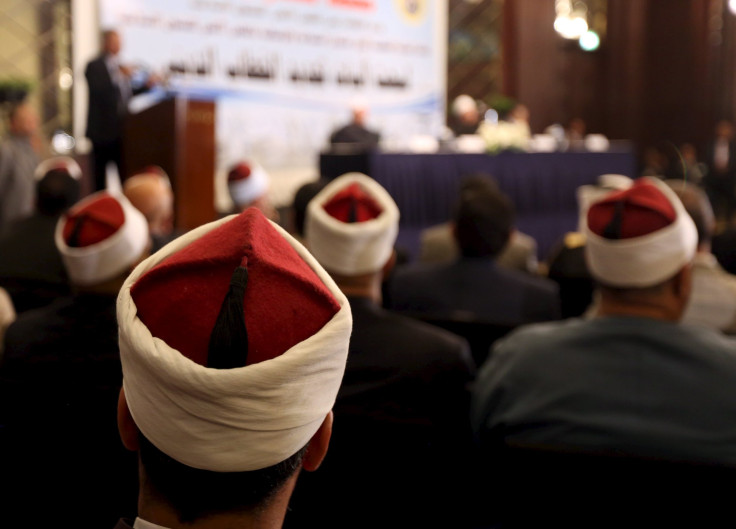 Egyptian President Abdel Fattah al-Sisi made international headlines earlier this year for calling for a reformation of Islam, but his government is proving itself less than willing to embrace Islamic reformists at home. Perhaps nothing has made this resistance more clear than the government-sanctioned campaign against Islam El-Beheiry, an Islamic scholar who made a name for himself on Egyptian airwaves for questioning the teachings of hardline preachers and encouraging a more critical approach to foundational Islamic texts.
On Saturday, an Egyptian court sentenced El-Beheiry to five years in prison on charges of contempt of religion, after the scholar was accused of blasphemy by the state-backed religious institution al-Azhar, the most prominent Sunni religious authority in the Muslim world. El-Beheiry's sentencing follows the April cancellation of his religious talk show "With Islam," which was pulled off the air by a privately-owned satellite channel at the request of Azhar Grand Sheikh Ahmed al-Tayyeb.
The court ruling is representative of the sort of challenges that reformers like El-Beheiry face in Egypt, according to Egyptian author and journalist Hany Ghoraba. "El-Beheiry represents a new generation of religious reformers outside the clergy and religious caste," Ghoraba wrote in a commentary published Monday. "His bold and unorthodox methods have gained him millions of supporters and many other enemies." Among these enemies are the old guard of al-Azhar, which Ghoraba argued have been engaged in a campaign of character assassination against El-Beheiry since his rise to prominence.
The Islamic scholar has sparked debate since his show began airing in July 2013. El-Beheiry regularly featured clips of ultraconservative Salafi preachers, using them as a basis for dismantling long-held religious assumptions, including around hot-button issues like women's rights and penalties for insulting the Prophet Muhammad.
Audiences flocked to watch El-Beheiry's program, which became famous for his calls for Muslims to discover the true meaning of the Quran, a text he argued should not be read literally but interpreted based on the modern context in which believers live. This approach has supported El-Beheiry's rejection of the extremist ideologies espoused by militant groups like the Islamic State and al Qaeda.
And while state institutions like al-Azhar are at least publicly aligned with this objective of shunning violent Islamist extremism, they have been far from supportive of El-Beheiry's approach. The scholar "struck a nerve when he opened the door for a revisionist view of what was taken for granted as an integral part of religion," argued Ghoraba, pointing to El-Beheiry's questioning of centuries of Islamic tradition. Public debates in which he took on al-Azhar scholars did not help either, opening the door for officials to accuse him of threatening "social peace" and undermining the storied religious institution.
The campaign by the state-backed authority seems counterintuitive given the Egyptian president's much-publicized effort to promote moderate Islam. In a speech at al-Azhar university in January, Sisi called for an Islamic "religious revolution," urging imams to take the lead in fighting extremism. These comments were shortly followed by remarks at the World Economic Forum in Davos, where Sisi called on Muslims to rethink religious discourse to encourage a more tolerant kind of Islam that would preclude violent acts.
However, while El-Beheiry's approach to Islamic teaching might seem to line up with this appeal, the political context around Sisi's call reveals that a true reformation of Islam is hardly on the president's list of priorities, according to Samer Shehata, an associate professor of Middle East studies at the Department of International and Area Studies at the University of Oklahoma.
Sisi's comments, which came amid an uptick in radical Islamist violence in Egypt's Sinai peninsula, were geared more toward improving his government's reception in the West, Shehata argued. The state's violent crackdown on political opposition, most prominently Islamist groups like the Muslim Brotherhood, along with mass imprisonment of dissidents, has been condemned by governments around the world, marring Sisi's position as an important ally to several Western countries.
Sisi has responded by linking his government's efforts against Islamist political opponents to a global crackdown on violent jihadists. His religious reformation remarks were greeted with enthusiasm by some Western commentators, with Washington Post columnist George Will going so far as to suggest Sisi as a plausible candidate for the Nobel Peace Prize. As a result, Sisi's calls for a reformation should be seen as part of a cynical strategy, said Shehata. "Sisi's use of Islam, like that of other leaders, is instrumental," Shehata said. "It's not about opening up Islam for critical debate. All of this is sort of window dressing and facade to justify the regime in any way they can."
Indeed, cementing the state's firm grip on religious thinking has become more important than ever as the Sisi government attempts to standardize Islamic teaching in the country to contain the rise of radical Islamist movements within Egypt, something Al-Azhar is uniquely positioned to do.
Dating back to the 10th century, Al-Azhar, which consists of a mosque and university, is widely considered to be the foremost center of Sunni Muslim learning around the world. Many of the institution's 450,000 students hail from countries across Asia and Africa. With a network of more than 9,000 schools across Egypt, the institution is also among the most important arms of the Egyptian state.
Sisi even relied on Al-Azhar's authority to legitimize his own rapid ascent to power after overthrowing Egypt's first democratically elected president, Mohammed Morsi, in a July 2013 coup. The former military chief announced the ouster of the Muslim Brotherhood leader while flanked by Azhar Grand Sheikh al-Tayyeb and other high-ranking state officials.
Maintaining the position and authority of the institution is thus a major priority for Sisi. The leader's so-called religious revolution is "part and parcel of a broader and more traditional statist project," said Michael Hanna, a senior fellow at the Century Foundation, in an interview with the Christian Science Monitor. "This is why both religious expression and religious immoderation are to be tightly controlled, as they are understood as potential sources of instability that could disrupt public order."
In this way, true reformists like El-Beheiry -- while ideologically at odds with the message of the radical Islamists the Sisi government is attempting to stamp out -- constitute a real threat to the state. But despite Al-Azhar's efforts, the die has been cast, according to Ghoraba.
"Many Egyptians now are revisiting their religious books with a different mindset and more open mind toward the true meaning of religion," he said. "The impact of Islam El-Beheiry's more than 300 episodes on reform has reached further heights not just in Egypt but in other predominantly Muslim countries. The ground has shaken underneath the vanguards of the temple and it is time for them to face the nation."
© Copyright IBTimes 2023. All rights reserved.