Union Stronghold Michigan Just Got A Little Less Union-y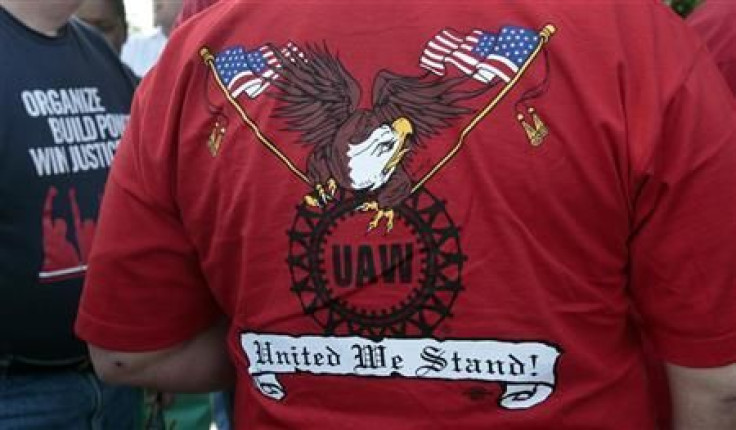 Organized labor in the U.S. has not had a good year.
In February, Indiana became the 23rd state in the nation to OK right-to-work legislation, which prevents agreements between employers and unions requiring employees to become members of or pay fees to unions as a condition for employment.
Then, in June, an attempt by local and national unions failed to recall Wisconsin Gov. Scott Walker following the Republican's implementation of a broad austerity program targeting public-employee benefits.
And now Michigan, home to the Big Three automakers and a traditional collective-bargaining stronghold, is poised to follow Indiana in becoming the 24th right-to-work state in the U.S. This year is the first in nearly a decade that such laws have been passed.
If all goes as anticipated, Michigan Gov. Rick Snyder will sign into law next week a measure that only Thursday was made public in votes in the state's House and Senate by the lame-duck Republican leadership. The legislation will ban mandatory union dues in one of the most heavily unionized states in the country, as shown by U.S. Bureau of Labor Statistics data.
Some conservative union members like the proposal because they dislike the kind of political agendas advanced by labor organizations, according to the Washington Free Beacon.
Opponents say the legislation will drive down wages, but supporters say it is necessary to remain competitive.
"Regardless of your position on collective bargaining, every worker should have the freedom to choose if they want to be a member of a union or not without jeopardizing their job or their ability to get a job," state Sen. John Moolenaar, a Republican, told MLive.com.
"Michigan is not going to turn into Mississippi if it passes," Gary Chaison, professor of industrial relations at Clark University in Worcester, Mass., told CNNMoney. "But the symbolism of having a right-to-work law in Michigan -- it's tremendously important."
A poll by Lansing-based EPIC-MRA found that 54 percent of respondents were generally in favor of right-to-work laws. However, only 46 percent of them were particularly in favor of Michigan becoming a right-to-work state, according to the Detroit Free Press.
While there had been much speculation about a possible move on right-to-work legislation, Thursday's vote took most people by surprise, especially since Gov. Snyder had indicated many times that he had no interest in pushing a right-to-work measure.
Detroit's Big Three automakers -- the Ford Motor Co. (NYSE:F), the General Motors Co. (NYSE:GM), and Chrysler Group LLC -- all said they were remaining neutral on the issue, Bloomberg News reported.
© Copyright IBTimes 2023. All rights reserved.