United Airlines Flight 1074 Turned Around: Man Runs Toward Cockpit Yelling 'Jihad' [VIDEO]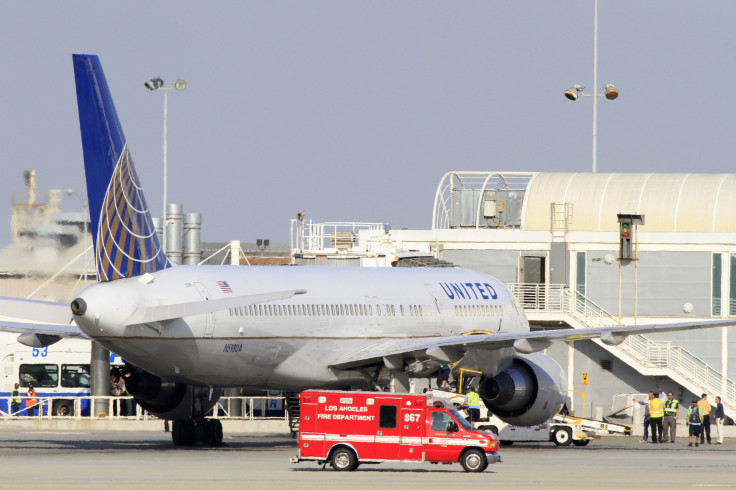 A spokesman for United Airlines said Tuesday that a flight en route to Denver was forced to return to the Washington, D.C., area shortly after takeoff late Monday when a passenger became violent and ran toward the cockpit yelling "jihad," according to news reports. Background checks did not suggest that the man had any connections with terrorism.
"He ran forward toward the cockpit and he is being restrained by passengers," one pilot said, according to LiveATC, which provided audio of air traffic control transmission. "Cockpit is secure and we would like to return to the airport and have the authorities meet him."
The passenger was held down by two people, according to Donna Telham, a passenger on the flight. "One held his feet and the other one kind of laid on top of him and then the flight attendants went and got some plastic restraints for his arms," she said, according to ABC News, adding that the restrained passenger insisted there were jihadists in the cargo hold and said "jihad" a couple times.
No passengers were injured, nor were any weapons found during the incident, according to CNN. Another passenger told NBC that the man claimed he had a bomb. That claim was echoed by a user on Reddit who claimed his father was on board the flight. The user then provided an image of the passenger's face. The unruly passenger was heard saying "I'm sorry," as he was held down, as seen in a cell phone video taken by a passenger. One of his restrainers was heard saying "We're going to get you off this plane, buddy."
Law enforcement detained the passenger upon the plane's return to Dulles International Airport at 10:50 p.m. EDT, after which the passenger was taken to a hospital for evaluation, the spokesman said. No information about the man's identity was known yet. United Airlines planned to fly the remaining passengers to Denver on Tuesday. The Boeing 737 plane was carrying 33 passengers and six crew members on board Flight 1074.
© Copyright IBTimes 2023. All rights reserved.