United Airlines Flight Attendants File Complaint For Being Fired After Not Flying Over Security Concerns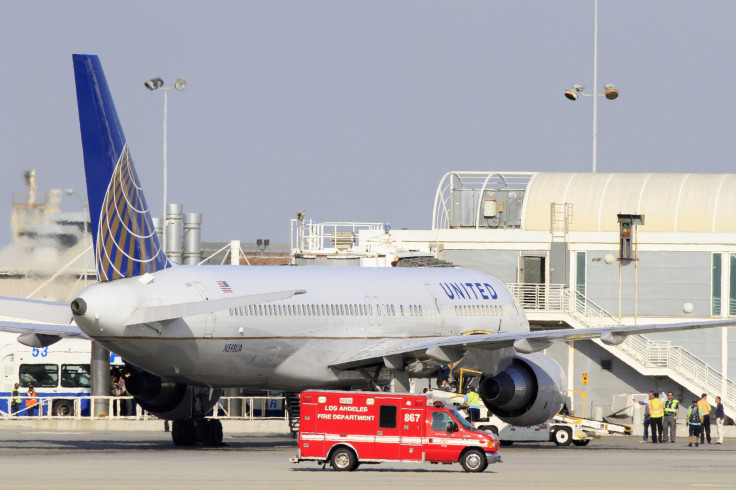 Thirteen flight attendants filed a whistleblower complaint on Monday against United Continental Holdings Inc., which operates United Airlines, after the company fired them last year for not allowing a Hong Kong-bound flight to take off from San Francisco airport amid security concerns. The attendants, who were terminated in October, following the incident on July 14, claim they saw a threatening message scribbled on the plane's tail cone before departure.
According to a complaint filed with the U.S. Labor Department's Occupational Safety and Health Administration, a co-pilot conducting a "walk-around" inspection of the plane found that unknown persons had written "threatening words and drawn menacing images in an oil slick," according to The Wall Street Journal. The message allegedly included the words "Bye Bye" with two faces, one smiling and the other "devilish."
The attendants believed the threat was credible because the drawings could only be made by someone with security access to the plane and the airfield, and urged United Airlines to address the issue by evacuating the passengers and conducting a security inspection of the flight. However, the company refused to do so, according to the complaint.
"Given the gravity of the risks involved -- the lives of passengers and crew alike -- we were not willing to bow to United's pressure to ignore an unresolved security threat even though the company made clear that we risked losing our jobs. We have every confidence that the Department of Labor will conclude that our firings were unlawful and will make United give us our jobs back," Grace Lam, one of the attendants who was terminated, said in a statement, according to MarketWatch.
The plane, with over 300 passengers on board, was preparing to leave San Francisco International Airport, but was canceled and grounded after the attendants refused to fly. The employees were later terminated for engaging in an "act of insubordination," according to the complaint, which seeks to reinstate the attendants in their jobs with back pay and compensation.
"These flight attendants refused to let an airline bully them into flying because of what they believed, correctly, was a security threat," David Marshall, an attorney for the attendants, said, according to Reuters.
United Airlines said that it had followed all procedures laid down by the Federal Aviation Administration at the time, a spokesperson for the company reportedly said, adding that the pilots and mechanics believed the plane was safe to fly. The Chicago-based company also said that it would fight the pending litigation vigorously, Reuters reported.
The attendants also said that all airlines were on a heightened security alert as the incident closely followed the disappearance of Malaysia Airlines Flight MH370. The Travel Security Administration had also reportedly issued a warning about consumer-electronic-device bombs a week prior to the incident, the statement said.
© Copyright IBTimes 2023. All rights reserved.
FOLLOW MORE IBT NEWS ON THE BELOW CHANNELS