United By Shared Vision Of A Multipolar World, India And Brazil Deepen Bilateral Ties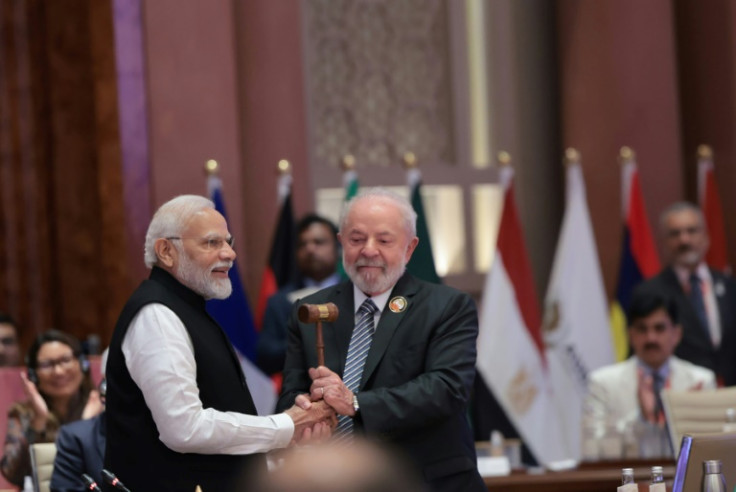 India and Brazil, despite being on opposite sides of the world, are deepening their bilateral ties with a shared vision of leveling the global playing field.
Bound by common interests and shared values, India and Brazil have been using their position in global forums to ensure emerging economies get a share of the limelight.
"They are both developing economies with similar challenges, so there will always be something to learn from each other," Hari Seshasayee, advisor, Senior Dispatch of the Ministry of Foreign Affairs in Panama, and Asia-Latin America expert of United Nations Development Programme (UNDP), told International Business Times. "Brazil and India have followed a largely independent foreign policy, and will continue to promote multilateralism in order to achieve a more multipolar world, where Delhi and Brasília will hopefully wield even more influence."
Prime Minister Narendra Modi and President Luiz Inácio Lula da Silva met on the sidelines of the G20 summit last weekend and reaffirmed their commitment to bolstering the Brazil-India Strategic Partnership. They also showed commitment to sustaining "their distinctive roles in global affairs," Modi's office said in a statement.
"Marking the 75th anniversary of diplomatic relations between Brazil and India, celebrated in 2023, both leaders emphasized that bilateral ties have flourished," the statement read.
As the world order currently goes through a reshuffling, New Delhi and Brasília are furthering their influence in their respective regions and solidifying their positions as advocates for the Global South.
"India and Brazil are strong pillars of their own regions, i.e. India in South Asia and the larger Asian continent, and Brazil in Latin America. They will continue to wield influence in these regions and occasionally look to expand their spheres of influence through multilateral bodies like the BRICS and G20," Seshasayee said.
India-Brazil ties have been built over decades and focus on cooperation in several sectors, including energy and food security. Their strong bilateral trade has also expanded in recent years.
"Brazil is a significant trade partner of India's overall trade trajectory" and "one of the most resilient economies in the world economic system," S P Sharma, chief economist at New Delhi-based PHD Chamber of Commerce and Industry (PHDCCI), told IBT.
India's total exports to Brazil in 2022 were $9.72 billion, while Brazil's total exports to India in the same year was $6.34 billion.
"India's trade trajectory with Brazil has grown from US $3 billion in 2017-18 to US $10 billion 2022-23, showing a growth of 230% in the past five years," Sharma said, adding "trade is expected to expand many folds in the coming times."
When Modi handed over the G20 presidential gavel to Lula, he expressed "unwavering faith" in Brazil to "further global unity." The two leaders seem well aware that it is the right moment for the Global South and have used their country's clout to ensure developing nations are better represented on the global front.
India's G20 presidency was seen as a strong campaign to promote inclusivity in world forums and to ensure that issues resonating with developing nations are not sidelined. Brazil, which takes over the G20's stewardship from India, is expected to continue advocating for developing economies as well.
"Both India and Brazil are leading economies of the Global South and share common perspectives regarding reformed multilateralism, inclusive and sustainable development," Ruchita Beri, a consultant with the think tank Manohar Parrikar Institute for Defence Studies and Analyses, told IBT.
"The mutual understanding between Indian Prime Minister Narendra Modi and Brazilian President Luiz Inacio Lula de Silva helped in pushing forward their common agenda" at the G20 summit, she added.
Modi and Lula also showed mutual support for each other's permanent membership in the United Nations Security Council and agreed to hold regular bilateral coordination meetings for the same.
© Copyright IBTimes 2023. All rights reserved.