UN's Ban Ki-Moon Removes Saudis From Blacklist After Threats Of Blocking Funds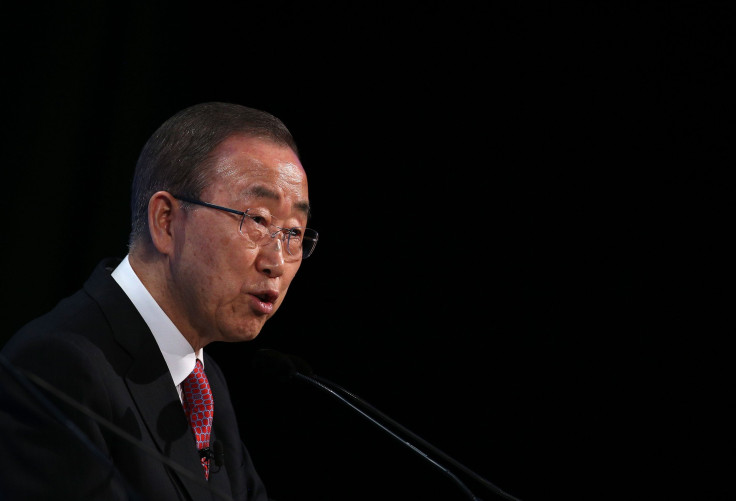 The United Nations announced Thursday it has temporarily removed the Saudi-led coalition in Yemen from a U.N. blacklist for violating child rights after its supporters threatened to block funding to a number of the organization's programs.
"This was one of the most painful and difficult decisions I have had to make," Secretary-General Ban Ki-moon said.
The secretary-general's annual report, released in April, on children in armed conflict called out Yemen on a "particularly worrisome escalation of conflict." The agency found a fivefold increase in the number of children recruited in 2015 compared with the previous year. This resulted in a sixfold increase in the number of children killed and maimed in the same period. The report said that the alarming trends continued into early 2016.
Of the casualties, 60 percent — 510 deaths and 667 injuries — were attributed to the Saudi Arabia-led coalition in the country. The U.N. also said it verified 101 attacks on schools and hospitals last year, double the number in 2014, and attributed 48 percent of those to the coalition.
Ban said he had to consider "the very real prospect" that millions of children in Palestinian territories, South Sudan, Syria, Yemen and many other places "would suffer grievously" if U.N. programs had to pull back because of lack of funding, the Associated Press (AP) reported.
The secretary-general said he, therefore, decided "to temporarily remove" the Saudi-led coalition countries from the blacklist of those violating children's rights. A joint review of cases with the Saudis is to be carried out.
Saudi Arabia's U.N. Ambassador Abdallah Al-Mouallimi said shortly afterwards, "It is our firm belief that this de-listing is final, irreversible and unconditional, and when all the facts are in that will be further reconfirmed," the AP reported.
"We did say such listing and such unfair treatment of Saudi Arabia and the coalition forces would obviously have an impact on relations with the United Nations," Al-Mouallimi said. However, he denied talking about defunding the U.N. agency for Palestinian refugees "or anything else for that matter."
The U.N. has had a history of member nations putting pressure on the secretary-general, but in this case, Ban said some countries had gone too far. He asserted that "it is unacceptable for member states to exert undue pressure."
© Copyright IBTimes 2023. All rights reserved.