Urban Outfitters Controversy: Retailer Flamed For Selling Rx Products, 'Glamorizing' Prescription Drug Use [PHOTOS]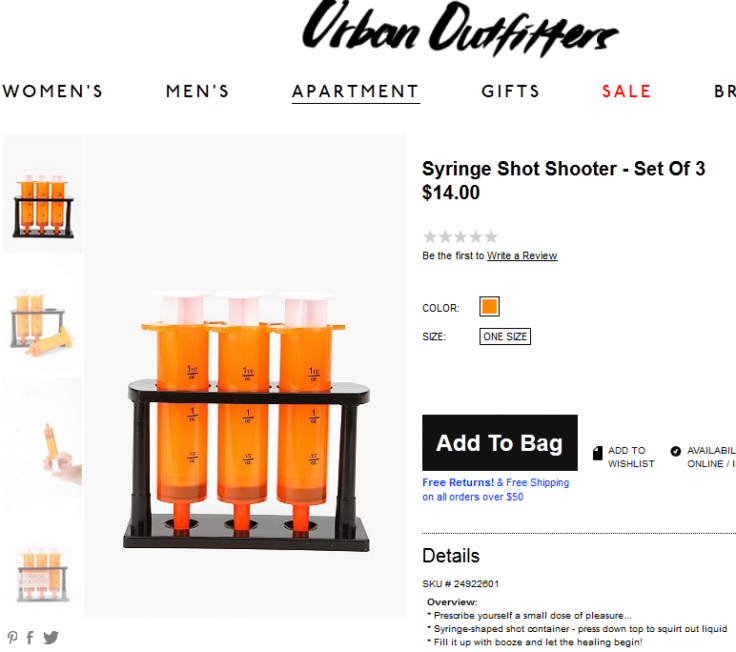 Popular retailer Urban Outfitters is once again under fire after selling products that resemble prescription pill bottles -- items some say are glamorizing prescription drug use for the store's young consumers.
Products, such as a syringe shooter, which is described as a way to "prescribe yourself a small dose of pleasure" and tells consumers to fill the syringe-like container with booze and "let the healing begin," has documentarian Natalie Costa asking the retailer to remove the controversial items from their selves and online store, KABC-TV reports.
"It's not fun, it's not a novelty, and parents are losing their kids," said Costa, producer of "Behind the Orange Curtain," a documentary examining the effects of prescription drugs on Orange County, Calif., adolescents. "We have a huge addiction problem. They need to find something else to sell.
"We've got the tween market walking into Urban Outfitters, and there on the shelf it's festive, it's for sale, and the tween market is what's being addicted these days," said Costa, who said the national age of experimentation is between 10 to 15 years of age.
Other available products in the line include shot glasses that resemble prescription pill bottles with a label telling users to "take one by mouth, repeat until as many as you can stomach." Other products include a flask displaying a realistic "Rx" label for a nonexistent drug called bozzemin, a prescription bottle coffee cup, prescription pad coasters, and "Rx" pint glasss and beer cozies.
This isn't the first time the retailer has been the subject of an alcohol- and drug-related controversy. The store was heavily criticized after selling pro-drinking attire in August 2012, releasing a line of shirts displaying messages such as "USA Drinking Team" and "Vote for Vodka."
Jan Withers, the national president of Mother's Against Drunk Driving, or MADD, called the shirts inappropriate, saying,0 "Kids shouldn't be wearing these T-shirts. ... Marketing [alcohol-related products] to teens is not in any way acceptable."
Urban Outfitters has yet to respond.
© Copyright IBTimes 2023. All rights reserved.