US 2014 New Vehicle Sales: Why US Car Sales May Have Hit A Peak After Five-Year Run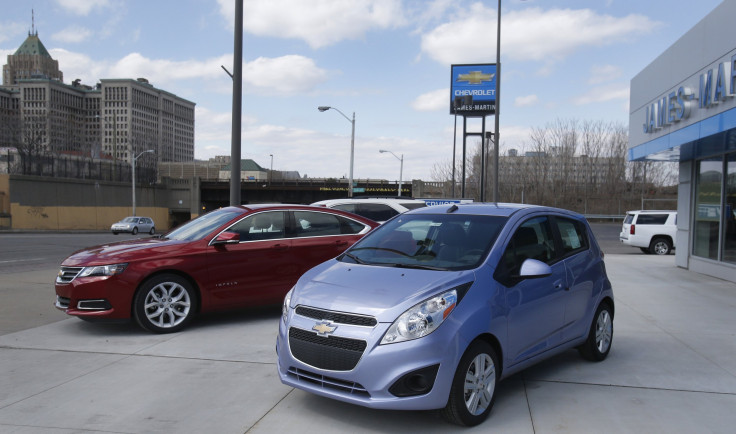 Helped by easy, low-interest financing, the U.S. auto industry just completed one of the longest periods of annual sales increases in history. Automakers reported on Monday selling about 16.5 million passenger cars and light trucks in the U.S. last year, a 6 percent increase from 2013 and a 59 percent jump from 2009, when the economy sent the industry to a three-decade low of 10.4 million.
The last time consumers fueled five consecutive years of growth was during the Clinton-era boom years 1996 to 2000; the best such period before that was the five years after the end of World War II as soldiers came home to jobs and unprecedented prosperity. The last time Americans bought 16.5 million cars was in 2006, a year before the start of the Great Recession.
So have we hit a peak in new-car sales? Probably.
"We're heading into a slowing growth pattern," said Alec Gutierrez, senior analyst for Kelley Blue Book, the vehicle valuation and research company. "I think we'll be in the 16.5 million to 17 million range for the next two to three years."
If so, the coming years will see sales running at the same pace as before the Great Recession. And higher inventories of both used and certified pre-owned cars will likely bring some enticing deals to car shoppers in 2015, especially in the more competitive segments of crossovers and smaller cars.
A healthy automotive industry balances the need to generate sales and keep manufacturing jobs rolling with making tough decisions in response to slowing demand, said Michelle Krebs, senior analyst for AutoTrader.com.
"This year will be a true test of discipline in the auto industry," Krebs said. "Will they shut a plant to cut production, or increase incentives? That's something I'll be watching carefully."
But for now, automakers are celebrating a strong end to a strong year. General Motors and FCA US (formerly Chrysler Group LLC) saw 19 percent and 20 percent growth, respectively, in sales last month. Nissan came in last month with 7 percent growth, while Honda and Ford both eked out 1.5 percent growth.
Here's a rundown of how the major automakers fared in 2014:
General Motors Co.: Cadillac Stalls, But Cruze Has Record Year
GM sold 2,935,008 vehicles in 2014, a 5.3 percent increase from 2013. The GMC and Buick brands saw double-digit growth on GM's strength in trucks and SUVs.
"Chevrolet was strong in every segment of the market, from pickups and SUVs to cars and crossovers," Kurt McNeil, GM's head of U.S. sales, said in a press release. "Buick and GMC also had strong sales across the board."
Despite an ambitious engineering and marketing push, Cadillac sales were down 6.5 percent for the year. The Cadillac Escalade full-size SUV was the only model to see growth in 2014.
Chevrolet, GM's largest division, saw sales increase 4.4 percent to just over 2 million units, largely thanks to demand growth for the Silverado pickup truck. The Chevrolet Cruze compact had its best year since GM's low-priced compact hit the market in 2008.
GMC was up 11 percent as consumers flocked last year to the Sierra pickup and the Terrain midsize crossover. Sales of Buick brands jumped 11 percent, with strong performances from the Encore crossover and Regal midsize sedan.
Ford Motor Co. Impacted By F-150 Transition, Small Car Sales
The Dearborn, Michigan, automaker sold 2.48 million vehicles last year, marking a 0.5 percent decline as consumers shied away from the company's smaller sedans. But the carmaker ended the year with its best December since 2005 and annual sales records for the popular Fusion midsize car and Escape compact crossover.
The drop in sales shows just how much Ford is dependent on its F-Series pickup truck. Production of America's best-selling vehicles was temporarily suspended in the fall to prepare for the aluminum-body 2015 F-150, which requires a different fabrication process. The new truck recently went on sale.
"Demand for the all-new F-150 also is very high, and it now is the fastest-turning vehicle in Ford showrooms, averaging just five days on dealer lots in December," John Felice, Ford's head of U.S. sales, said in a press release.
Despite the rapid turnover, Ford was still working to increase production and deliveries through the holidays, and F-Series truck sales declined 1.3 percent to 753,851 units for the year. Ford car sales declined 3.9 percent last year, to 762,545 units, as consumers shied away from the company's smaller cars, like the Focus, Fiesta and C-Max, as well as the Taurus full-size sedan. Ford SUV sales increased 1.7 percent to 693,524, largely thanks to double-digit growth in demand for the Expedition full-size SUV and Escape crossover.
Fiat Chrysler Automobiles Soars On Jeep, Ram
FCA US LLC, the Auburn Hills, Michigan-based subsidiary of London-based Fiat Chrysler Automobiles NV, reported a 16 percent jump in 2014 sales, to 2,090,639 vehicles, compared with the previous year, on the back of strong demand for Jeep SUVs and Ram trucks.
"Our best December sales in a decade pushed our full-year sales over the 2 million-unit threshold for our best annual sales since 2006," Reid Bigland, FCA's head of U.S. sales, said in a press release.
Three Jeep models – Patriot, Cherokee and Wrangler – registered all-time record sales last month. The Chrysler 200 sedan, Dodge Dart compact sedan, Dodge Challenger pony car and Dodge Journey midsize crossover all had their best December sales ever. Dodge brand sales declined 4 percent last year, mainly thanks to the discontinuation of the Avenger midsize sedan and decline in Charger sales. The Canadian-made Charger was refreshed for the 2015 model year, but consumers have not rushed to buy the newer version of the muscle sedan.
Fiat, the tiny Italian car, continues to be coolly received in the U.S., where trucks and SUVs dominate the market. Sales of the Fiat 500 dropped 6 percent, to nearly 34,000, last year compared with 2013, while the larger Fiat 500L (Fiat's five-door answer to the BMW's Mini) fared better, with a 68 percent jump to 12,413 units for the year.
American Honda Motor Co.: Civic Falters, Fit Flies
Honda's U.S. subsidiary had its second-best year in 2014, delivering 1.54 million vehicles, a 1 percent rise from 2013, on strong performances from the Fit subcompact, Accord sedan and CR-V crossover.
"Despite the price of gasoline dropping well below $3 a gallon in many markets, Honda's strong, balanced lineup of cars and trucks helped us achieve record sales in 2014," Jeff Conrad, the head of Honda in the U.S., said in a press release.
The company's luxury Acura division saw sales fall for all but the Acura MDX crossover and RDX compact crossover. But demand for MDX was strong enough (23.7 percent to 65,603) to lift Acura's U.S. sales by 1.5 percent.
Honda Civic compact sedan sales were a disappointment for the year. Typically one of the company's best-sellers, the Civic's 2012 redesign was harshly criticized for being hasty and boring. Honda updated the vehicle again in 2013, but the damage was done: Sales fell 3 percent to 325,981 units last year.
Replacing the Civic, however, was the Honda Fit's 11 percent jump in sales last year, to 59,340. The Civic still far outsells the Fit, but the Fit has emerged as one of the hottest-selling subcompacts in the U.S. market.
Toyota Motor Sales USA Inc.: An All-Time Record For Lexus
The U.S. subsidiary of the world's largest automaker reported a 6.2 percent increase in sales in 2014, to 2,373,771 units.
"Lexus reported all-time ... record sales in December," Bill Fay, the company's general manager, said in a statement.
Toyota's luxury Lexus division jumped 14 percent to 311,389 units on great year-over-year demand for the CT sport compact, IS entry-level luxury car and the GS midsize sedan. The Lexus RX crossover was the best-selling Lexus vehicle last year.
The company's top-selling car, the Camry, saw deliveries increase 5 percent to 428,606, while Corolla sales climbed 12 percent to 339,498.
Hyundai Motor America: Santa Fe Sales Leap
Hyundai's U.S. subsidiary reported a 1 percent rise in sales last year, to 725,718 units, leaning heavily on its two core models, the Sonata midsize car and the Elantra compact, which together made up 60 percent of the company's U.S. sales last year.
"The CUV [crossover] segment was red hot with our exceptional sales for the year for both Santa Fe and Tucson," Bob Pradzinski, Hyundai's vice president of national sales, said in a press release.
The Santa Fe midsize crossover sales leaped 21 percent to 107,906 units, while the smaller Tucson crossover hit 47,306, an 11 percent increase.
Kia Motors America: An All-Time Record
Kia's U.S. subsidiary reported an 8 percent rise in sales last year, to 580,234 units, an all-time record for the 70-year-old car company that's partially owned by its Korean sibling Hyundai.
"Our record-breaking performance demonstrates the speed at which our brand has transformed and matured into a proven leader in design, quality, technology and value," Michael Sprague, head of Kia sales, said in a statement.
Six of the company's nine models it sells in the U.S. showed growth, led by the Sedona minivan's 105 percent jump, to 14,567 units. Consumers bought 2 percent more Optima four-door sedans, Kia's best-seller, pushing volume to a record 159,020 units. Only the Kia Sorento midsize crossover and Rio subcompact car performed worse this year than last.
© Copyright IBTimes 2023. All rights reserved.