US Air Force Certifies SpaceX To Launch Military, Spy Satellites With Falcon 9 Rocket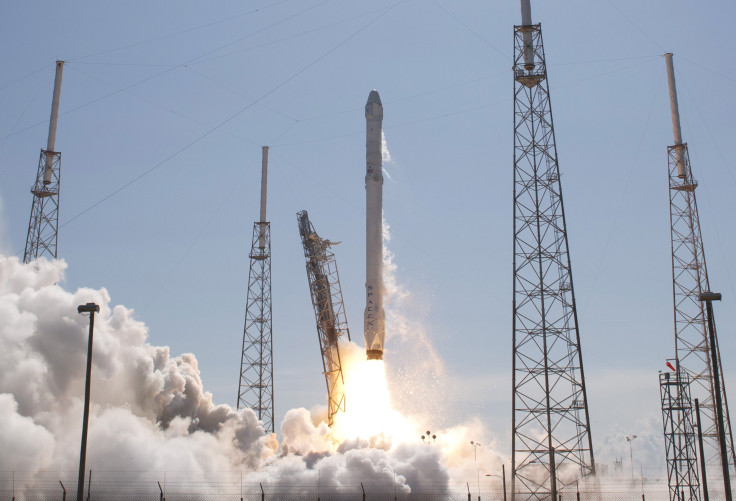 The U.S. Air Force announced Tuesday that it has certified SpaceX, a California-based private aerospace manufacturer, to launch national security space missions, including military and spy satellites. The move will allow SpaceX to use its Falcon 9 rocket to execute such high-profile launches, ending a monopoly held by the United Launch Alliance (ULA), a Boeing and Lockheed Martin consortium.
The decision follows two years of discussions, reviews and legal disputes between the U.S. Air Force and SpaceX, Reuters reported. The company will now be able to compete for national security space launch missions as one of two -- ULA being the other -- certified launch providers. SpaceX's first opportunity to compete against ULA is expected to be in June when the U.S. Air Force will request proposals for launching additional Global Positioning System III satellites.
"SpaceX's emergence as a viable commercial launch provider provides the opportunity to compete launch services for the first time in almost a decade," Deborah Lee James, the Secretary of the U.S. Air Force, said in a statement. "Ultimately, leveraging of the commercial space market drives down cost to the American taxpayer and improves our military's resiliency."
SpaceX will reportedly compete for about a third of these missions, as the company is not expected to be able to launch larger satellites until its bigger rocket, the Falcon Heavy, is built, tested and certified.
The U.S. Air Force said that it had spent over $60 million and dedicated 150 people to the certification effort, which included 2,800 individual tasks, three certification flight demonstrations, 21 major subsystem reviews and 700 audits to establish the technical baseline to help the Air Force better execute plans for future flights.
"This is an important step toward bringing competition to National Security Space launch," Elon Musk, founder and CEO of SpaceX, said in the statement.
The Air Force-SpaceX collaboration comes nearly a year after the latter sued the U.S. government for awarding a multi-year, $11 billion contract to ULA, despite promises to open up competition, Quartz reported, adding that Musk had hinted at corruption in the contracting process at the time. However, SpaceX reportedly dropped the lawsuit in January after both sides reached an agreement, requiring the U.S. Air Force to be committed to more competition.
According to Sen. John McCain (R-Ariz.), chairman of the Senate Armed Services Committee, SpaceX's certification would help reduce "unjustifiably high" launch costs, and end U.S. reliance on Russia's RD-180 engines found in ULA's Atlas 5 rocket.
Congress had earlier mandated that Russian engines can no longer be used for national security launches after 2019. The law was passed after Russia's annexation of Crimea last year, Reuters reported.
© Copyright IBTimes 2023. All rights reserved.