US Airlines Hike Base Fares Despite Falling Fuel Prices; Consumers Unhappy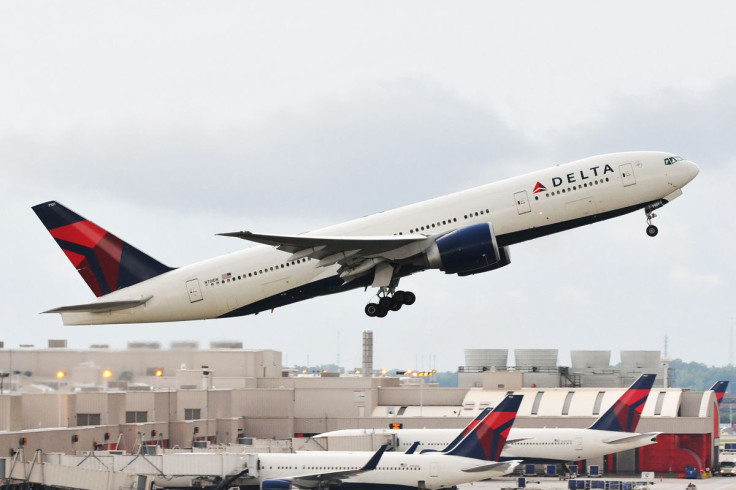 The major U.S. airlines raised their base fares last week, despite falling oil prices and potential consumer fears of flying due to concerns about Ebola.
JetBlue Airways raised fares by $2 -- or $4 round trip -- across the carrier's entire domestic network last Thursday, a spokesman told Reuters. Delta Air Lines followed suit that night, while Southwest Airlines, United and American Airlines hiked their fares on Friday.
"We matched an industry increase and expanded it to additional markets," a Delta spokesman said.
Such fare hikes indicate that airlines don't plan to pass on the savings on jet fuel from recent oil price drops, Rick Seaney, CEO of travel search site FareCompare.com, wrote. Fuel is the largest expense most airlines face, and oil prices have decreased by as much as 25 percent since early summer.
"Ebola fears do not appear to be hurting demand for flights and the news about the end of the quarantine period for dozens of Texans with no new infections may continue to calm lingering fears," Seaney said.
"Look no further than today's domestic fares structure for supporting evidence of our view that shareholders are the disproportionate beneficiaries of lower jet fuel prices," J.P. Morgan analyst Jamie Baker wrote in a research note on Monday. He added that the price hike "represents the industry's first successful system-wide domestic fare increase since April, and comes in spite of fuel's recent, precipitous decline."
According to Seaney, last week's price increase was the fifth successful fare hike this year, though the airlines have tried 20 times since January to boost fares.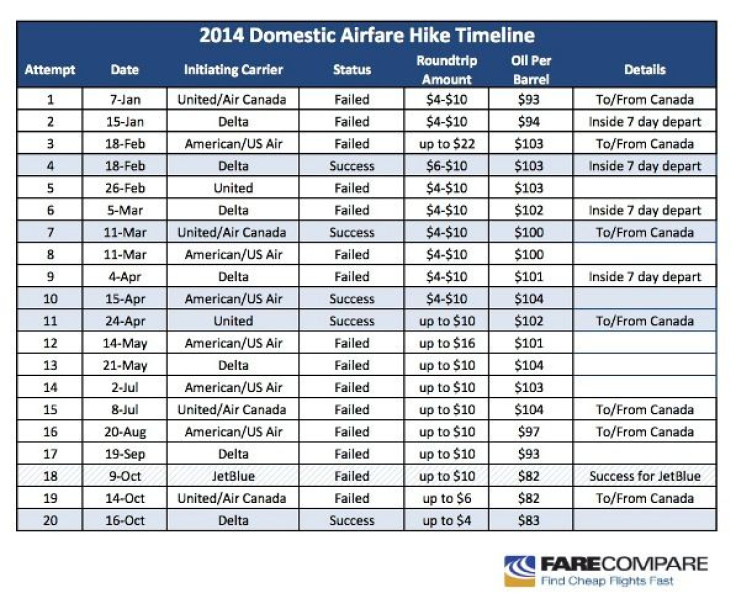 Seaney said that although JetBlue was technically first, it was Delta's action that really moved the industry. "Delta raised prices on far more (37 times as many fares). Given JetBlue's small overlap and footprint compared to Delta's, we're calling Delta the major initiator," Seaney wrote. "Even if Delta was 'reacting' to JetBlue's hikes, it went far beyond that."
Consumers were, expectedly, unhappy about the news. Social media users complained on sites like Twitter about the increase. Jerry Ramirez of Los Angeles tweeted, "What's their excuse now? Not to mention the price of oil is down."
A user who calls himself "Honest Jonny" also tweeted, "I see the oil price at $88, so why don't the airlines reduce so-called fuel surcharge? Another name for fare increase #unethical."
Another social media user, Romeo Alvarez from Los Angeles, put it simply: "Airlines are getting a little too greedy."
Renowned photojournalist Joe McNally, a frequent flier who sticks primarily with Delta, wrote a long blog post excoriating the airline for not putting its loyal customers first in light of the airline's flush profits and good fortune.
In an open letter to Richard Anderson, the airline's CEO, McNally says that Delta "is in a "very good and happy place, right? Near record profits. Gas prices are falling. (Though, somehow, airline ticket prices are rising.) Planes are constantly full."
So McNally wonders why Delta doesn't share some of its good fortune with its loyal customers, who are facing higher fares and a revamped frequent flier program that will make it harder to accrue and use miles.
"Your longtime loyal flyers would definitely be the ones who brought you to this current, festive party Delta is enjoying," McNally wrote. "Sticking with us would be the way, Mr. Anderson, of showing the frequent Delta customer that you do, as you say in your down home, aw shucks video, 'always have your back.'"
© Copyright IBTimes 2023. All rights reserved.