US, Allied Naval Forces Converge On Yemen As Iran Is Suspected Of Supplying Weapons To Houthis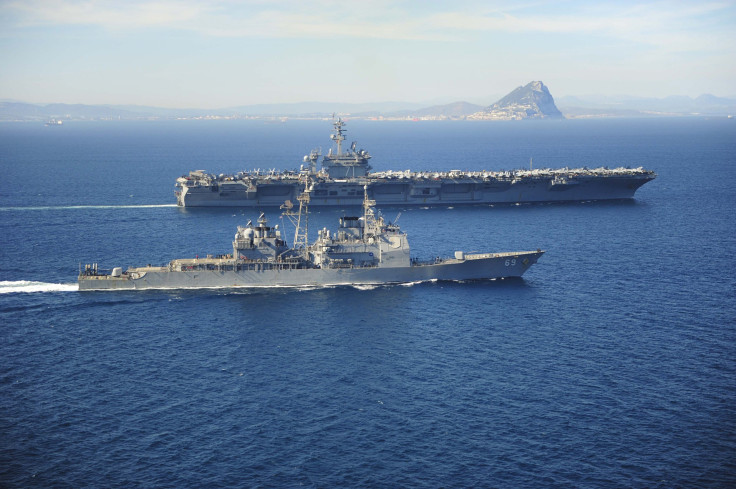 As a coalition of Arab states led by Saudi Arabia engages in airstrikes in Yemen against the Shiite Houthi movement, another possible confrontation is brewing in front of the Yemeni coast on the Indian Ocean, where a naval coalition of the United States, Egypt and Saudi Arabia is monitoring the territorial waters of Yemen -- and an Iranian flotilla is approaching, with what some suspect is a cargo of weapons for the Houthis.
The allied naval forces could begin searching ships entering Yemen's waters, under a United Nations resolution that has placed an embargo on weapons being delivered to the country. That could lead to a military standoff if the Iranian ships enter Yemeni territorial waters.
U.S. Navy officials have confirmed that the recent deployment of the nuclear-powered aircraft carrier USS Theodore Roosevelt and its support ship USS Normandy, which join 10 other U.S. ships in the region, is in response to the fragile situation in Yemen, but they denied that U.S. military personnel, or from allied nations, will actually board Iranian ships.
"It is a message to the Iranians that we're watching," said an anonymous U.S. military official quoted by the New York Times. "It is a message to our partners that we are in this and willing to support."
A different Navy official said U.S. naval forces were there only to ensure that the local "sea lanes remain open and safe."
Even before the Roosevelt and the Normandy were deployed, the U.S. already had a large number of naval assets in the region, including the missile destroyers USS Fort Sherman and Winston Churchill; the docking ships USS New York and Fort McHenry; and mine countermeasure ships USS Dextrous and Sentry. Along with three resupply ships, the group also is accompanied by the USS Iwo Jima, an amphibious assault ship that can carry as many as 2,000 Marines. It has been positioned off the coast of Yemen since February.
"We have seen evidence that the Iranians are supplying weapons and other armed support to the Houthis in Yemen," said Josh Earnest, White House press secretary, on Monday. "That support will only contribute to greater violence in that country. These are exactly the kind of destabilizing activities that we have in mind when we raise concerns about Iran's destabilizing activities in the Middle East."
Backed by the recently passed U.N. resolution on Yemen and by the internationally recognized Yemeni government, the naval coalition can legally monitor Yemeni territorial waters and board any ship that enters. Outside of a 12-nautical mile area, however, the allies have no legal mandate to board any ships unless it can be justified under Operation Ocean Shield, an anti-piracy mission being run by NATO and some non-NATO partners since 2009. Pirates operating out of nearby Somalia have been a problem for years, and several international navies operate in the region, a vital commercial sea lane through which many oil tankers from the Persian Gulf and container ships from Asia pass daily.
According to ship-monitoring website Marine Traffic, three German and two Japanese warships also are positioned off the south coast of Yemen, between the port cities of Aden in the west and Al Mukalla further east. It's not clear whether those ships are involved in the monitoring of Yemeni waters.
The locations of U.S. and Iranian ships were unavailable on the website. U.S. Navy officials would not comment on future operations. "We are closely monitoring all maritime activity in the Arabian Sea and Gulf of Aden," Cmdr. Kevin Stephens of the Fifth Fleet told told CNN. "We are not going discuss the number and types of vessels we are monitoring or speculate about the possible destination or cargo of those vessels."
Pakistan has also recently said it would send ships to help in the effort to monitor Yemen's territorial waters.
© Copyright IBTimes 2022. All rights reserved.
FOLLOW MORE IBT NEWS ON THE BELOW CHANNELS