US, Canada, Intercept 6 Russian Planes, 2 Bombers Over Their Air Defense Identification Zone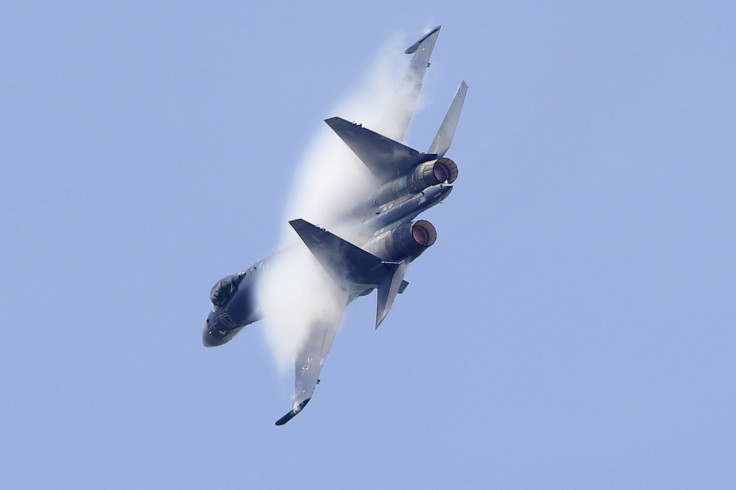 Two U.S. Air Force jets intercepted six Russian planes near Alaska, while Canada's air force intercepted two bombers that had almost reached its airspace, reports said, citing North American Aerospace Defense Command, or NORAD. U.S. officials reportedly believe the incidents were connected to Ukrainian President Petro Poroshenko's visit to the region.
Jeff Davis, a spokesperson for NORAD, said that the Russian planes reportedly flew within about 55 nautical miles off Alaska and about 40 nautical miles off the Canadian coastline, CNN reported, adding that after flying in a loop they returned to Russia. Two Lockheed Martin F-22 Raptors intercepted two Ilyushin Il-78 refueling tankers, Mikoyan MiG-31 fighter jets and two Russian Rupolev Tu-95 long-range bombers. Two Canadian McDonnell Douglas CF-18 Hornet jets intercepted two Tu-95s in the Beaufort Sea, north of Alaska, CNN reported, citing the NORAD statement.
Although the planes reportedly did not violate American or Canadian sovereign airspace, they entered the U.S. Air Defense Identification Zone, lying to Alaska's west, and the Canadian ADIZ. The ADIZ extends approximately 200 miles from a country's coastline and serves the purpose of allowing a country more time to react to a foreign or hostile aircraft by requiring such aircraft to notify the country of their identification, location and origin.
Over the last five years, U.S. planes have intercepted nearly 50 Russian aircraft. However, John Cornelio, a spokesman for NORAD and NORTHCOM, said, "We do not see these flights as a threat," Reuters reported.
Poroshenko, who is struggling to establish peace in his country amid ongoing clashes between government forces and separatist rebels, allegedly backed by Russia, was promised nonlethal aid worth $46 million by the U.S. on Thursday. During his visit to Canada earlier in the week, he received loans worth $182 million, Reuters reported.
The incident comes at a time when Russia and the U.S. are facing one of their worst stand-offs since the Cold War, over Moscow's alleged involvement in the Ukraine crisis.
© Copyright IBTimes 2023. All rights reserved.