US Car Sales Rise In April On Demand For Fuel-Efficient Cars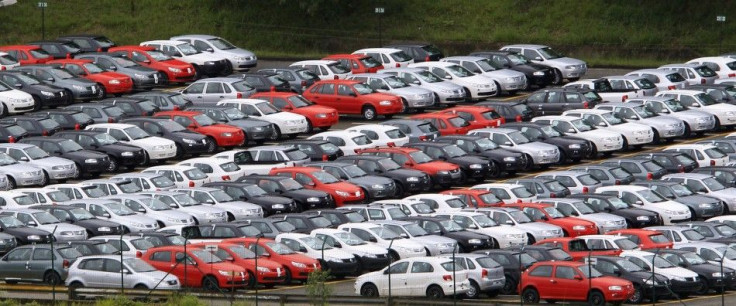 U.S. light vehicle sales increased 2 percent in April to 1.2 million cars on continued high demand for fuel-efficient cars, and sales are projected to continue at a strong clip, maintaining an annualized rate of 14.4 million.
While the U.S. automotive market gained 2 percent in sales in April, the growth was the smallest since July, belying a possible slowing for the automotive industry, Automotive News reported.
However, April sales numbers may not totally reflect the health of the automotive sector, as the month had fewer selling-days than last year. While April 2011 had 27 selling days, April 2012 had just 24, a difference that was reflected in many manufacturers' sales reports. For instance, Honda Motor Company's (NYSE: HMC) sales fell by 2.2 percent in April on a volume basis, but when adjusted for selling-days, the Japanese company's sales actually increased 10 percent over last year. Similarly, Ford Motor Company's (NYSE: F) sales dropped 5 percent volume-wise, but it saw an increase of 7 percent on an adjusted basis.
Recent declines in gasoline prices helped boost sales in April, but low inventories constrained some companies' sales, said Paul Taylor, chief economist for the National Automobile Dealers Association, according to Automotive News. Likewise, there is some question as to whether strong sales in the first four months of the year were motivated by an improving automotive market, or by warm weather, which may have brought buyers out to dealerships earlier in the year than usual.
We expect gradual improvement in the economy going forward. Over time, strength in the manufacturing sector and strong retail sales will lead to more job creation. That will help more consumers put the recession behind them, gain even more confidence and drive vehicle sales higher for both the industry and GM, the vice president for U.S. sales operations for GM said Tuesday.
Volkswagen AG (FRA: VOW) led the pack as the company gained 27 percent in sales with 49,249 vehicles. The month was the best for VW since 1971. VW's main German competitor, BMW (FRA: BMW) gained 6 percent in sales.
For U.S. automakers, the month was mixed. Ford Motor Company (NYSE: F) saw sales fall 5 percent, while General Motors Company's (NYSE: GM) sales shrank 8 percent. Fiat SpA- (BIT: F) controlled Chrysler Group gained substantially with sales rising 20 percent, making it the breakout winner among U.S. carmakers, even though the gain was the smallest of its kind since July.
Of the major Asian manufacturers, Toyota Motor Corporation (NYSE: TY) saw the greatest success in April, posting sales increases of 12 percent -- its gains were driven by demand for the company's Camry and Prius hybrid vehicles. Mazda Motor Corporation (TYO: 7261) and Hyundai Motor Company (PINK: HYMLF) were the only other Asian carmakers to post sales gains. Mazda sales grew 4 percent, while Hyundai Group's sales (which include Kia) grew a modest 1 percent.
Nissan Motor Company Ltd. (PINK: NSANY) sales remained flat from last year, while Honda's sales sank 2 percent.
Light vehicle sales are up 10 percent for the year to 4.65 million, according to Automotive News.
© Copyright IBTimes 2023. All rights reserved.
FOLLOW MORE IBT NEWS ON THE BELOW CHANNELS