US-China Relations 2018: Countries Talk Focus On Cutting Trade Gap, $200 Billion Target Disputed
WASHINGTON/BEIJING - China is "meeting many" Trump administration demands to cut its trade surplus with the United States, but a definitive deal to resolve deep trade differences could take a while to develop, White House economic adviser Larry Kudlow said on Friday.
"China has come to trade," Kudlow told reporters at the White House as U.S. officials met with a Chinese trade delegation for a second day in Washington.
"They are meeting many of our demands. There is no deal yet to be sure, and it's probably going to take a while to process, but they're coming to play."
Kudlow said the Chinese had offered a package of U.S. goods purchases and other steps to cut China's annual U.S. trade surplus by some $200 billion, contradicting a Chinese foreign ministry spokesman who denied that such a reduction had been offered.
"This rumour is not true. This I can confirm to you," Chinese foreign ministry spokesman Lu Kang told a regular news briefing on Friday, adding that consultations in Washington "are constructive."​
Kudlow said the Chinese offer included energy and farm commodities purchases, adding "the number is a good number," adding that China would also need to lower non-tariff barriers and agree to a "verifiable process whereby the technology transfers and the theft of intellectual property stops."
U.S. President Donald Trump has threatened to impose tariffs on up to $150 billion of Chinese goods to combat what he says is Beijing's misappropriation of U.S. technology through joint venture requirements and other policies. Beijing has threatened equal retaliation, including tariffs on some of its largest U.S. imports, including aircraft, soybeans and autos.
CHINA DROPS SORGHUM DUTIES
China took a surprise conciliatory step to end an anti-dumping probe that had heaped hefty duties onto U.S. sorghum grain, effectively halting $1.1 billion in U.S. exports, causing turmoil in grain markets and sparking concerns about rising costs in China.
As the talks continued, Trump administration officials have been contacting groups in the agriculture, technology and energy sectors to vet the Chinese proposals and determine whether increasing exports was feasible, people familiar with the talks said.
Two sources involved in the negotiations said that the Treasury has been contacting American technology firms to test their support for liberalizing export control laws to allow more high-tech exports to China.
Chinese officials had proposed a list of goods covered by U.S. export controls that are not restricted by other countries, implying that these could be purchased from the United States, the sources said. China has long sought to increase purchases of U.S. high-technology goods.
Achieving a $200 billion reduction of the U.S.-China trade deficit on a sustainable basis would require a massive change in the composition of commerce between the two countries, prompting skepticism from economists. The $200 billion figure is larger than all of the United States' global annual agricultural and oil exports.
ZTE FATE UNCLEAR
It was unclear whether any agreements that could emerge from the talks later on Friday would include a relaxation of paralyzing restrictions on Chinese telecommunications equipment maker ZTE Corp imposed last month by the U.S. Commerce Department. The sanctions-related move banned U.S. firms from selling semiconductors and other components to ZTE, causing the Shenzhen-based firm to cease operations.
Earlier this week, Trump tweeted that he directed Commerce to put ZTE back in business and said the company's situation was part of an overall trade deal with China.
But Kudlow distanced the ZTE issue from the current trade talks and said the company's punishment may or may not be changed.
"The Chinese government has asked for a bit of relief on the remedy. It doesn't mean there won't be a remedy. There will be very strong remedies," he said.
Trump, speaking at a White House event on prison reform, said he was determined to negotiate "great trade deals" with China and other countries.
"We're changing a lot of those horrible trade deals. They take our jobs, they take our money, we end up with no money, no taxes, no employment. Not a good combination."
Reuters
Reporting by Tony Munroe and Michael Martina in BEIJING and Steve Holland, David Lawder and John Walcott in WASHINGTON; Additional reporting by Doina Chiacu in WASHINGTON, Hallie Gu in BEIJING, and Naveen Thukral in SINGAPORE; Editing by Robert Birsel and James Dalgleish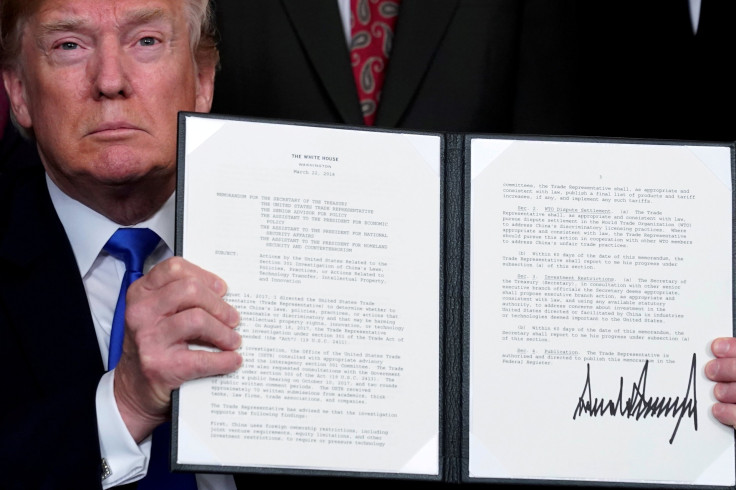 © Copyright Thomson Reuters 2023. All rights reserved.