The China-U.S. Conflict Is About Much More Than Trade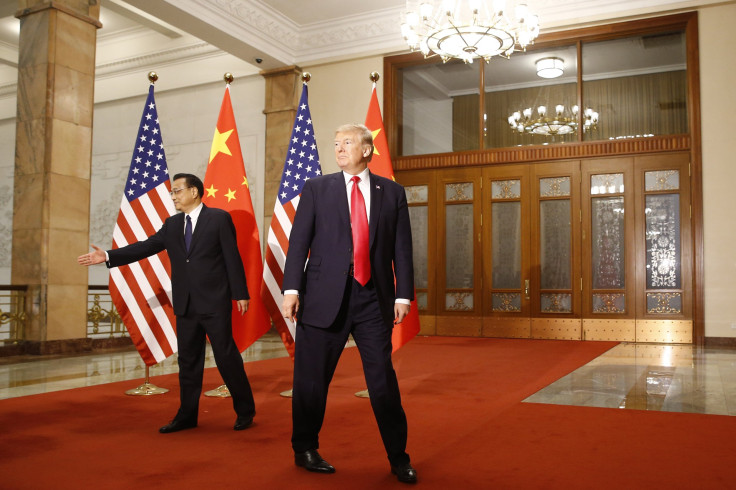 The recent unprecedented, high-level U.S. delegation to Beijing has left China highly dissatisfied.
The group included U.S. Treasury Secretary Steve Mnuchin and America's toughest China critics, including Commerce Secretary Wilbur Ross, U.S. Trade Representative Robert Lighthizer, and presidential trade adviser Peter Navarro.
In the weeks after the trip, reports emerged about a "screaming match" between Navarro, a hardline protectionist where China's concerned, and Mnunchin, who met one-on-one with his Chinese counterpart, angering Navarro.
But regardless of tensions among American officials, the United States wants to see active measures from China to unconditionally reduce America's US$375 billion annual trade deficit by US$100 billion this coming year, and another US$100 billion the year after. If not, the U.S. says it will impose tariffs on a total of US$150 billion in Chinese imports.
In March, Lighthizer's office produced a detailed 182-page document with 1,139 footnotes and five appendices detailing China's unfair trade practices in the areas of technology transfer, intellectual property, and innovation.
In response, China has offered dialogue and hazy promises of further opening of the country's automotive and financial sectors and tightening protections for intellectual property and proprietary manufacturing processes.
Guess Who's Not Coming To Dinner?
There was no banquet hosted for the Americans by Xi Jinping, a sign of how unhappy the Chinese president is with the U.S. demands. Those demands were denigrated politely in person and ridiculed in print.
A recent China Daily opinion piece penned by a Yale professor concluded that "the USTR case is an embarrassing symptom of a scapegoat mentality that has turned the U.S. into a country of whiners."
The delegation, Navarro in particular, will not take kindly to this kind of thing. China may not fully appreciate that its conventional diplomatic countermeasures are unlikely to be effective with Trump's team in the end.
The main challenge with U.S.-China negotiations is that the Chinese have no viable demands to make of the Americans in exchange for Chinese concessions. So the Chinese government's assertion that "the dialogue must be held on an equal footing" and "will hardly work if the U.S. persists in pressing China to accept its conditions" does not bode well for success.
As the Xinhua official news agency put it, China also requires that "the U.S. delegation has to come with sincerity." As a onetime counselor in the Canadian embassy in Beijing, I know that phrase — it's standard Chinese code that demands foreigners humbly agree to whatever China offers. But by the Chinese definition, "sincerity" will not be characteristic of the U.S. approach this time because the Americans view the requirement as a diplomatic trap.
The current U.S. team believes a lack of principled determination in negotiations with China is the weakness that resulted in the failure of past administrations to capitalize on American interests in China.
Past Chinese Techniques Won't Work
China's tried-and-true techniques for putting off foreign delegations seeking to persuade the Chinese to comply with the fair trade principles of the World Trade Organization and international convention are not likely to go very far this time.
Ross indicated in an interview that the trade deficit is "too big, too continuing, too chronic and too inspired by evil practices." A Global Times editorial opines that "China won't abandon its principles despite pressure." But the U.S. delegation's ascription of "evil" to Chinese practices leaves little room for compromise.
During a meeting hosted by President Donald Trump with governors and members of Congress whose constituencies are likely to be hit particularly hard by a trade war, Lighthizer commented: "It is not my objective to change the Chinese system." But it's increasingly evident that's exactly what the U.S. is demanding.
The U.S. has tied their demands to concerns about cyber-espionage and argues that Chinese telecommunications giants Huawei and ZTE, acting as agents of the Chinese state, threaten the national security of the United States, including by violating sanctions against Iran and North Korea.
That's why Trump's recent tweet about ZTE has confounded the president's friends and foes alike.
Whatever the president's playing at, officials in his administration are also concerned that China's "Made in China 2025" policy — aimed at achieving global domination of 10 next-generation industries including biotech, aerospace, artificial intelligence, and robotics — will be built on purloined U.S. technology.
To this end, the U.S. is considering enacting measures to deny Chinese scholars and graduate students access to U.S. labs engaged in cutting-edge research in areas with military and advanced technologies.
Seeking Fundamental Transformation
The American delegation that traveled to China in early May was ostensibly negotiating trade, but ultimately what the U.S. wants from China is a fundamental transformation to the way the Chinese engage internationally.
This extends to all bilateral and multilateral obligations as far-reaching as implementing United Nations Security Council resolutions to bringing North Korea to heel and complying with the UN Convention on Law of the Sea, which requires the Chinese to acknowledge that their land reclamation in the South China Sea is illegal.
Essentially, the U.S. regards the common principles that sustain global order and peaceful relations among nations as good, and China's flaunting of them as evil.
China's move to establish its own new global order — "the community of the common destiny of humankind" —is based on its deeply held conviction that the U.S. is in rapid decline as a global power.
China's intention is to "resume its rightful place" as the leader of global civilization, finally redressing its deep humiliation at the hands of Western and Japanese imperialism in the 19th century.
Under Trump, however, the U.S. seeks to stymie Xi Jinping's enactment of this meta-plan for global domination.
Of course, there are alternative readings of Chinese history and culture that support a liberal democratic alternative path for Chinese development. Remaking the Chinese Communist Party state paradigm will not come easily.
The U.S. trade mission failed, allowing no space for future compromise. What follows will likely be much more than a simple trade war.
Charles Burton is an Associate Professor of Political Science at Brock University.
This article originally appeared in The Conversation. Read the original article here.

FOR FREE to continue reading
✔️ Unlock the full content of International Business Times UK for free
offer available for a limited time only
✔️ Easily manage your Newsletters subscriptions and save your favourite articles
✔️ No payment method required
Already have an account?
Log in