US-China Strategic And Economic Dialogue Opens in Beijing Amid Rising Tensions Over Trade And South China Sea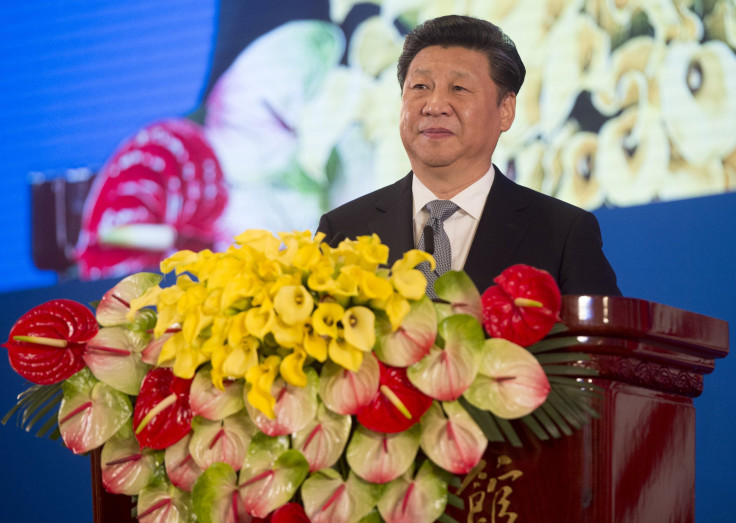 SHANGHAI — China's President Xi Jinping called for greater trust between China and the U.S., as senior officials from the two countries began annual talks in Beijing, which have been overshadowed by tensions over the South China Sea and U.S. sanctions on Chinese steel makers. But analysts say comments from Chinese experts and officials in recent days have made it clear that many differences are unlikely to be bridged.
In opening remarks at the U.S.-China Strategic and Economic Dialogue in Beijing, Xi called for more contact between the two sides, saying they should work harder to solve differences.
"The key is not to adopt a confrontational attitude toward any differences," he said, adding, "Some differences cannot be solved at the moment and both sides should take each other's actual situations into consideration and take a constructive approach ... The key is not to adopt a confrontational attitude toward any differences."
But Xi's remarks also hinted at the tensions over the South China, where China has embarked on a controversial program of reclaiming land on reefs in disputed waters that are also claimed by several countries, including the Philippines and Vietnam. In response, the U.S. has launched a series of naval and air "Freedom of Navigation Operations" in the area, in what China says are its territorial waters – prompting accusations of interference from Beijing, and a recent incident in which two Chinese fighter planes flew close to U.S. surveillance aircraft. Chinese media have also accused the U.S. of seeking to encourage other countries in the region to confront Beijing over the issue – particularly after the U.S. lifted a decades-old arms embargo on Vietnam last month.
In his speech to the opening session of the dialogue, Xi said the Asia Pacific region should be a platform for cooperation, not an "arena for countries to leverage," the South China Morning Post reported.
U.S. Secretary of State John Kerry, meanwhile, called on Beijing to promote a "diplomatic solution" to the South China Sea issue, and also called on China to keep up pressure on North Korea, a traditional ally of Beijing, which has launched a series of nuclear and missile tests this year. Beijing has backed the toughest-ever sanctions against North Korea at the U.N. Security Council, but Chinese media have also said Beijing cannot abandon its isolated neighbor, and have criticized a plan to deploy a U.S.-developed missile defense system in South Korea, saying this would be targeted not only at Pyongyang but also at China.
Tensions have risen further after reports last week quoting Chinese military sources as saying Beijing might consider declaring an Air Defense Identification Zone in the South China Sea area, further asserting its sovereignty. Kerry said at the weekend that such a move would be a provocative and destabilizing act.
A senior Chinese military official said at a security conference in Singapore this weekend that China was not afraid of trouble in the region.
"We do not make trouble, but have no fear of it," said Sun Jianguo of China's central military commission, in what state media called a "strongly worded speech." He said Beijing would not "allow any infringement upon its sovereignty and security interests, or stay indifferent to the irresponsible behavior of some countries in and around the South China Sea." And a commentary in the official Global Times newspaper Monday hit out at what it called the "arrogance of the U.S. Pacific Fleet," saying the U.S.'s "unbridled behavior" had given Chinese people a sense of "insecurity," and "reminded the Chinese that our military strength is still weak and we must develop our own strategic military capability to deter the U.S."
Some Chinese experts noted that there is still significant cooperation between the two countries:
"The overall relationship is still positive, there is still a lot of cooperation, including on climate change, global nuclear issues and finance," Professor Tao Wenzhao of the Institute of American Studies at the Chinese Academy of Social Sciences, told International Business Times recently.
But he said that there was real anger in China over the South China Sea dispute, which was likely to "become a long-term issue."
Zhao Minghao, a researcher at Renmin University in Beijing, wrote in the Global Times Monday that "the most important bilateral ties in the world shouldn't be dominated by the South China Sea dispute." And he noted that contacts between the two countries had increased in recent years, with China due to join the Rim of the Pacific Exercise, a naval drill led by the U.S., later this month.
Talks will also cover areas such as cooperation on innovation and agriculture, while President Xi called for progress on a long-debated Bilateral Investment Treaty between the countries. But this too has been mired in disputes, with the U.S. saying that China's "negative list," of sectors of the economy it will not open to foreign investment, is too long. China, meanwhile, has complained about the exclusion of its own companies from investing in high-tech sectors seen as sensitive in the U.S., and the China Daily said Beijing would urge Washington to provide a "level playing field for Chinese investment."
Tensions have also been fueled by the recent U.S. imposition of punitive tariffs on some Chinese steel products, amid accusations of dumping and unfair subsidies. U.S. treasury secretary Jacob Lew Monday called on Beijing to "substantially reduce production" in industries affected by excess capacity, such as steel and aluminum, saying this was "critical to the function and stability of international markets."
China has said it is taking action to close some plants and lay off workers, but a recent rise in steel prices saw some Chinese producers pledge to increase output – and the Global Times Monday accused the U.S. of "unwise" trade protectionism over the issue.
Robert A. Manning, a senior fellow at the Brent Scowcroft Center for International Security at the Atlantic Council, wrote in an article published by the Global Times Monday that Beijing should cooperate on trade issues, including greater access to its markets, saying "China is unlikely to find a more cooperative US president than Obama." Yet some observers have suggested that Beijing now sees the outgoing U.S. president as a lame duck, and is waiting to see who his successor will be. Some Chinese media and experts have also argued that if Republican candidate Donald Trump were to win the U.S. election, this would benefit Beijing — as his foreign policy would likely be less focused on playing a role in the Asia Pacific region than that of President Obama, who has promoted a "pivot to Asia." Trump, however, has been sharply critical of China's trading practices, accusing it of stealing U.S. jobs.
So while experts say the fact that the two countries can continue talking despite the current tension is a good sign, many believe relations are set for a further period of uncertainty in the foreseeable future.
FOR FREE to continue reading
✔️ Unlock the full content of International Business Times UK for free
offer available for a limited time only
✔️ Easily manage your Newsletters subscriptions and save your favourite articles
✔️ No payment method required
Already have an account?
Log in
© Copyright IBTimes 2023. All rights reserved.