US Consulate In Pakistan Gets Threatening Letter Following Trump's Criticism Of Islamabad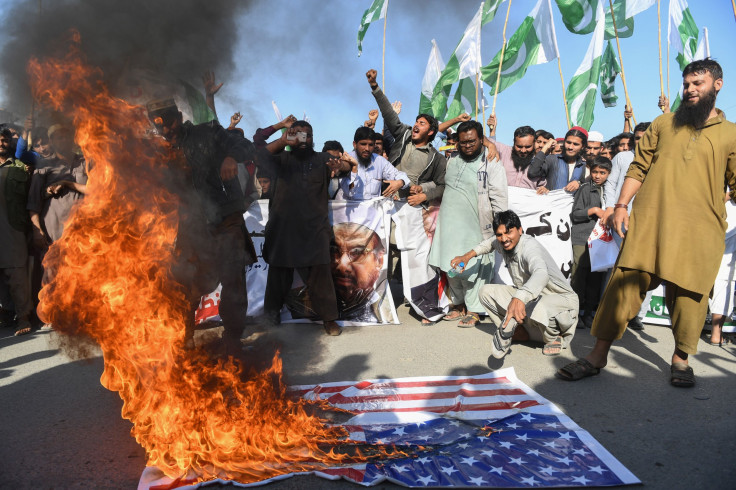 A woman working for the U.S. consulate in Lahore, Pakistan, reportedly received a threatening letter Wednesday apparently from a banned organization amid growing tensions between the two nations.
According to Pakistani news outlet Urdu Point, the letter was delivered to the woman by breaking the window of her car and throwing the letter into it.
While detailed contents of the letter are not known, it is believed it was sent by an organization called Sadf, which is reportedly banned in Pakistan.
In the letter, the organization threatens to target "U.S. support" in their nation as well as the lives of Americans around the world.
The woman, whose name has not been released, filed a police report of the incident. No other details are known about the incident.
The letter comes days after President Donald Trump accused Pakistan in a tweet on New Year's Day of "lying and deceit," by providing safe havens to terrorists despite taking over $33 billion in aid from the United States.
Following Trump's tweet, US Ambassador to the United Nations Nikki Haley announced that the U.S. will be withholding financial aid to Pakistan until Islamabad agrees to fully cooperate in the fight against terrorism.
"The administration is withholding $255 million in assistance to Pakistan. There are clear reasons for this. Pakistan has played a double game for years," Haley told reporters at the United Nations on Tuesday.
Simultaneously, the White House announced during a press briefing that the administration is prepared to implement serious actions against Pakistan within the next few days if Islamabad does not step up its counter-terrorism measures.
"Our goal is that we know that they can do more to stop terrorism and we want them to do that," White House Press Secretary Sarah Sanders told reporters. "In terms of specific actions, I think you'll see some more details come out on that in the next 24 to 48 hours."
In response to the allegations, the Pakistani army issued a statement Wednesday, stating that it was ready to meet any action by the U.S. to safeguard the welfare of its people.
"In case of [a] US action against Pakistan, it will be responded to [in line with] the aspirations of the people of Pakistan," the Inter-Services Public Relations (ISPR) Director General Major General Asif Ghafoor said, the Express Tribune reported.
However, in a separate interview with a local news outlet, Ghafoor stated that he still believed that despite Trump's less than friendly words against Pakistan, the two nations had not turned into arch enemies yet.
"We are allies and a war cannot be fought with allies," he said. "There are several occasions where Pakistan has sided with the US. At one time Pakistan had the option to become the ally of Russia but it opted to join hands with the US instead."
Pakistan's opposition leader Imran Khan, however, took a more scathing stance on Trump's allegations against Islamabad. He released an extensive statement Thursday, calling for Pakistan to stop being a "gun for hire" and not fight the "US-led war on terror."
Asking for immediate measures to be adopted against the U.S., Khan suggested removing "excessive US diplomatic, non-diplomatic and intelligence personnel from Pakistan" and "Deny the US GLOC and AIRLOC facilities which we are providing free of cost to the US."
© Copyright IBTimes 2023. All rights reserved.