US Coronavirus Travel Restrictions Prevented 140 Foreigners Entry To Country This Month
KEY POINTS
The Department of Homeland Security reports 140 individuals with overt Covid-19 symptoms were denied entry into the U.S.
126 people were refused entry at land ports bordering Mexico and Canada
There have been five deaths from the disease outside mainland China. None of these is in the U.S.
Strict travel restrictions preventing the entry of Covid-19 infected persons into the United States implemented February 2 has led to the turning away of 140 persons since that time.
The Department of Homeland Security (DHS) reports that of these 140 individuals, 14 foreign nationals were turned away at U.S. international airports while 126 people were refused entry at land ports bordering Mexico and Canada from February 2 to 12. In addition, 34 travelers were stopped at pre-clearance locations, which are airports abroad where foreign customs and health officials conduct screening before passengers board U.S.-bound flights.
U.S. Customs and Border Protection (CBP) officers referred 43,263 air travelers for potential secondary screening. Of this number, 23,836 required secondary screenings, according to DHS data. DHS said it's using its existing Ebola response plan to deal with the Covid-19 outbreak.
The stringent entry point screenings doesn't mean no person infected with the coronavirus has been prevented from entering the country. They only detect people exhibiting the more obvious signs of Covid-19 infections such as a high-fever and a sore throat.
Asymptomatic persons, or those showing no outside symptoms of the virus, can't be detected by CBP procedures, however. Covid-19 has an unpredictable incubation period ranging from an estimated 14 to 34 days.
A newly released study of nearly 140 hospitalized patients in Wuhan, China, has identified a pattern of symptoms associated with Covid-19. The most common symptom is fever and this was observed fevers in 99 percent of the patients in study, said researchers at the Zhongnan Hospital of Wuhan University.
Other common Covid-19 symptoms include fatigue and a dry cough. The latter symptom was present in more than half of the patients studied. About a third of patients also experienced muscle pain and difficulty breathing. The study said it took about five days on average for a patient to develop breathing problems after first showing symptoms.
The global casualty count from the coronavirus keeps rising. As of 1:15 a.m., Tuesday, Hong Kong time, the official toll from Covid-19 worldwide stands at 73,433 confirmed cases (of which 72,436 are in mainland China) with 1,873 deaths (of which 1,868 are in mainland China). China's National Health Commission (NHC) reports 12,677 people have recovered from the disease.
There have been five deaths from the disease outside mainland China. One person has each died in the Philippines, Hong Kong, Japan, France and the Republic of China (Taiwan). The death in Taiwan was reported Saturday.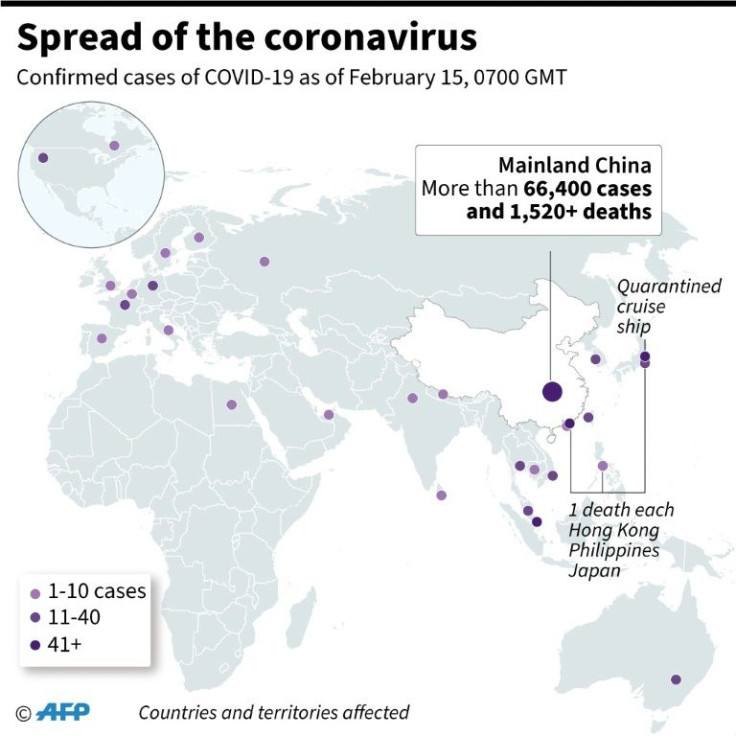 © Copyright IBTimes 2022. All rights reserved.
FOLLOW MORE IBT NEWS ON THE BELOW CHANNELS