US Gulf Coast Plunged into Chaos by Floods, Florida Panhandle Slammed By Worst Floods In 30 Years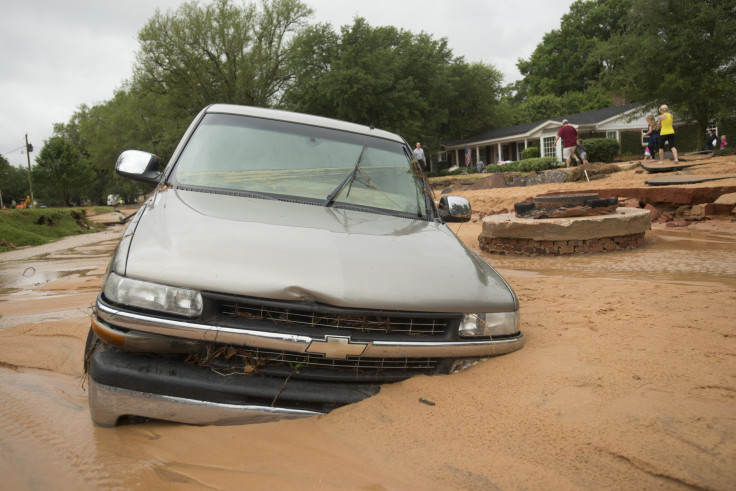 The worst floods in decades have deluged roads and engulfed homes and cars in Florida's Panhandle and coastal Alabama, the latest mayhem created by a tornado-packing storm system that has killed at least 34 people this week.
Florida Gov. Rick Scott on Wednesday declared a state of emergency for 26 counties inundated by as much as two feet of relentless rain over a 24-hour period, as severe thunderstorms raced across the northern part of the state. Emergency workers evacuated about 200 people in the Panhandle, Scott told reporters at an emergency operations center south of Tallahassee.
"This is devastating to this part of the state," he told CNN. "No-one anticipated it would just keep on raining and raining and raining ... We thought it was going to move on out."
Ashton Hayward, the mayor of Pensacola, Florida, said some downtown areas of the Gulf Coast city, were as much as four feet under water. On one block, all of the businesses were flooded, he said.
"One of my co-workers who lives nearby didn't see water coming into the house, and he turned around and he had rooms with stuff floating in them," Adam Jones, 28, a Pensacola home theater technician, said. "The ground was so saturated ... it came right from under him."
A portion of the Scenic Highway in Pensacola, which runs along a bluff 80- to 100 feet above sea level, collapsed in two places, causing a car and truck to fall about 40 feet, Hayward said. No injuries were reported.
An elderly woman died late Tuesday in Escambia County after high waters submerged her car on a highway, the Florida Highway Patrol said.
In Gulf Breeze, located on a spit of land on Pensacola Bay, rescue crews evacuated 150 people from a 2-story apartment complex in six boats operated by Florida Fish and Wildlife officials. The rear of the complex was under five feet of water and ground floor units were flooded, one of the rescuers said.
"All accesses were flooded. People were panicky. They were afraid they were going to be cut off," Fish and Wildlife spokesman Stan Kirkland, said.
Bill Pearson, Escambia County public information officer, said emergency management received several reports of people being swept from their cars and those cases remain "unresolved."
Along Alabama's Gulf Coast, major county roads were flooded and several rivers overflowed after some areas got between 22 and 26 inches of rain in 24 hours, according to Mitchell Sims, emergency management director for Baldwin County.
"We were rescuing people out of cars, out of ditches, out of homes," Sims said. "We are still getting reports of people trapped."
The flooding appears to be the worst in 30 years in the Panhandle, according to initial radar images of the rainfall, Eric Esbensen, a National Weather Service meteorologist, said.
Schools and roads were closed in several Panhandle counties including Escambia. State and county officials urged residents not to drive in the treacherous conditions of rising water, damaged roads and storm debris.
Severe conditions may persist into Thursday, though "the weather may be quieting down as warmer, more humid air is pushed offshore by a cold front moving through the Appalachians," National Weather Service meteorologist Corey Mead said.
There have been 27 confirmed weather-related deaths and more than 200 people reported injured across Arkansas and Mississippi, as tornadoes reduced homes to rubble, shredded trees and launched vehicles into the air.
Deaths have also been reported in Oklahoma, Iowa, Alabama and Tennessee. President Barack Obama declared a major disaster in Arkansas and ordered federal aid to supplement state and local recovery efforts.
Shelters have been set up for thousands of families forced out of their homes. More than 2,000 houses and 100 commercial properties have been reported damaged.
© Copyright IBTimes 2023. All rights reserved.