US Inflation Slows To 4% In May, Lowest In 2 Years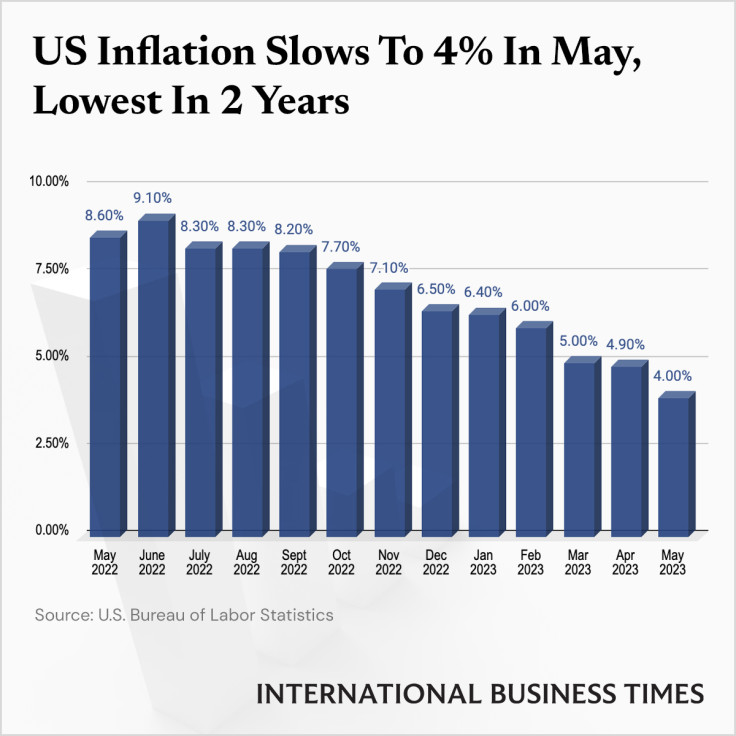 US inflation slowed in May to its lowest annual rate in over two years, offering a major push for the Federal Reserve to pause their interest-rate hikes.
The Consumer Price Index increased 4% for the year ending in May, according to data released by the Bureau of Labor Statistics on Tuesday. This is a sharp pullback from 4.9% CPI in April.
After remaining consistent for the past two months, food costs rose by 0.1% only to 6.7% in May, compared to 7.7% in the previous month, the Labor Department report suggested. While food prices are rising at a slower rate on a monthly basis, they remain relatively higher than they were before the pandemic hit the U.S.
It is the 11th consecutive month witnessing a slowdown in inflation and is seen as a welcome respite from the gut-wrenching high inflation suffered by Americans over the past two years. In May 2022, the CPI more than doubled to 8.6%, with food prices as high as 10.1%. At the same time, gasoline prices saw a major fall by 19.7% over the past year, as per the BLS report.
© Copyright IBTimes 2023. All rights reserved.