US Investigating Kenya Mall Siege After Claims That Americans Were Part Of The Militant Group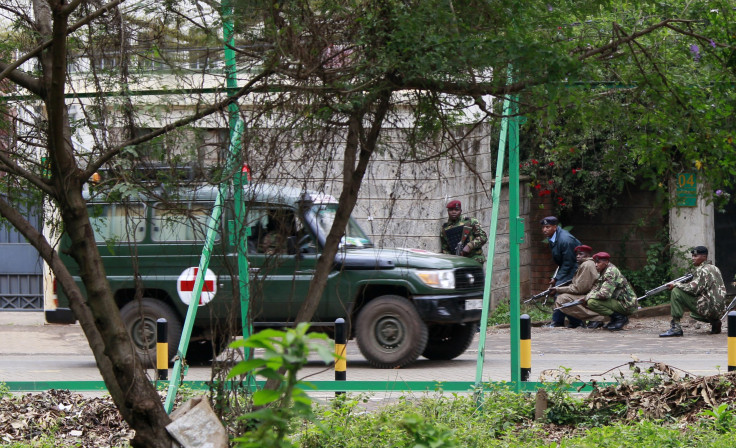 Update 6:00 a.m. EDT: An al-Shabab commander, who identified himself as Abu Omar, told BBC that reports stating that some of the attackers were American citizens were not true. However, the claim is not expected to affect the federal investigation.
Original story starts here:
The United States is investigating whether Americans were part of the militant group that took control of a shopping mall in the Kenyan capital of Nairobi on Saturday and launched a massacre that claimed the lives of at least 68 people.
The investigation, driven by the FBI, was initiated after a Twitter account, reportedly managed by the militant group, specified names and home states of American residents allegedly belonging to the group, NBC News reported. Two of the U.S. nationals named by the militants are said to be from the St. Paul-Minneapolis metropolitan area in Minnesota, which has more than 85,000 Somali-American residents, NBC reported citing authorities.
President Barack Obama spoke to his Kenyan counterpart, Uhuru Kenyatta, on Sunday, to express his condolences and extended Washington's support in tracking down the militants.
"President Obama reiterated U.S. support for Kenya's efforts to bring the perpetrators of the attack to justice," the White House said in a statement.
Kenyan Defense Forces said at 20:30 GMT (04:30 p.m. EDT) on Sunday that almost all of the hostages had been rescued and security forces had regained control of most of the Westgate shopping mall, although about 10 to 15 attackers, who are believed to be militants belonging to al-Shabab, the Somali Islamic terrorist group that has claimed responsibility for the attack, are still inside the building. Some civilians are also thought to be trapped inside, either under the control of the militants or in hiding, BBC reported.
Al-Shabab has been warning for two years that it would attack Kenya in retaliation for the country's role in sending its troops to Somalia in 2011 to assist the Somali government in cracking down on militants. Al-Shabab, which wants to impose Sharia law in Somalia, and al Qaeda, were formally linked in February 2012, and according to U.S. officials, some of the al Qaeda terrorists who launched attacks on U.S. embassies in Kenya and Tanzania in 1998 were offered safe haven in Somalia.
Al-Shabab was blacklisted by the State Department as a terrorist group in 2008, and the U.S. and European Union have poured millions of dollars to support operations by U.N.-supported African Union forces fighting the group in Somalia.
The Ethiopian invasion of Somalia in 2006 was responsible for "transforming the group from a small, relatively unimportant part of a more moderate Islamic movement into the most powerful and radical armed faction in the country," Rob Wise, a counterterrorism expert at the Center for Strategic and International Studies, wrote in a report on its website.
© Copyright IBTimes 2023. All rights reserved.
FOLLOW MORE IBT NEWS ON THE BELOW CHANNELS