U.S. Jobs Report: Unemployment For College Grads Up Slightly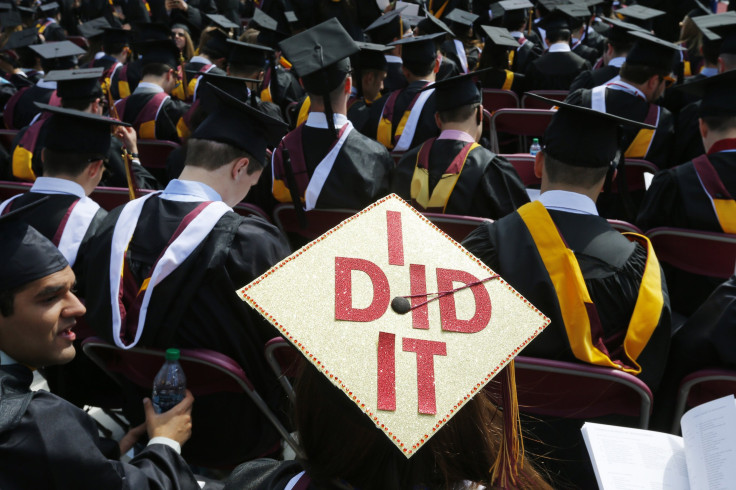 The difference a degree makes to one's job situation was vividly illustrated by new Labor Department data which showed a nearly 6 percent gap in the unemployment rate between people who've graduated from college, and those aged 25 and up who haven't finished high school.
For those with a bachelor's degree or higher, the report released on Friday showed that the unemployment rate increased slightly, from 3.1 percent in July to 3.2 percent in August.
Compared to a year ago, however, college graduates have seen their unemployment rate fall by three-tenths of a percentage point, down from 3.5 percent in August 2013.
And stacked up against would-be-workers with less than a college degree, the 3.2 percent unemployment rate for college grads looks even better:
- For those with some college or an associate's degree, unemployment stood at 5.4 percent in August (up from 5.3 percent in July, though down from 6.1 percent in August 2013).
- For high school graduates who haven't been to college, the August unemployment rate was 6.2 percent (an increase from the 6.1 percent rate in July, but a decrease from the 7.5 percent rate in August 2013).
- For people who have not earned even a high school diploma, the unemployment picture is most bleak. The August unemployment rate among this group was 9.1 percent -- though that does represent a decline both from the previous month (9.6 percent in July), and from a year ago (11.3 percent in August 2013).
This week, economists at the Federal Reserve Bank of New York analyzed the improving unemployment rate among recent college graduates (between the ages of 22 and 27). Since peaking in 2011, it's fallen from just over 7 percent to just over 5 percent. The overall unemployment rate, meanwhile, fell from 6.2 percent to 6.1 percent.
The jobs that recent grads are finding aren't necessarily good ones, the economists found, but since college graduates do earn about 56 percent more than high school graduates, they argue that investing in a college degree is still better than the alternative.
© Copyright IBTimes 2023. All rights reserved.