U.S. lawmakers head for showdown over debt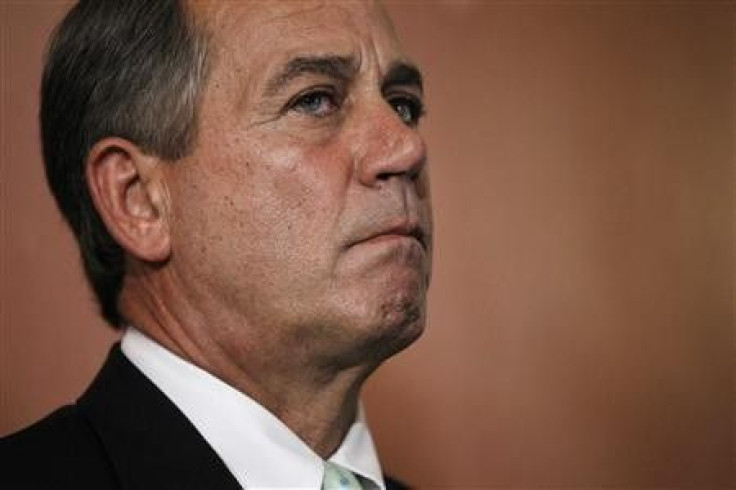 President Barack Obama's Democrats and their Republican rivals on Tuesday headed for a showdown over competing debt plans one week before a deadline for averting a potentially disastrous U.S. default.
With the two sides further apart than ever and the threat of a far-reaching U.S. credit downgrade looming, IMF chief Christine Lagarde urged swift resolution of the impasse, warning that failure to reach an agreement would have serious consequences for the world economy.
"The clock is ticking and clearly the issue needs to be resolved immediately," Lagarde told the Council on Foreign Relations think tank.
But there was no compromise in sight after Obama and Republican House of Representatives Speaker John Boehner delivered duelling televised addresses late on Monday and gave no ground in the bitter debate over how to raise the nation's $14.3 trillion (8.72 trillion pound) debt ceiling by August 2 to prevent an unprecedented default.
The continuing gridlock -- and signs that neither of the competing plans is likely to win bipartisan support -- alarmed investors worldwide. U.S. stocks and the dollar fell while gold hovered near record highs. There was no hint of panic, however, as markets held out hope the stalemate could still be broken.
A Reuters poll showed that 30 of 53 economists surveyed think at least one of the major credit agencies will strip the United States of its top-notch credit rating and most also say wrangling over debt has already damaged the economy.
Boehner on Tuesday kept up efforts to rally support for his plan, which could come up for a vote in the House as early as Wednesday but is in doubt because of resistance from some conservatives in the Republican camp aligned with the Tea Party movement.
"It's reasonable, it's responsible. It can pass the House and it can pass the Senate," Boehner told reporters.
Boehner is pushing a two-stage deficit reduction plan that would start with an initial $1.2 trillion in savings over 10 years. Obama opposes it because it would raise the debt limit for only a few months, something he has said he will not agree to.
The chief Democratic vote counter in the House, Representative Steny Hoyer, said "maybe a few" Democrats would back Boehner's plan. That would boost the bill's chances in what is expected to be a close vote on Wednesday.
Boehner will not have enough Republican votes to pass his budget plan through the House without Democratic support, a leader of the chamber's conservatives said.
"I don't have an exact count, but I do not believe there are 218 Republicans supportive of it right now," said Representative Jim Jordan, who heads the Republican Study Committee, a group of more than 150 conservative and Tea Party-aligned lawmakers.
Obama's Democrats have presented their one-step plan for $2.7 trillion in deficit reduction over the next decade but with a debt limit hike that would carry through the November 2012 elections, when he is seeking a second term.
Senate Majority Leader Harry Reid, a Democrat, is expected to hold off on any vote on the plan until the House takes up Boehner's proposal.
Republican and Democratic lawmakers, despite weeks of intense talks, are far apart on a deal to reduce the budget deficit, which would clear the way for Congress to lift the debt ceiling by next week, when the country runs out of cash to pay all of its of its bills. Democrats control the Senate. Republicans control the House of Representatives.
© Copyright Thomson Reuters 2023. All rights reserved.