US Lawmakers Urge NATO To Buy French Mistral Ships Bound For Russia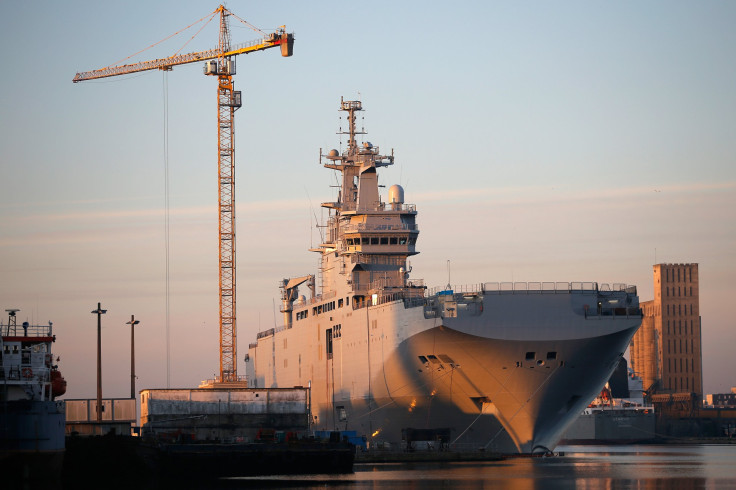 U.S. lawmakers have urged NATO to acquire French-built warships after France indicated that it may not hand over the controversial Mistral helicopter carriers to Russia. The U.S. and Western powers have hit Russia with several sanctions since the latter annexed the Crimean peninsula, and have criticized President Vladimir Putin's policies involving Ukraine.
In a letter to NATO Secretary General Jens Stoltenberg, U.S. lawmakers argued that purchasing the Mistral-Class warships would keep them from augmenting Russia's military resources. The deal would also prevent a financial loss for France, which has temporarily suspended the sale of the warships to Russia, in response to international indignation over Moscow's involvement in the Ukrainian conflict, The Hill reported.
"Sensitive to the financial burden that France may incur should it rightly refuse to transfer these warships to Russia, we renew our call that NATO purchase or lease the warships as a common naval asset," the lawmakers wrote in the letter, as quoted by The Hill. "Such a decisive move by NATO is not without precedent and would show President Putin that our rhetorical resolve is matched by our actual resolve and that this Alliance will not tolerate or abet his dangerous actions in Europe."
The letter was signed by eight lawmakers, including House Foreign Affairs Committee ranking member Eliot Engel (D-N.Y.), Reps. Mike Turner (R-Ohio), Bill Keating (D-Mass.), Mike Rogers (R-Ala.), Gerry Connolly (D-Va.), Steve Chabot (R-Ohio), Steve Cohen (D-Tenn.) and Jim Gerlach (R-Pa.), according to The Hill.
French Prime Minister Manuel Valls announced Thursday that the conditions for the delivery of the Mistral helicopter carrier ships to Russia have not been met, while a source in the Russian defense ministry said that the Russian government would wait until the end of 2014 for the final decision over the transfer of the first Mistral ship, RIA Novosti reported on Friday.
According to the terms of a $1.5 billion deal struck between Russia and France in June 2011, the first vessel, known as the "Vladivostok," is scheduled to be delivered to Russia by the end of 2014, while the second ship, known as the "Sevastopol," is to be handed over in 2015.
The Hill's report comes at a time when Canada too has been reported as a potential destination for the French vessels. French President François Hollande's visit to Canada last week helped fuel this theory.
"Canada or NATO should buy these ships from France, leaving the Russians to await a further slot on the list, which good behavior would assure," Canadian Senator Hugh Segal had said publicly in May.
© Copyright IBTimes 2022. All rights reserved.
FOLLOW MORE IBT NEWS ON THE BELOW CHANNELS