US Manufacturing Will Keep Coming Back, Government-Willing: National Association of Manufacturers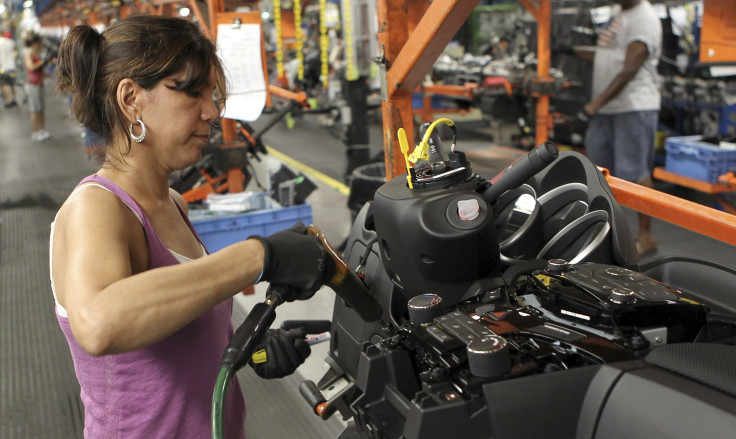 Manufacturing is the lifeblood of the global economy and indeed making a comeback, but there is a lot the U.S. should do to propel the industry forward, Jay Timmons, president of the National Association of Manufacturers (NAM), said Tuesday during a State of Manufacturing address.
"We're definitely making solid progress," he said. "But there are challenges ahead."
Those challenges include the highest corporate taxes in the world, a shortage of trade agreements, a gap in science, technology, engineering and math skills, enforcing intellectual property rights, compliance costs and regulatory confusion, demands of the Affordable Care Act, and a lack of long-term perspective among policymakers, Timmons said at the luncheon hosted by the Greater Houston Partnership, a business and economic development organization that has made helping the manufacturing industry grow its primary issue for 2014.
"Government overreach poses the biggest threat to us," Timmons said. NAM is the largest industrial trade group in the U.S. and lobbies Congress to adopt its favored policies.
This year, Timmons would like to see lower taxes and more trade agreements like those the Canadian Prime Minister Stephen Harper has accomplished this for his country, thereby attracting some American companies like Microsoft to move some offices across the border.
But for all the challenges, Timmons is optimistic that the more than 1 million Americans working in manufacturing can continue to regrow the industry from its dive during the recession. He applauded young people for choosing manufacturing jobs and the military for providing the necessary skills to its members. NAM has been working with General Electric Company (NYSE:GE) and veterans to find them manufacturing positions that match their skills.
GE's CEO Jeff Immelt is also optimistic. When asked Monday at the Bloomberg Energy 2020 conference what he was most excited about, he said the reinvention of manufacturing.
"People think it's slowing," Immelt said. "That's wrong. Manufacturing is being digitized, democratized, and the science is awesome, I mean, really awesome."
Since 2009, the manufacturing sector has grown 18 percent. Last year, manufacturing contributed $1 trillion to the economy and supported 11.3 million jobs. Manufacturing Alliance forecasts that the industry will grow by 300,000 jobs a year if manufacturing rises from 12 percent to 15 percent of the economy.
"That's not all that hard to imagine because that's exactly where we were last decade," Timmons said.
He credits innovation, like the industrial and energy-efficient fans from Kentucky-based Big Ass Fans, and cheaper energy through natural gas for the growth in manufacturing.
"The shale revolution is big, and you all certainly here in Texas understand that already, but more Americans need to understand how the shale revolution is going to transform everything that we do in this country," he said. "It will give us a long-term comeback in the manufacturing industry. That is, unless Washington gets in the way."
© Copyright IBTimes 2023. All rights reserved.
FOLLOW MORE IBT NEWS ON THE BELOW CHANNELS