US Manufacturing's Production Levels Will Rise In June To 3-Month High, Driven By New Orders: Markit Flash PMI
The American manufacturing sector is expected to show signs of life in June, according to preliminary data released Thursday by Markit Economics Ltd.
The group's latest Purchasing Managers' Index (PMI) suggests manufacturers will report expansion in most of the key categories such as output, new orders and employment.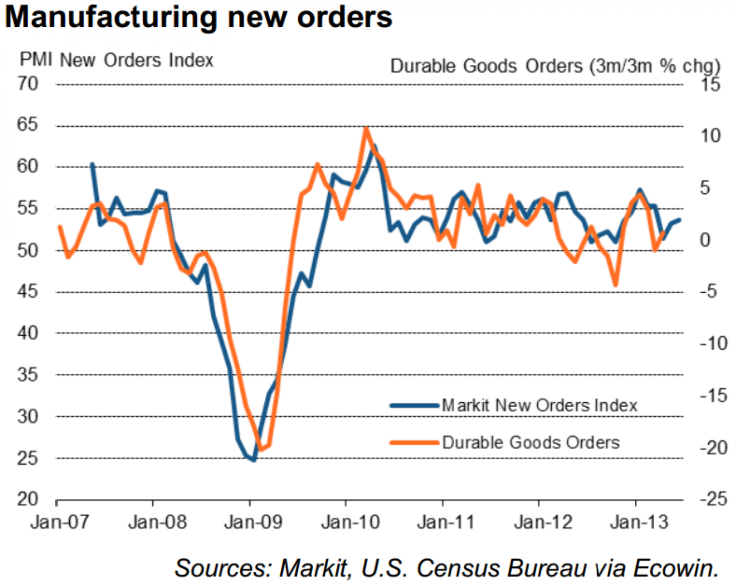 Readings above 50 signal an increase or improvement on the prior month, while readings below 50 indicate a decrease.
Preliminary PMI, based on about 85 percent of usual monthly replies, is expected to be 52.2, driven largely by solid new orders, yet relatively unchanged from the previous month.
Data collected from June 12 through June 19 show the PMI, although slightly lower than Reuters' expectation of 52.5, has stopped the sharp declines experienced earlier in the year.
"Manufacturers largely linked higher output levels to greater client demand," said Chris Williamson, Markit's chief economist and author of the report. "The upturn in growth of new orders brings a ray of hope that production could lift higher again in July, but it remains too early to say if this represents the start of a growth upturn."
PMI data is collected from a completely different set of companies than the ones surveyed for closely watched ISM Report on Business.
The final June data will be released July 1.
© Copyright IBTimes 2023. All rights reserved.