US Marine Philippines Transgender Murder Trial: Court Offers Joseph Pemberton Plea Deal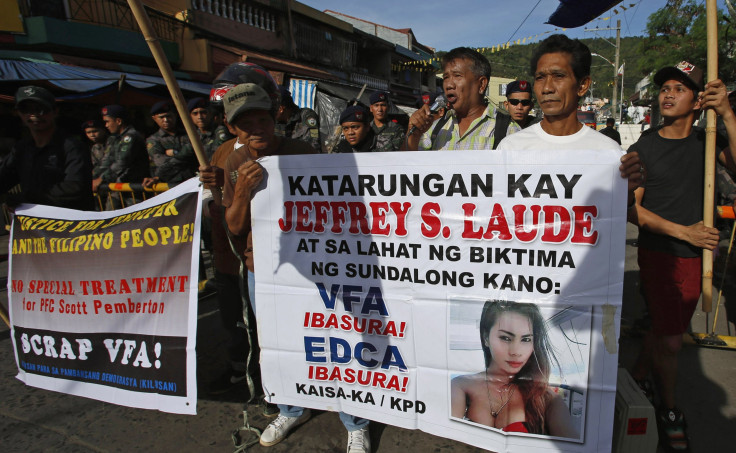 A Philippines court offered U.S. Marine Joseph Pemberton a plea deal Tuesday, giving him the chance to avoid a murder trial that could send him to prison for up to 40 years. Lance Cpl. Pemberton, who is accused of murdering transgender Filipina Jennifer Laude, 26, had previously asked the court to downgrade the murder charge to homicide, which carries a maximum 20-year prison term.
Laude's family said they were not opposed to the plea deal as long as Pemberton served prison time. "From the beginning until now, that's what we want: to see him in jail for what he did to my child," the victim's mother, Julita Laude, told Agence France-Presse. Prosecutors and the Laude family's lawyers met with Pemberton's defense team in a hearing Tuesday in Olongapo, a northern port town, where the plea bargain process was laid out. The court proceedings were off limits to reporters.
Olongapo Chief Prosecutor Emilie Fe de lo Santos told AFP that an option is for Pemberton to pay damages and plead guilty to a lesser charge. "They [Pemberton and the Philippine state prosecutors] have to agree on all points. After that, we'll inform the court. But today there was no offer [from Pemberton]," de los Santos said. If the plea deal does not work out, then the murder trial will proceed and the court will order prosecutors to start presenting their evidence and witnesses March 23.
Pemberton, 19 at the time, was accused of killing Laude, formerly known as Jeffrey, last October. Prosecutors alleged that Laude was apparently strangled and drowned in a motel toilet bowl by the Marine after he discovered that she was a transgender woman. Witnesses saw Pemberton, who was in the Philippines for a joint military exercise, checking into the hotel in Olongapo's red-light district with Laude, and he was quoted as having told a fellow Marine that he choked Laude. Pemberton pleaded not guilty to a murder charge in February, paving the way for the murder trial.
Under the Philippines-United States Visiting Forces Agreement that came into force in May 1999, Filipino courts have jurisdiction over cases involving American troops accused of crimes while in the Philippines. However, the agreement also allowed the United States to keep accused military personnel in their custody. Pemberton is currently under U.S. detention at a Philippines military base in Manila, and the U.S. government has refused to hand over custody to Philippine authorities.
Protesters have been calling for justice for Laude, as well as demanding that the Visiting Forces Agreement be scrapped. Philippines President Benigno Aquino last October rejected calls to terminate the agreement.
© Copyright IBTimes 2023. All rights reserved.